Nancy and I had the great pleasure this

past Tuesday

evening to see an opening preview of Francis

Al˙s

: A Story of Deception
at
MoMA
. It is a truly fabulous exhibition, and I recommend it to your most highly:
Francis

Al˙s

: A Story of Deception
May 8–August 1, 2011
Museum of Modern Art, NYC
Sixth floor
Francis Al˙s was born in Antwerp, Belgian in 1959. Al˙s was originally trained as an architect, but since 1986 he has worked as a visual artist in Mexico City. Nancy and I first met Francis and began to love his marvelous work four years ago at the opening celebrations for the Global Cities exhibition—the summer exhibit for 2007 in the Turbine Hall of the Tate Modern in London [q.v., my review: www.RLRubens.com/GlobalCities.htm]. (This exhibition, curated by our friend Ricky Burdett and Sheena Wagstaff [Chief Curator at the Tate Modern], was based on Ricky's magnificent exhibit, "Cities, Architecture, and Society," at the 2006 Biennale for Architecture in Venice [q.v., my review: www.columbia.edu/~rr322/TheBiennale.htm].) Global Cities contained a marvelous work by Francis, Railings (London, 2004), in which the artist walks around three of London's wonderful squares while running a drum stick across the metal railings, gates, pillars, and even cars lining each square—resulting in a constantly mutating montage of visual imagery and percussive rhythms (a portion of this presentation [Railings (Fitzroy Square)], is available for viewing online on Al˙s's website at www.francisalys.com/public/railingsfitz.html.) Since then, we have found and enjoyed Francis's work in museums around the world.
As you might guess, I do not typically like video art; but Francis's style of work is a creative expression all its own. His videos are beautiful, subtle, riveting, humorous, and entertaining. Consider one of the first great examples in the MoMA show, Cuento Patrióricos (Patriotic Tales) (Mexico City, 1997; done with Rafael Ortega). It is a 24 minute black and white video, shot from a high vantage point, of an empty square with a flag pole in the center of it. Francis enters from the side, leading a sheep behind him, and begins to walk in a large oval path around the flag pole. One-by-one, individual sheep enter from outside the side of the frame and begin to form a single-file procession behind Francis, eventually forming an orderly line 8 or 10 strong behind him. At some point, Francis catches up with the end of the procession, and begins to follow rather than lead the column. Eventually, one at a time the sheep wander off from the line. It is an absorbing, fun piece to watch: as with so many examples of Francis's work, watching it brings a smile to my face—intensified in this instance by the comic movement style of the sheep and the quiet absurdity of the action. The filmed image is itself quite beautiful, and its composition is wonderfully satisfying. It also becomes mesmerizing to watch. Just on this level alone, the piece is totally successful as an artistic experience. But then one starts to have feelings about the whole idea of "sheep"—and about the "following" that is so essential to what is going on; and then one is confronted with the reversal of the following and the followed, and all that is evoked therein. Only after all that one may become aware of the various levels of political implication and reference. In Cuento Patrióricos, it turns out that there is a very specific political premise underlying the work, which I was not aware of until reading the description (which, as typical for me, I did not do until after watching the video):
This fiction refers to a key event in the student protests against Mexico's government that occurred in 1968: on 28 August 1968 of that year, thousands of civil servants were brought to the Zócalo or main square of Mexico City to demonstrate in favor of the government, claiming that the students had defiled the national symbols by raising the Red and Black flag on the Zócalo pole. But in a spontaneous gesture of rebellion, the bureaucrats turned their backs on the official tribute and began to bleat like a vast flock of sheep, forcing the authorities to disperse them with armored tanks and infantry. [quoted from the catalogue for the show]
It is not in any way necessary to know this specific historical/political reference to appreciate the piece (and it is one of my main objections to conceptual art that it often requires such an explanation in order to be appreciated), although it does adds a dimension and a depth when you know. What is unavoidable in Francis Al˙s's work is the sense of meaning that goes deeper than the straightforward significance of the events depicted. Often this sense of meaning is quite covert, and sometimes it operates only on an unconscious level; sometimes it is closer to the surface; but it never interferes with the more immediate artistic appreciation of the works. Interestingly, this gives a certain politically subversive quality to Francis's art.
Francis was chosen for the Global Cities exhibition in part because of his extensive interest in cities and urban issues—and, of course, in even larger part because of the artistic excellence and artistic power and evocativeness of his urban images. In some of his works, these urban issues are far more directly in evidence. Paradox of Praxis I (Sometimes Doing Something Leads to Nothing) (Mexico City, 1997; 5 minutes, color; a version of which [Sometimes Making Something Leads to Nothing] available online at www.francisalys.com/public/hielo.html), Francis pushes a huge block of ice around the center of Mexico City for hours until it finally melts away. Against the continuous urban backdrop of the streets of city's poor neighborhoods, one begins to sense the huge exertion and endless monotony of this physical labor, which, in the end, produces neither results nor rewards. As usual, there is a bemused humor one feels in watching the action unfold; and yet there is also an underlying awareness of an important—albeit subtle—meaning. In Rehearsal I (El Ensayo) (Tijuana, 1999-2001; 29 minutes, color), filmed on the US-Mexico border, an old VW Beetle heads up a steep little hill on a dirt road through an arid village. There is a soundtrack playing of a brass band rehearsing, and the driver has been given the following instructions:
-While the musicians play, the car goes uphill.
-When the musicians lose track and pause, the car stops.
-While the musicians are tuning their instruments, the car rolls back downhill.
Even without knowing the mechanics of what is transpiring, this Keystone Kops' version of a Sisyphean process is wonderfully comic—and the music of the brass band adds to the overall humorous effect. And yet, set as it is in a poor Latin American neighborhood, there is an ever-present echo of the <![if !vml]>

<![endif]>frustrations of the economic experience of that region.
The one other video work I want to mention is his When Faith Moves Mountains (Cuando la fe mueve montańas) (Lima, Peru, 2002; 36 minutes + 15 minute photographic <![if !vml]>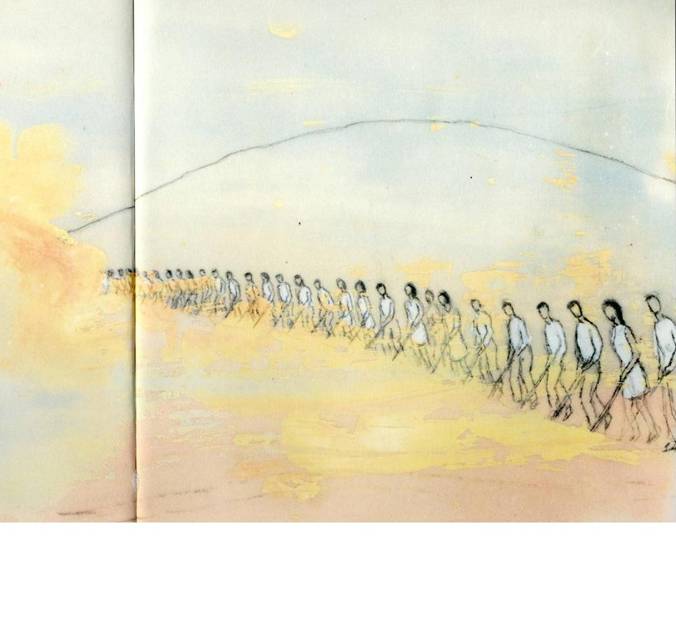 <![endif]>documentation, both in color; the photographic documentation of which is available online at www.francisalys.com/public/cuandolafe.html). The premise here is "500 volunteers equipped with shovels and asked to form a single line in order to displace by 10 cm a 500 m-long sand dune from its original position." This long line of people, shoveling sand in unison on this dune outside of Lima, work their way down the dune, one shovel-full at a time. It needs little other description or explanation.
I shall use the opportunity of discussing When Faith Moves Mountains to mention that along with Francis Al˙s's video works, there are many paintings, drawings, and sketches—many with written instructions or comments—which accompany the videos (like the one at the right, which is a study for When Faith Moves Mountains, and which I have shamelessly stolen from the catalogue of the exhibition), and some that are projects in their own right (like the series Lynchings (Linchados) [2006; Paintings: Oil and collage on canvas on wood]). Francis is an extremely talented painter and draftsman, in addition to being a brilliant video artist.
One of my favorite things in the show is his Le Temps du sommeil (1996- present), which consists of 111 small paintings done in oil, encaustic, crayon, and collage on wood. This series represents an evolving visual diary of Francis's creative journey, and he paints, over-lays, and paints over each of the component pieces with images from and references to the work he has done.
There is also a wonderful piece entitled Song for Lupita (Mańana) (1998; an installation with projected animation, record player, and vinyl record). A long 16 mm film loop, extending 20 feet up to the high ceiling of the gallery, runs continuously through a projector which projects onto a frosted glass screen the simple, black and white outline drawing of a woman pouring a bright, aqua-colored liquid back and forth between two glasses. The visual image plays against the song on the record player, which speaks of "putting off the task until a 'tomorrow' that loops eternally."
Finally there is one totally unusual visual piece, Tornado (Milpa Alta, 2000-2010; 55 minutes). In this rather bizarre video, Francis actually takes his camera and himself—and us with him—into the tornadoes he has been chasing. He sometimes misses, he sometimes succeed; but it is a frighteningly tense struggle. Here is the catalogue's description:
"Ever tried. Ever Failed. No matter. Try again. Fail again. Fail better."
(Samuel Beckett, Worstward Ho, 1983)
Over the last decade Al˙s made recurrent trips to the highlands south of Mexico City to chase, video camera in hand, the dusty whirls whipped up by the wind in the burnt fields at the end of the dry season. Rumor has it that the genesis of this project was, in fact, a comic quid pro quo: Al˙s overheard a conversation where friends were talking about Don Quixote fighting windmills (in Spanish, molinos de viento), but he understood instead tornadoes (remolinos de viento). As in Cervantes work, Al˙s's intent to penetrate the peaceful zone in the epicenter of the tornado illustrates a condition where 'the vanity of the action is paired with the absolute necessity.'
There is a brief but very suggestive clip from this work on MoMA's website for the exhibition: www.moma.org/visit/calendar/exhibitions/1104
So, the short story is, go to this wonderful exhibit! It is full of things that will please, surprise, and amaze you.