Nancy and I just saw a screening last night of Exit Through the Gift Shop (hosted by The Film Society of Lincoln Center and John Turturro, who <![if !vml]>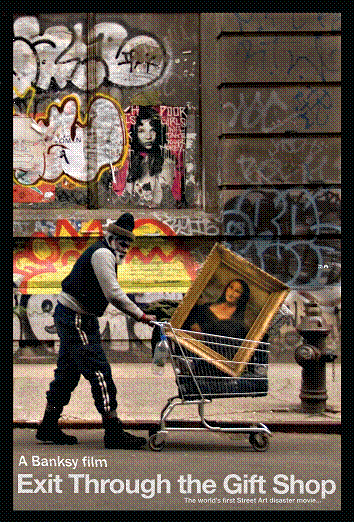 <![endif]>explained that he was there for one of three reasons:  a) the makers of the film had given him huge amounts of money to do it; b) he SO loved the film when he had seen it that he wanted to do whatever possible to support it; or, c) Banksy had information about him that John didn't want to be made public, and that he was being blackmailed).  This film is FABULOUS! RUN out and see it this weekend!!  Billed as, "The first Street Art disaster movie," this film was done by the elusive, secretive, incredibly hip, British guerilla street artist, Banksy.  It opens tomorrow, 16 April Friday, in New York  and California:
NEW YORK:                 Sunshine Theater

LOS ANGELES :          Arclight, Hollywood
                                      Landmark

SAN FRANCISCO :      Embarcadero
<![if !supportLineBreakNewLine]>
<![endif]>
BERKLEY :                   Shattuck
<![if !supportLineBreakNewLine]>
<![endif]>
SAN RAFAEL :             Rafael
<![if !supportLineBreakNewLine]>
<![endif]>
PALO ALTO :               Aquarius
<![if !supportLineBreakNewLine]>
<![endif]>
I don't know exactly what I was expecting to see—and I'm not exactly sure what I actually saw; but the most unexpected part of the experience was how much fun the whole thing was.  There are things in this film that are quite hilariously funny, and the whole thing is clever and engaging beyond what I possibly could have expected; but the enjoyment level of this film was totally over-the-top.  It is also one of the most creative cinematic undertakings I've seen in years.
On the surface, it is a documentary—or a documentary about a documentary, or a documentary about a documentary within a documentary.  Thierry Guetta,  a French ex-patriot living in LA, who owns a used clothing shop and obsessively videos everything that goes on in his peculiar life, begins to video and then become progressively involved in the burgeoning world of Street Art.  Under the guise of doing a documentary on the Street Art movement, Guetta assembles thousands of hours of video of all the major celebrities of that world—and especially Space Invader and, even more importantly, Shepard Fairey, one of the most famous of this ilk (and the creator of the famous Obama poster).  The plot thickens as Guetta becomes obsessed with the movement's most famous but elusive representative, Banksy himself.  Naturally, he eventually connects up with Banksy, who has been appearing throughout the film being "interviewed" and giving commentary as the film progresses—with his voice electronically disguised and his faced hidden in the deep shadow of his hoodie.  Events contrive to lead Banksy to pressure Guetta actually to create the documentary he has promised about the Street Art movement.  The finished product is so crazy and weird, that Banksy is "forced" to take the project over and create the film himself, and it becomes the film we are actually watching—which is essentially about Thierry Guetta.  Guetta becomes a Street Artist in his own right—sorta'; he takes the Street Name, "Mr. Brainwash," or just "MBW"; and he eventually has a mega-show in LA.  In his crazed focus on manipulating the PR for the show, Guetta solicits endorsements from the movement's greats, Fairey and Banksy.  Just to give a taste of all this, Banksy's endorsement, emblazoned on huge banners around LA, is: "Mr. Brainwash is a force of nature. He's a phenomenon. And I don't mean that in a good way."  Are you still with me…?
<![if !vml]>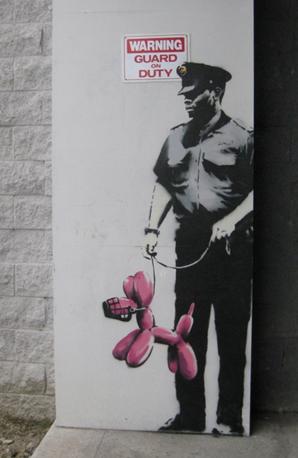 <![endif]>It is SO hard to characterize what this film is…or even what actually is going on within it; but that is definitely part of the fun.  What I thought I knew turns out to have been incorrect, and what I thought was made up turns out to have been real…well…sorta'…or, at least, I'm pretty sure…  Banksy is legendary as a prankster and a trickster; and, while it is completely reasonable to assume that we are being tricked by this movie, it is quite difficult to have any certainty about just how and what the trickery is—and it is wonderful fun being confused about what the pranks are and ways in which they are being played.  As Robin Williams once said, "Reality—what a concept!"  Of three things I was quite certain, however:  1)  Exit Through the Gift Shop is an incredibly witty, trenchant, and funny send-up of the art world;  2)  I have never seen ANYTHING quite like Exit Through the Gift Shop; and, 3)  Banksy is an incredibly talented, wickedly provocative, and profoundly funny creative genius!  Apropos of this last point, I've done a bit of looking about, and here are some relevant examples of his art (in addition to the poster he did for the film (q.v., above).
<![if !vml]>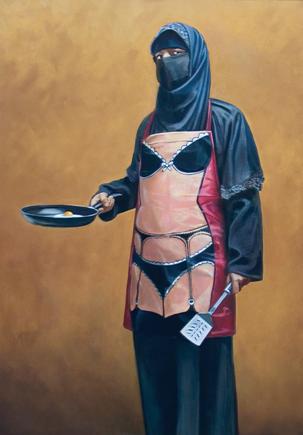 <![endif]>
The first (at left) is a piece of art with which  Banksy has "tagged" some buildings in LA for the film's premiere ("JetSetGraffiti.com posted this little welcome back to LA piece that Banksy did on the corner of 4th and LaBrea in the abandoned car dealership. Guess who's coming….").
And the second (at right; available online at http://www.banksy.co.uk/shop/index.html, along with many other fantastic pieces you may wish to check out), is a painting which I think is hilariously funny from the SHOP on Banksy's website (www.banksy.co.uk ), which characteristically notes of the items "on sale" in the "SHOP" that, "Products not actually included, serving suggestion only. All images are made available to download for personal amusement only, thanks."
SO, the short story:  GO SEE THIS UNUSUAL, ENJOYABLE, CREATIVE FILM!  I guarantee you have never seen anything like it; and I believe you will be glad you went.  From its opening moments to its final dénouement, it is a pleasure.  And it is full of endless little treats—including, toward its end, the wonderful visual reference to Ronald Neame's 1954 masterpiece about another wild-man artist in London, The Horse's Mouth, starring and written by Alec Guinness.
Here is the rest of the schedule for openings in other cities for Exit Through the Gift Shop:

23 APRIL
PHILADELPHIA : Ritz 5
SEATTLE : Harvard Exit
BOSTON : Kendall Square

30 APRIL
CHICAGO : Century
MINNEAPOLIS : Lagoon
WASHINGTON DC : E Street
BALTIMORE : Harbor
ATLANTA : Midtown Art
DENVER : Mayan
SAN DIEGO : Hillcrest

7 MAY
INDIANAPOLIS : Keystone Arts
CANADA - TORONTO : Yonge & Dundas

21 MAY
AUSTIN : Alamo Draft House, Lamar
"JOYOUS!
One of the most inspired,
adroit, hilarious
debut features ever!"
  -Amy Taubin, FILM COMMENT
"EXHILARATING
AND INVENTIVE."
  -David Fear, TIME OUT NEW YORK
 "A sly satire of celebrity,
consumerism,
and the art world."
  -John Horn, LA TIMES
 "FUNNY
AS HELL!"
-Thessaly LaForce, THE NEW YORKER
PRODUCERS DISTRIBUTION AGENCY PRESENTS
EXIT THROUGH THE GIFT SHOP
PRODUCED BY JAIMIE D'CRUZ NARRATED BY RHYS IFANS
EDITED BY CHRIS KING AND TOM FULFORD
O R I G I N A L M U S I C G E O F F B A R ROW
A D D I T I O N A L O R I G I N A L M U S I C RO N I S I Z E
E X E C U T I V E P RO D U C E R S H O L LY C U S H I N G Z A M B A R I N G J A M E S G AY- R E E S
SOUND J I M C A R E Y A S S I STANT PRODUCER MELODY H OWSE
A S S I STA N T E D I TOR B E L L E B O RGEAUD
Return to Dead Parrot homepage.