There are two shows in LA worth knowing about, both at LACMA:  CALDER AND ABSTRACTION: FROM AVANT-GARDE TO ICONIC
and SEE THE LIGHT—PHOTOGRAPHY, PERCEPTION, COGNITION: THE MARJORIE AND LEONARD VERNON COLLECTION.  Both are described below.
CALDER AND ABSTRACTION: FROM AVANT-GARDE TO ICONIC
There is a great exhibition of the mobiles and stabiles of Alexander Calder in the Resnick Pavilion at LACMA (The Los Angeles County Museum of Art) that is being shown until 27 July 2014.  It was a pleasant surprise to see just how unexpectedly wonderful this exhibition, CALDER AND ABSTRACTION: FROM AVANT-GARDE TO ICONIC, actually was.
<![if !vml]>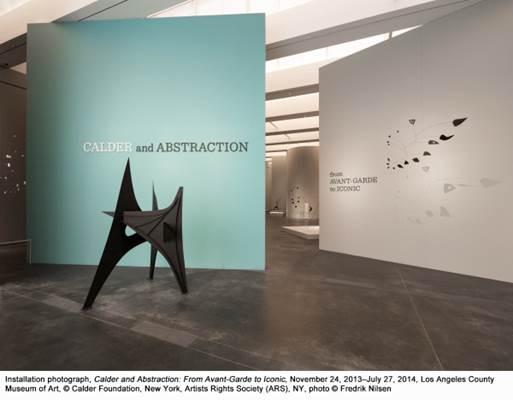 <![endif]>
Most everyone is familiar with—and most of us are extremely fond of—Calder's marvelous creations; but this show has some particularly spectacular pieces, and everything is amazingly well-displayed.  We were especially pleased to see some of his early works from 1931, in which he was clearly doing what he described as "drawing in three dimensions":
<![if !vml]>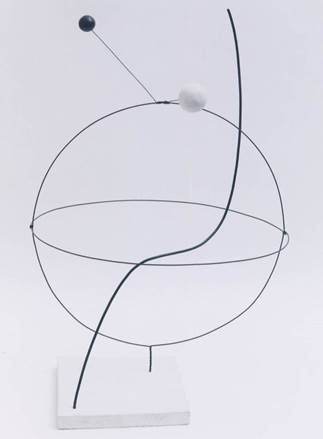 <![endif]>
Croisiére. 1931, 37 x 23 x 23
<![if !vml]>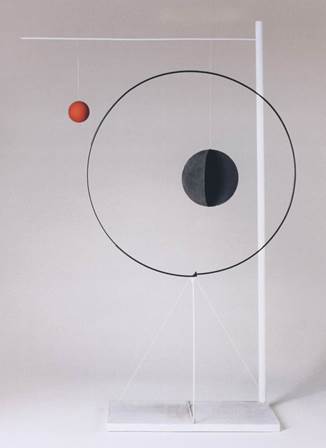 <![endif]>
Object with Red Ball, 1931, 61 ¾ x 38 ½ x 12 ¼  
As Jed Perl notes in his essay "Sensibility and Science" in the impressive catalogue for the show (eds., Stephanie Barron and Lisa Gabrielle Mark,  DelMonico Books), Calder "said that it was a visit to Piet Mondrian's studio in 1930 that provoked his dramatic turn to abstraction." (p. 41)  Stephanie Barron (in her essay "Time, Space, and Moving Forms: Alexander Calder—Beyond the Beautiful" in the catalogue) quotes Calder as saying after that visit to Mondrian's studio:
"The visit gave me a shock… Though I had heard the word 'modern' before, I did not consciously know or feel the term 'abstract.' So now, at thirty-two, I wanted to paint and work in the abstract."
He said, "I was particularly impressed by some rectangles of color he had tacked on his wall in a pattern after his nature.  I told him I would like to make them oscillate—he objected.  I went home and tried to paint abstractly—but in two weeks was back again among plastic materials." (p. 17)
Barron also points out that "Calder would subsequently draw his palette from Mondrian's example as well, using black, white, red, and occasionally blue and yellow." (idem)  She notes that, "Art historian George Baker, however, argues that Calder's abstraction may owe more to the work of Duchamp and Arp, as well as to Dada in general." (pp. 17f)  Barron cites a well-known passage in Calder's 1966 autobiography describing an interaction in his studio with Duchamp:
I asked him what sort of a name I could give these things, and he at once produced "Mobile."  In addition to something that moves, in French it also means motive.  (p. 18)
The exhibition, which was organized by Stephanie Barron, is particularly beautifully displayed.  The installation was designed by Frank Gehry.
<![if !vml]>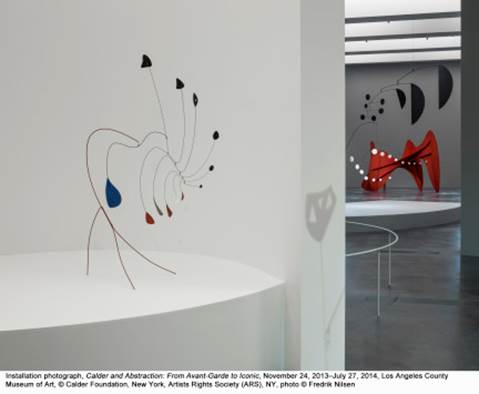 <![endif]>
The curved walls and subtle colors set off the work to maximum effect:
<![if !vml]>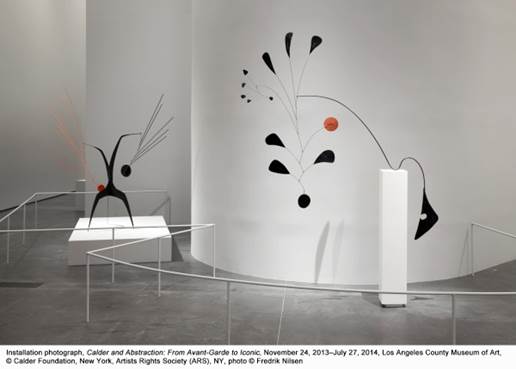 <![endif]>
Another delicately beautiful and clearly feminine piece we loved was
<![if !vml]>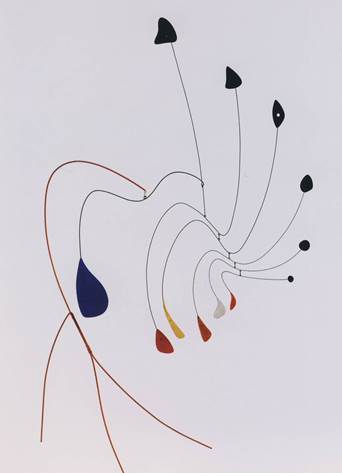 <![endif]>
La Demoiselle, 1939, 58 ½  x 21 x 29 ½
Stephanie Barron, also in her essay in the catalogue, notes the importance of Calder having met Miró in 1928, and quotes Calder as having "admitted, 'Well, the archeologists will tell you there's a little bit of Miró in Calder and a little bit of Calder in Miró. (p. 17)' "  Below is an odd piece that clearly shows the influence of Calder's having met Miró:
<![if !vml]>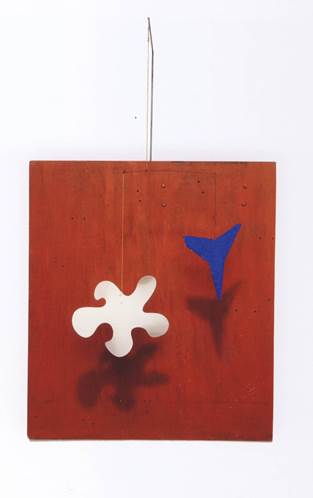 <![endif]>
Red Panel, c.1938, 48 x 30 24
There are more photographs of the exhibit available on the LACMA website at www.flickr.com//photos/lacma/sets/72157638119901055/show/with/11088061416/.  The following is the museum's description of the show:
One of the most important artists of the twentieth century, Alexander Calder revolutionized modern sculpture. Calder and Abstraction: From Avant-Garde to Iconic, with significant cooperation from the Calder Foundation, explores the artist's radical translation of French Surrealist vocabulary into American vernacular. His most iconic works, coined mobiles by Marcel Duchamp, are kinetic sculptures in which flat pieces of painted metal connected by wire move delicately in the air, propelled by motors or air currents. His later stabiles are monumental structures, whose arching forms and massive steel planes continue his engagement with dynamism and daring innovation. Although this will be his first museum exhibition in Los Angeles, Calder holds a significant place in LACMA's history: the museum commissioned Three Quintains (Hello Girls) for its opening in 1965. The installation was designed by architect Frank O. Gehry
Also in the Resnick Pavilion at LACMA:
SEE THE LIGHT—PHOTOGRAPHY, PERCEPTION, COGNITION: THE MARJORIE AND LEONARD VERNON COLLECTION
We had not even known this was there; but it is a wonderful collection of photographs by some of the very best photographers—and well-worth seeing.  Here are a few beautiful examples:
<![if !vml]>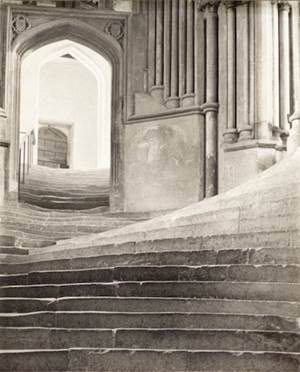 <![endif]>
Frederick H. Evans, A Sea Of Steps—Wells Cathedral, 1903
<![if !vml]>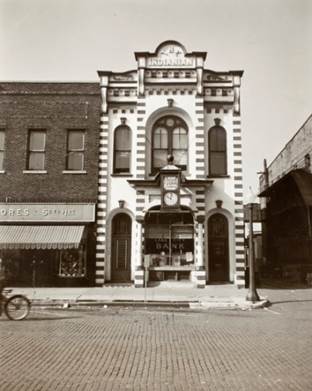 <![endif]>
Walker Evans, Lake City Bank, Indiana, c. 1930, Image: 4 ¾  x 3 7/8; Mount: 18 x 14; Mat: 18 x 14
And Surf Sequence by Ansel Adams, c. 1940 (printed after 1972), Gelatin-silver prints, Images: 11 x 14, Mat: 16 x 20
<![if !vml]>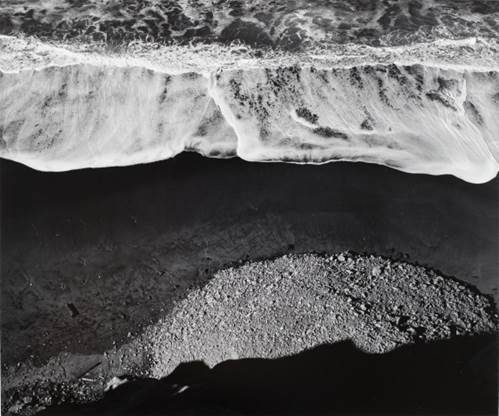 <![endif]>
<![if !vml]>
<![endif]>
<![if !vml]>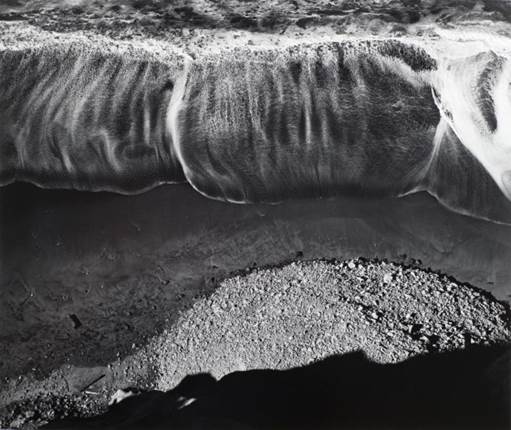 <![endif]>
<![if !vml]>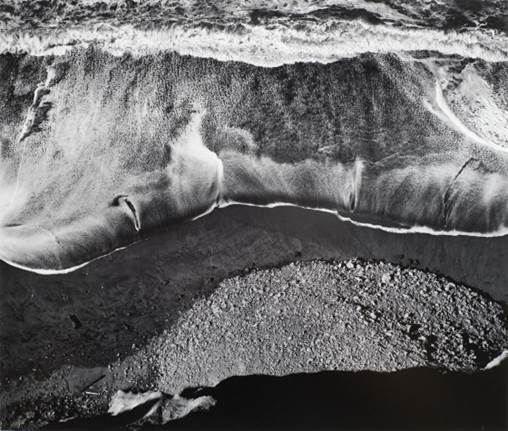 <![endif]>
Here is the museum's description:
Los Angeles residents Marjorie and Leonard Vernon began to collect photography in 1975, eventually building a collection of some 3,600 photographs spanning the entire history of the medium. In 2008 LACMA acquired the complete collection, making it possible for the museum to represent photography's full range and its centrality in modern visual culture. This exhibition of 220 photographs from the Vernon Collection takes a historical perspective, identifying parallels between photography and vision science over time. The earliest commentaries on photography, published at the moment of its invention in the late 1830s, positioned the medium between art and science. As a scientific instrument, the camera operates as an infallible eye, augmenting physiological vision; as an artistic tool, it channels the imagination, recording creative vision. Much of photography's authority and fascination resides in its interdisciplinary grounding. Whether we analyze it as a science or admire it as an art, photography's power may never be fully explained, but it will always offer revelations about vision, perception, and cognition
Return to Dead Parrot homepage.