<![if !vml]>
<![endif]>I have been late getting to see it, but the wonderful little exhibition, Cézanne's Card Players, which has been at the Metropolitan Museum for the past couple of months, is quite extraordinary and very much worth seeing before it closes on 8 May.
Cézanne's Card Players
February 9, 2011–May 8, 2011
The Metropolitan Museum of Art, NYC
Special Exhibition Galleries, 1st floor
Organized by the Met and the Courtauld Gallery of London, it is a small exhibit, in that it focuses on a single theme <![if !vml]>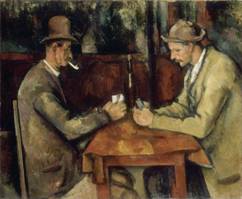 <![endif]>in Cezanne's work, and it does not contain all that many works; but it is also huge, in that the depth and intensity of the experience it provides is so enormously profound.  It centers on Cezanne's magnificent The Card Players of ca. 1890-92 from the Met's own collection (above, at right; Oil on canvas; 25 5/8 x 31 7/8 in.).
<![if !vml]>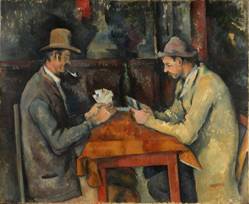 <![endif]>There are two other versions in the exhibition, both of which we were familiar with:  one from the collection of the Musée d'Orsay in Paris  (at left; ca. 1892–96, oil on canvas; 18 1/2 x 22 in.);
 and the other similar version from the Courtauld Gallery in London (at right: ca. 1892–96, oil on canvas; 23 5/8 x 28 3/4 in.).
<![if !vml]>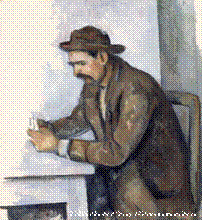 <![endif]>There are two versions that are only represented in the exhibit by back and white photographs:  one from the Barnes Collection, and another, more interesting one, from a private collection.  (In addition, The Smoker, from the Hermitage in St. Petersburg, which had been in the version of the exhibition at the Courtauld, was not permitted to travel to the U.S. for the show at the Met due to "an obscure legal dispute that has turned into a full-scale diplomatic feud between the United States and Russia." [q.v., "Dispute Derails Art Loans From Russia," by Carol Vogel and Clifford J. Levy in the New York Times of 2 February 2011]) 
<![if !vml]>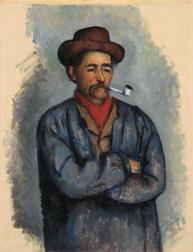 <![endif]>
There are a few spectacular studies in the show that Cezanne did for some of the figures.  These paintings are largely unfinished; but the very fact of this adds to their evocative power.  I had two favorites which I thought were incredibly wonderful.   
The first is The Cardplayer from the Musée d'Orsay in Paris (at left; 1890 -1892, oil on canvas, 50.2x 46.2 cm).  
The second is Man with a Pipe from the Marion and Henry Bloch Collection, Courtesy of The Nelson-Atkins Museum of Art, Kansas City, Missouri (at right; ca. 1890–92, oil on canvas; 15 3/8 x 11 7/8 in.).
<![if !vml]>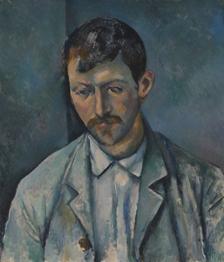 <![endif]>
One of the treats of this exhibition is watching how Cezanne developed, played with, and varied the cast of characters he chose for this drama; how he manipulated, altered, and adjusted the composition across these various paintings; and, as always with this most masterful of all painters, how he dealt with the subtleties of the interplay of color and form, brushstroke and texture, surface and depth, and—in the most exciting sense—representation and the beginnings of abstraction.  Lest I commit a grave error, I must mention the examples of his wonderful drawings that are part of this exhibition.  Cezanne was an exquisite draftsman when he wanted to be.
<![if !vml]>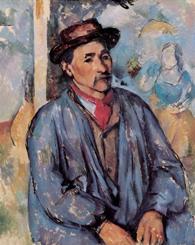 <![endif]>The exhibition concludes with a room of portrait-like single-figure paintings of some of the characters from the Card Players paintings—some of which actually are, in fact, portraits of specific people.  I found three of them irresistible.
My very favorite—and one of my favorite works in the show—is Peasant (at left: ca. 1890–96
Oil on canvas; 21 5/8 x 18 1/8 in.), a painting from a private collection which I do not recall ever having seen before.  It is an exquisite painting in its gentle power and its profound subtlety (neither of which, unfortunately is done justice in any way by this reproduction).  The subject may be "a peasant," but Cezanne captures a sense of his stature and almost sublime depth.  And the marvelous use of color powerfully draws one into this work visually every <![if !vml]>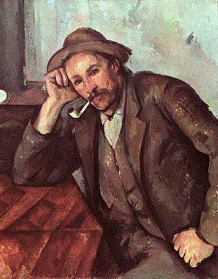 <![endif]>bit as much as the subject draws one in psychologically.
Meanwhile, the Man in a Blue Smock (at right;  ca. 1890-96, oil on canvas; 31 1/2 x 24 3/4 in., Kimbell Art Museum, Fort Worth, TX), is another treat, albeit not quite so sublime.
The Smoker,  from the Kunsthalle in Mannheim (at left;  c.1890-91, oil on canvas, 92 x 73 cm) is yet another fabulous painting.
I am a great Cezanne fan.  In fact, he may well be my favorite painter of all time.  So, I may be biased.  But I think this is one terrific show…and I suggest you see it while it is still in town.