V. S. Gaitonde: Painting as Process, Painting as Life
Guggenheim New York
24 October 2014 – 11 February 2015
A wonderfully unexpected side benefit of my recent trip to India was that I was introduced to the paintings of V. S. Gaitonde.  I had never heard his name before, but I shall never forget it in the future.  A major collector of contemporary Indian art made me aware of him in New Delhi during my visit, and he told me that there is currently a major retrospective of his work, V. S. Gaitonde: Painting as Process, Painting as Life, at the Guggenheim in NYC.  Nancy and I went this afternoon, and we were totally blown away!  This is an artist you need to know about, and it is an exhibition you will not want to miss. We are now convinced that he was one of the great painters of the 20th century; with its 45 paintings plus works on paper, this is a MUST SEE exhibition.  (The exhibition is up through 11 February 2015; and it will then be moving to the Peggy Guggenheim in Venice, 3 October 2015 - 10 January 2016.)
Vasudeo Santu Gaitonde (1924–2001) was profoundly influenced by the entire sweep of 20th century western painting, from Cubism on; but he managed to absorb and metabolize these influences, rather than reproduce them.  At every point in his development, one feels on the one hand global influences and whole range of the history of modern painting, while on the other a deeply Indian sensibility—all combined in a quintessentially personal and individual fashion.  There was one powerful, late-Cubism-inspired piece that very much reminded me of the palette and style of the ones I had originally seen in the home of the collector in New Delhi:
<![if !vml]>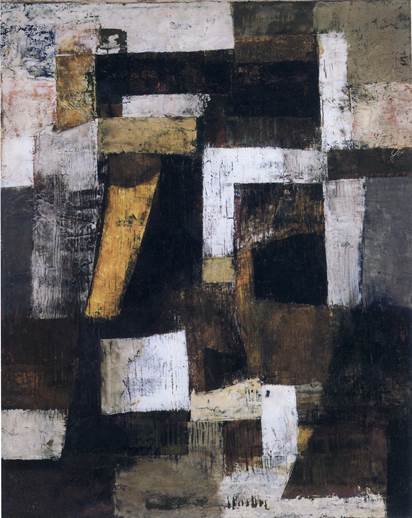 <![endif]>
Untitled, 1957. Oil on canvas. Collection of Priyam and Gaytari Jhaveri.
Several of the earlier works in the show demonstrate the clear influence of Paul Klee on Gaitonde:
<![if !vml]>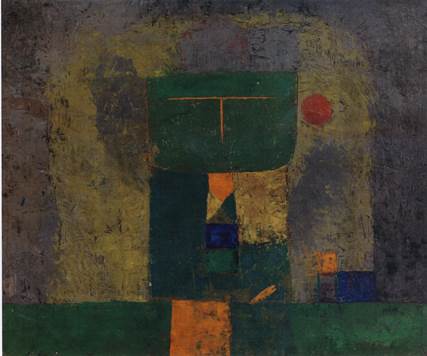 <![endif]>
Untitled. 1956. Oil on canvas. Chowdury Family Collection, Vienna-Mumbai.
<![if !vml]>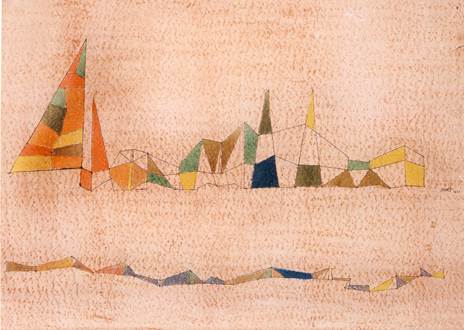 <![endif]>
Untitled. 1957. Ink and pastel on paper. Chowdury Family Collection, Vienna-Mumbai.
Sadhini Poddar, the curator of V. S. Gaitonde: Painting as Process, Painting as Life and author of the exhibition's excellent catalogue by the same name (available on Amazon.com), has written for that publication an excellent essay entitled, "Polymorphic Modernisms and Gaitonde's Interiorized Worldview."  The title suggests how varied the influences on Gaitonde were:
When the twentieth century is viewed through the psycho-geography of a series of shifting and overlapping tectonic plates—through modernism, decades of decolonialization and nationalism, postmodernism, and postcolonialism, and the intercultural dialogues between Asian, European, and American artists, intellectuals, and cultural agents—what emerges is the story of several simultaneously evolving histories, or what I have termed for the purposes of this essay a system of 'polymorphic modernisms." (p. 18)
Nevertheless, the notion of his "interiorized worldview" insists that all these influences became internalized and personally absorbed by Gaitonde.
One finds elements of Kandinsky and Rothko, but also of Japanese art and of Zen.  The gorgeous painting below, with all the subtlety of its background color and excitement of its central horizontal elements of intense blue pigment and almost calligraphic strokes of black, was powerfully enhanced by the exciting dab of orange, which creates a level of active visual tension that electrically enlivens the whole composition:
<![if !vml]>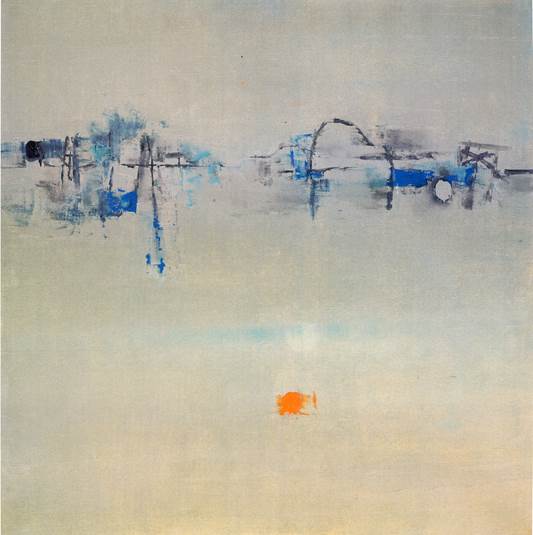 <![endif]>
Painting No.1, 1962. Oil on canvas. Collection of Priyam and Gaytari Jhaveri.
There is a power and depth to these works that is breathtaking.  The profoundly resonant palette of the painting below, intensified by Gaitonde's bold incisive strokes with the palette knife, and highlighted by the small but striking application of the stroke of teal pigment on the right side of the darker central horizontal zone combine to make an incredibly moving painting:
<![if !vml]>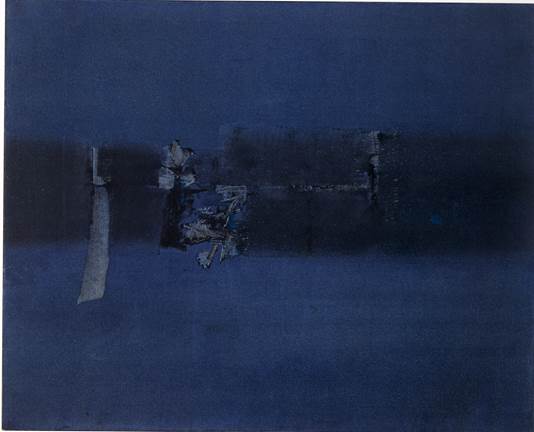 <![endif]>
Untitled, 1965. Oil on canvas. Private collection.
There is a deeply luminous quality to these paintings, coming in part from the fact that Gaitonde applied a brilliant white underpainting to his canvases, over which he would apply a series of thin, translucent layers of paint (often employing a roller).  There is also a counterpoint to this quality in the heavy, opaque application of pigment with a palette knife—what Poddar describes as, "the use of the palette knife to create sporadic passages of impasto in paintings…lending them a physicality and surface relief." (p. 37)  Nevertheless, the brushwork creates—even in what could be taken as background—a richness and complexity of texture and an interplay of surface and depth that drew us in, much as do those areas in a work by Rothko:
<![if !vml]>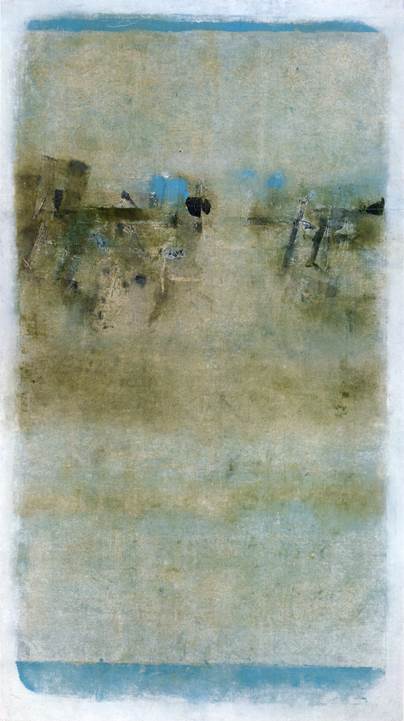 <![endif]>
Untitled, 1965. Oil on canvas. Private collection, New Delhi.
Gaitonde would apply cutout forms and strips of newspaper or magazine pages to the painted surface of his works and them lift them off.  This in part creates forms on the surface of the paintings not unlike those created in some versions of the monotype process in which cutouts or stencils are laid onto the inked or painted plate that is then pressed to paper or canvas to make a unique print (monotype in general involves adding or removing ink or paint from a plate to then create a unique impression; it is a process said to have been invented by Govanni Benedetto Castiglione in the 17th century, but used by artists as diverse as Degas, Pissarro, Paul Klee, and Nancy Rubens! [In fact, Nancy used cutout shapes when she was experimenting with monotypes—using the same press as had belonged to Robert Motherwell, incidentally; and the resulting prints were the precursors to her "Bladescape" series.])  The process also creates a quite novel and interesting set of surface textures, as the lifting of the newspaper from the painted surface causes the removal of paint in some areas and the agglomeration of paint in others.
<![if !vml]>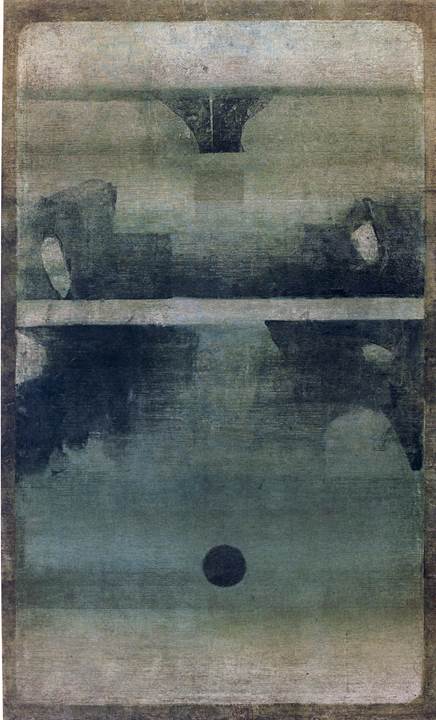 <![endif]>
Untitled, 1970. Oil on canvas. Taj Mahal Palace Hotel, Mumbai.
In some of the paintings, this technique is partially responsible for the horizontal banding that occurs.  In the beautiful painting below, all this surface and texture and brushwork is punctuated (as it is in the one above) with the introduction of circles of color in the central vertical axis of the composition—an effect that is highly visually successful, and somewhat reminiscent of some of the best works by Joan Miró.
<![if !vml]>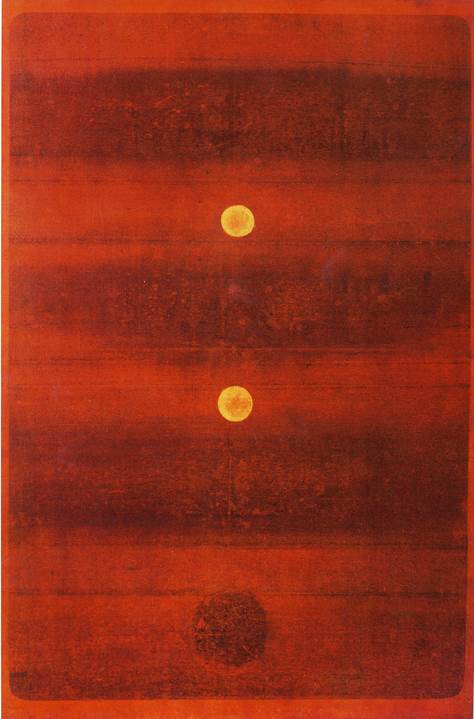 <![endif]>
Untitled, 1973. Oil on canvas. Nirav Modi Collection, Mumbai.
There was one almost monochromatic painting we adored from the same year (1973).  It is of interest that Gaitonde produced only five or six paintings a year: great care and work went into each one. This amazing painting which fades into a lighter intensity toward the top (despite the one appearance of muted color in the top left), but almost fades completely to white at toward the bottom, almost seemed to be made up of hieroglyphics or cuneiform writing in horizontal bands.  It is an incredibly satisfying painting:
<![if !vml]>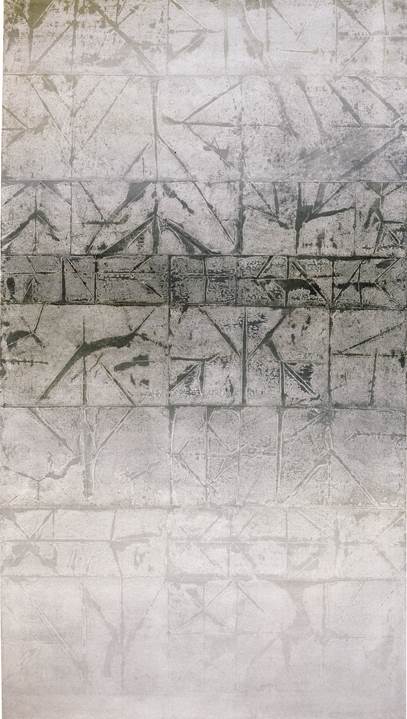 <![endif]>
Untitled, 1973. Oil on canvas. National Gallery of Modern Art, New Delhi.
Gaitonde used a folding process in the creation of some of the works, according to Poddar following the lead Simon Hantaï a Hungarian emigré based in Paris:
However, whereas in Hantaï's case the folds serve to create unpainted, negative spaces in order to deconstruct the surface of the painted image and achieve a "visual silence," in Gontonde's example, they serve as alternative markings (to those made with a palette knife or brush) to build up the surface of the work. (p. 38)
<![if !vml]>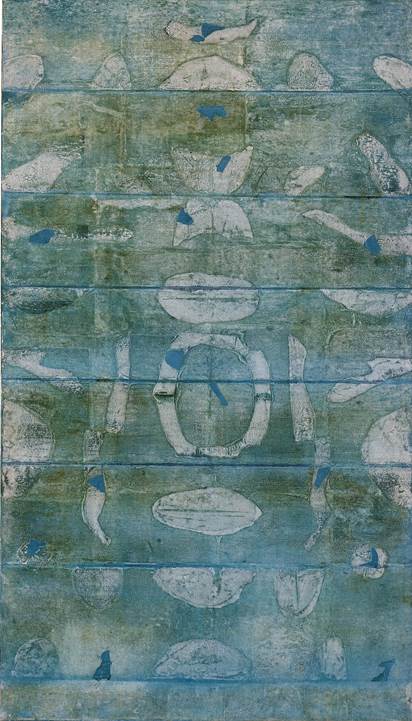 <![endif]>
Untitled, 1974.  Oil on. Arun and Ritu Vadehra Collection, New Delhi.
There were striking beautiful later works in ink and paper, like this splendid one from 1987:
<![if !vml]>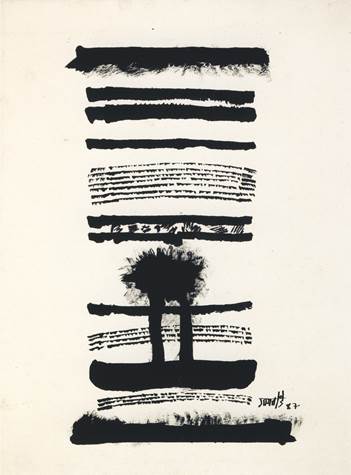 <![endif]>
Untitled, 1987. Ink on paper. Collection of Ram Kumar.
And, in his later periods, some works of transcendently exquisite beauty:
<![if !vml]>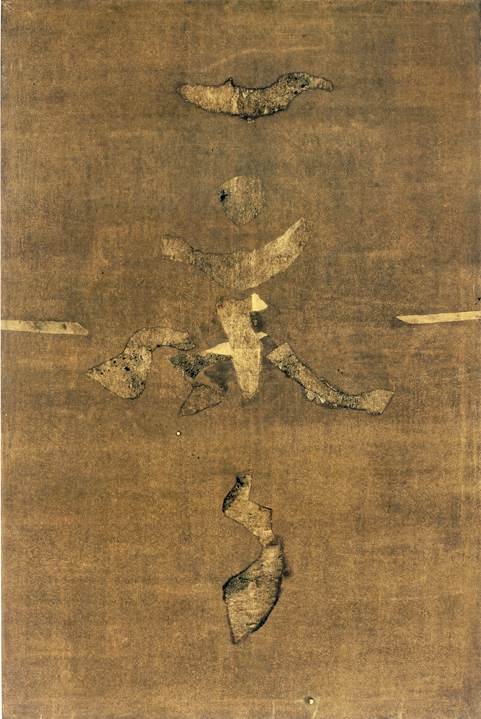 <![endif]>
Untitled, 1995. Oil on canvas. Pundole Family Collection.
<![if !vml]>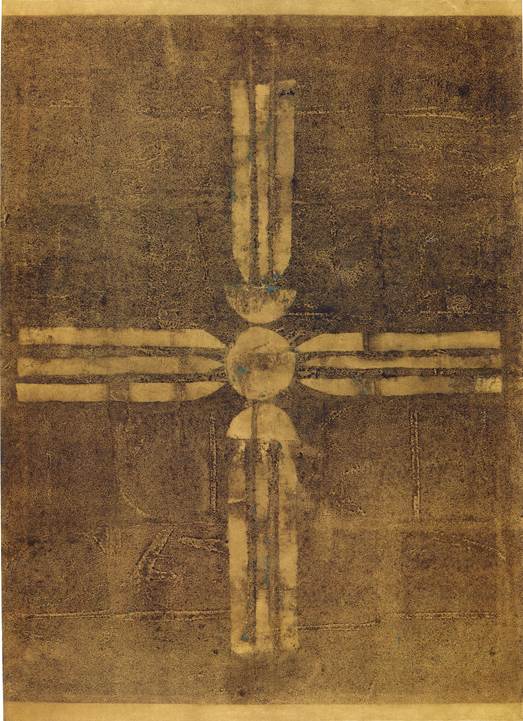 <![endif]>
Untitled, 1997. Oil on canvas. ACG Worldwide Collection.
There was an article about the exhibition by Arthur Lubow in the NY Times of 18 October, "Indian Modernist, Artist of Mystery: V. S. Gaitonde's Art Gets a Guggenheim Retrospective," (q.v., click here); and it contained a moving photograph of Gaitonde:
<![if !vml]>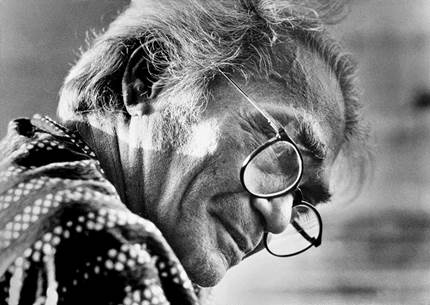 <![endif]>
Indian modernist painter V. S. Gaitonde. Credit Shalini Saran. NY Times.
The Guggenheim's online description of the show is also of interest:
An artist of singular stature, modernist painter Vasudeo Santu Gaitonde (1924–2001) was known to fellow artists and intellectuals, as well as to later generations of students and admirers, as a man of uncompromising integrity of spirit and purpose. Born in Nagpur, India in 1924, Gaitonde…remained independent throughout most of his career. This exhibition draws an arc from Gaitonde's early, figurative, mixed-medium compositions and watercolors inspired by Paul Klee, through his major bodies of signature canvases from the 1960s and '70s, to his late works from the 1980s and '90s. Departing from Klee, Gaitonde's practice began in the late 1950s in a nonrepresentational mode—or, as he preferred to call it, a nonobjective style…
…Gaitonde scorned sentimentality in his biography and his artistic practice. …Stressing the importance of the present moment, the completeness and joy of the creative process, and the intimate relationship between painter and painting, "Gai," as he was popularly known among peers, was an intrepid and influential artist whose career remains unequaled in the history of South Asian modern art…
… this seminal retrospective exhibition presents an unparalleled opportunity to explore the context of Indian modern art as it played out in the metropolitan centers of Bombay (now Mumbai) and New Delhi from the late 1940s through the end of the twentieth century. It comprises forty-five major paintings and works on paper drawn from thirty leading public institutions and private collections, forming the most comprehensive overview of Gaitonde's work to date. Including many pieces that have never been seen by the public, the exhibition reveals Gaitonde's extraordinary use of color, line, form, and texture, as well as symbolic elements and calligraphy, in works that seem to glow with an inner light.
…Gaitonde's work spans the traditions of nonobjective painting and Zen Buddhism as well as Indian miniatures and East Asian hanging scrolls and ink paintings. When looking at Gaitonde's oeuvre within the wider related context of international postwar art, one can also draw parallels to artists working within the contemporary School of Paris, as well as movements such as Art Informel, Tachisme, and Abstract Expressionism. Yet Gaitonde's output continues to be defined by the particular ethos of India, where the artist lived and worked his entire life.
Return to Dead Parrot homepage.