Cubism: The Leonard A. Lauder Collection
20 October 2014 – 16 February 2015
Metropolitan Museum of Art
Cubism: The Leonard A. Lauder Collection presents for the first time the entire collection of works that Mr. Lauder pledged to the Metropolitan Museum in April 2013--a billion dollar unrestricted gift that ranks as one of the most significant in the history of the Met. With 81 paintings, works on paper, and sculptures (34 by Picasso, 17 by Braque, 15 by Gris, and 15 by Léger), The Leonard A. Lauder Collection is one of the most significant collections of Cubist works in the world, and certainly the most significant ever to have been held in private hands. The Met's collection now has become at least on a par with that of MoMA and the Pompidou Center in Paris--making New York now the place to go to see the pivotal examples of the best work of that period.
This is an amazing collection, and a fabulous show. We plan to return numerous times. You should not miss it!
Emily Braun (who served as curator of Mr. Lauder's collection) and Rebecca Rabinow (the recently appointed Leonard A. Lauder Curator of Modern Art at the Met) co-curated this magnificent exhibition and also edited the catalogue for the show, which includes 22 essays by 17 preeminent scholars--ranging from important art historians and museum curators to unexpected contibutors like Nobel Prize-winning neuroscientist Eric Kandel--which uses the works in the collection along with other works to create a far reaching discussion of the theory and history of Cubism. This wonderful catalogue begins with a conversation between Leonard Lauder and Emily Braun, entitled "A Collector's Story," in which Mr. Lauder discusses the origins of how he first came to be a collector, how in 1976 he began the 35 year effort of collecting Cubist works, and what that process was like. He says that his first "serious" acquisition was a collage by Kurt Schwitters, Mz 79. Herz-Klee. Although this work is not Cubist and is not in this collection, it does appear in the catalogue as part of this conversation; and I reproduce it here because it is so wonderful--and such an amazing first major acquisition:
<![if !vml]>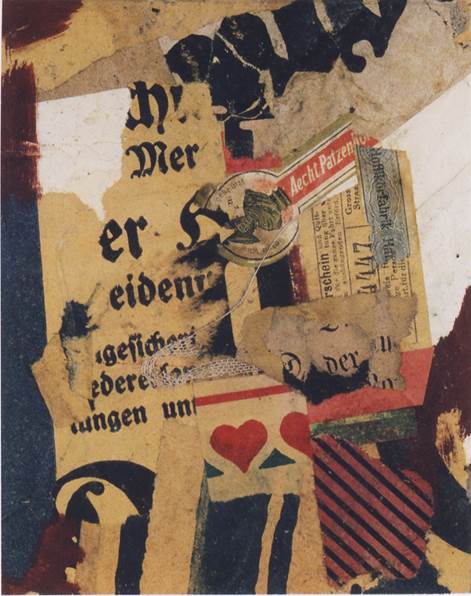 <![endif]>
Kurt Schwitters. Mz 79. Herz-Klee. 1920. Printed papers, India ink, fabric netting, and thread on paper.
Braque and Picasso are the real stars of The Leonard A. Lauder Collection--and, of course, they were the real stars of Cubism, which they founded. More than half of the Collection focuses on the period from 1909 to 1914 when Braque and Picasso collaborated closely.
In 1907, Braque had still been working in a Fauvist style. As Jack Flam points out in his essay in the catalogue, "The Birth of Cubism: Braque's Early Landscapes and the 1908 Gallerie Kahnweiler Exhibition,"
In September 1908 Georges Braque submitted to the jury of the Salon d'Automne six Cezanne-inspired pictures... The jury, headed by Henri Matisse, rejected them; Matisse reportedly described the refused canvases as being full of "little cubes." Stung by the rejection, Braques arranged instead to show thirty-seven of his recent works at Daniel-Henry Kahnweiler's gallery... That exhibition, which ran from November 9 to 28 marked the birth of "Cubism" as a concept.
The Collection includes two of Braque's landscapes from this historic show: his 1907 The Terrace at the Hôtel Mistral, which marks Braque's transition from Fauvism to Cubism,
<![if !vml]>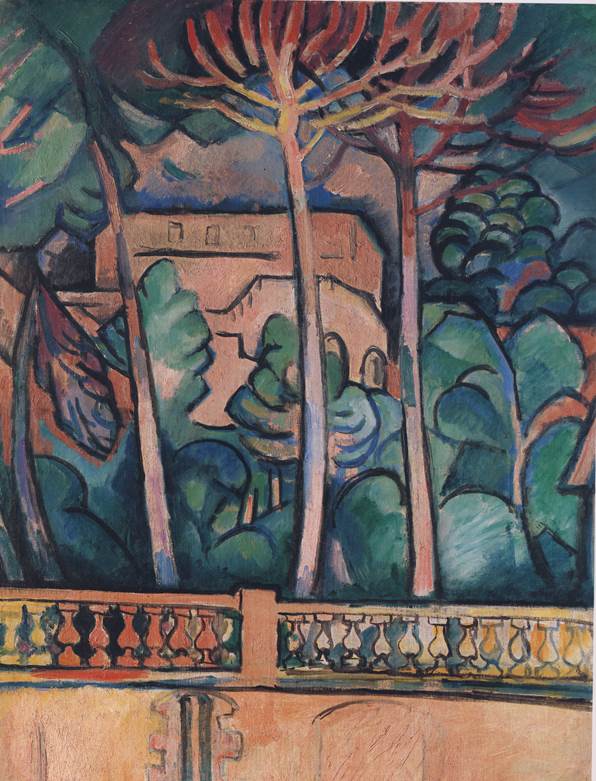 <![endif]>
Georges Braque. The Terrace at the Hôtel Mistral. Autumn 1907. Oil on canvas.
and, a year later, the all-important Trees at L'Estaque, which has been said to have inaugurated Cubism:
<![if !vml]>
<![endif]>
Georges Braque. Trees at L'Estaque. Summer 1908. Oil on canvas.
Flam notes that by the time Braque painted Trees at L'Estaque,
he had not only seen the two big Cézanne shows but also Picasso's Les demoiselles d'Avignon, which produced such a state of shock that he later said that he felt as if he had been forced to eat tow or drink kerosene. By then Braque was assimilating into his own painting the geometrical substructures, spatial fracturing, and dynamism that he so admired in Cézanne, while giving himself the freedom to work with some of the roughness and uninhibited angularity he had seen in Picasso's large canvas.
And, of course, Les demoiselles d'Avignon was a seminally important moment in the process leading up to what was to become Cubism--not least because it demonstrated the effects of African art on the development of Cubism--and the art of the twentieth century in general. In fact, it used to be in vogue to claim that it was the first Cubist painting, although it currently is viewed more correctly as the first "proto-Cubist" work. (If one wants to think competitively about the importance of the Met and of MoMA in this area, MoMA having the iconic Les demoiselles d'Avignon gives it no small leg up.) The Leonard A. Lauder Collection has an extremely beautiful and wonderful painting Picasso did as a study for Les demoiselles d'Avignon, Nude with Raised Arm and Drapery:
<![if !vml]>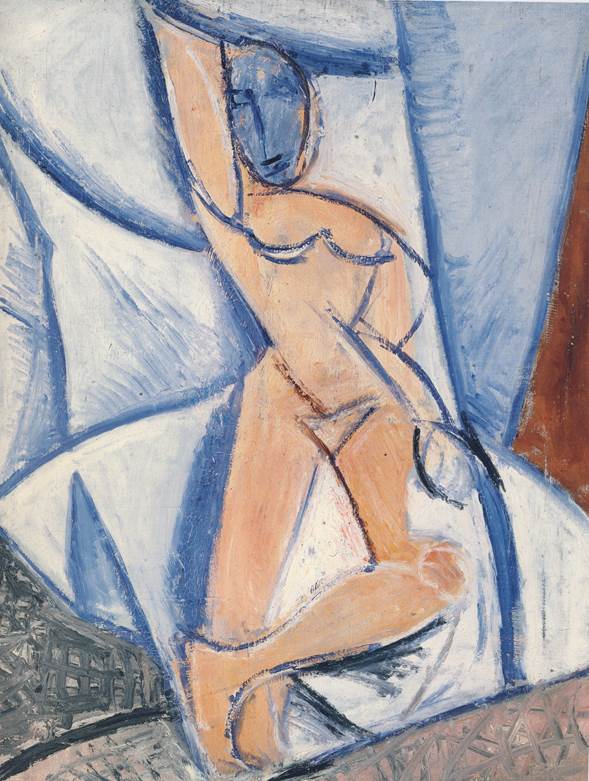 <![endif]>
Pablo Picasso. Nude with Raised Arm and Drapery. Spring-summer 1907. Oil on canvas.
Michael FitzGerald in his essay, "Picasso, Cézanne, and Accounts of Early Cubism," discusses the complex relationship Picasso had to the work of Cézanne--whom he on the one hand said he "was like our father," and on the other seemed to feel he was more like a rival "peer than a predecessor." He also discusses the complex question of whether it was Picasso or Braque who was more directly responsible for the creation of Cubism. Many of his works, like the wonderful The Chocolate Pot from 1909, show the intensity of Picasso's relationship to Cézanne:
<![if !vml]>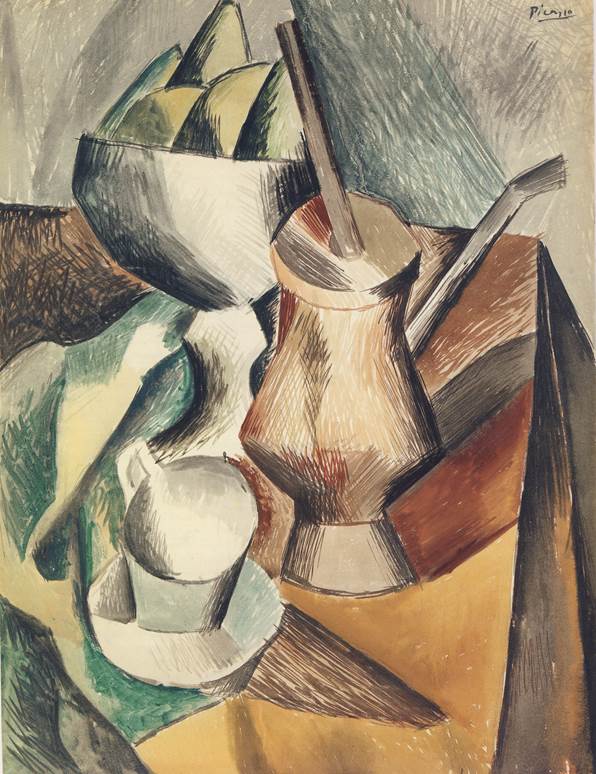 <![endif]>
Pablo Picasso. The Chocolate Pot. Early 1909. Watercolor and gouache with traces of charcoal on white laid paper.
as does his slightly later and equally wonderful Sugar Bowl and Fan:
<![if !vml]>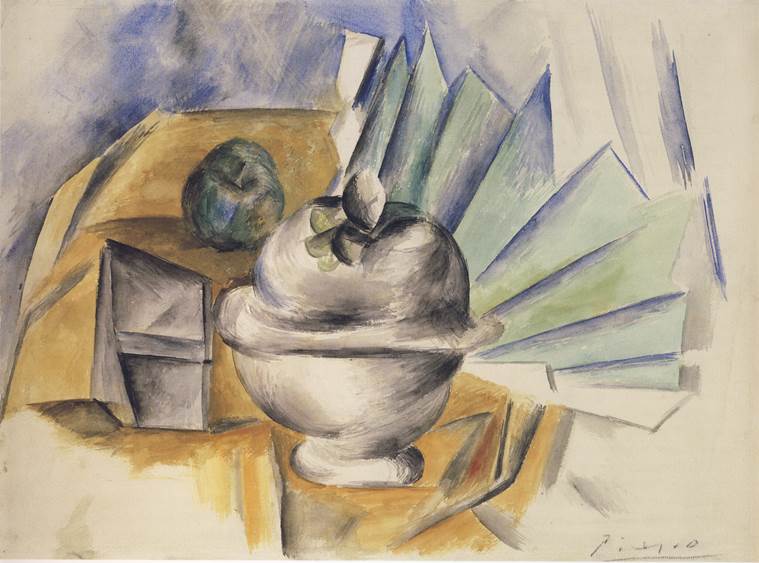 <![endif]>
Pablo Picasso. Sugar Bowl and Fan. Autumn1909. Watercolor on white laid paper.
While I personally almost always prefer the works of Braque to those of Picasso, they are both geniuses of monumental importance in the history of art; and they were both clearly pivotally involved in the development of Cubism. The work of Cézanne obviously had a profound influence on both of them (it had an enormous impact on all of the originators of twentieth century art; Matisse, while a nay-sayer early-on about Cubism, referred to Cézanne as "the father of us all") and was a formative influence in the development of Cubism. Nevertheless, I believe it was through Braque that the most profound Cézanne influence affected Cubism. (On the other hand, it was clearly via Picasso that African art influenced the growth of Cubism.) The simple truth is that Cubism was the creation of both Braque and Picasso; and, in fact, the direct interaction between them was essential in the process. And, as the Met's online write-up points out,
By 1909 Braque and Picasso were inseparable. As Picasso later recounted, "Almost every evening, either I went to Braque's studio or he came to mine. Each of us HAD to see what the other had done during the day. We criticized each other's work. A canvas wasn't finished until both of us felt it was."
In fact, they worked together extensively, sharing a fertile back and forth in their creative growth.
Braque's Fruit Dish and Glass (1912), the very first Cubist papier collé (paper collage) ever created, is also in the Collection. Collages were a revolutionary Cubist art form in which ready-made objects were incorporated into fine art. In the summer of 1912, while vacationing with Picasso in the south of France, Braque saw imitation wood-grain wallpaper in a store window. He waited until Picasso left town before buying the faux bois paper and pasting it into a still-life composition. Braque's decision to use mechanically printed, illusionistic wallpaper to represent the texture and color of a wooden table marked a turning point in Cubism. Braque later recounted, "After having made the papier collé [Fruit Dish and Glass], I felt a great shock, and it was an even greater shock for Picasso when I showed it to him."
<![if !vml]>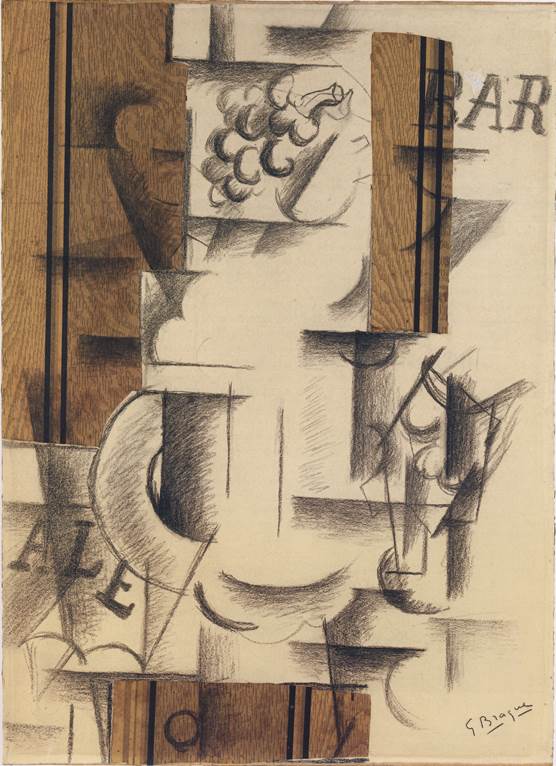 <![endif]>
Georges Braques. Fruit Dish and Glass. autumn 1912. Charcoal and cut-and-pasted printed wallpaper with gouache on white laid paper.
It is impossible to overstate the importance of the invention of collage in the development of Cubism--or of abstract art in general. Collage speaks directly to the main themes in the movement toward abstraction, from the Impressionists and Post-Impressionists, through the Cubists, and beyond: it emphasizes the physical surface of a painting, even while creating pictorial depth in the composition; it plays back and forth between physical reality and representational reality in a way that is an unavoidable, self-referential comment on the process of artistic creation itself; and, in the end, it tends to emphasize the formal, compositional and structural elements of a work, rather than the representational. Picasso himself soon took up the papier collé, primarily using newspapers in place of Braque's wallpaper. A particularly beautiful one from 1912 is included below:
<![if !vml]>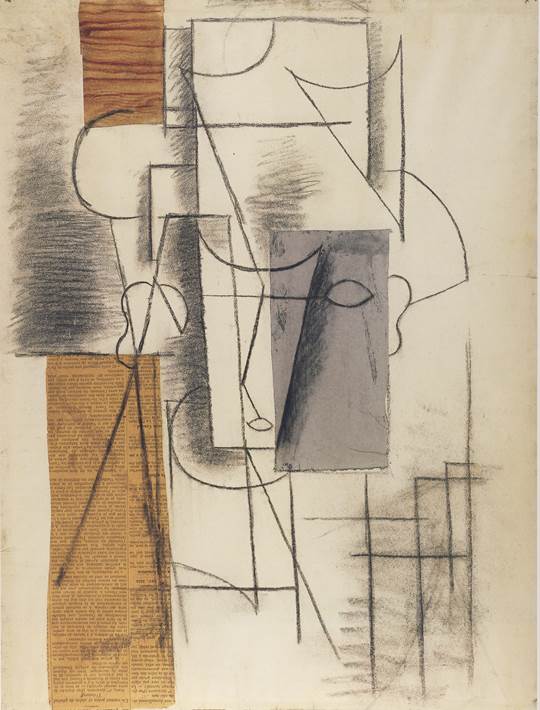 <![endif]>
Pablo Picasso. Head of a Man. 1912. Charcoal, watercolor, cut-and-pasted newspaper, and gray laid paper on white laid paper.
You will have noted that I have been focusing only on Braque and Picasso--but that is because I love the works of these two giants. The Collection also contains great works by Juan Gris, like
<![if !vml]>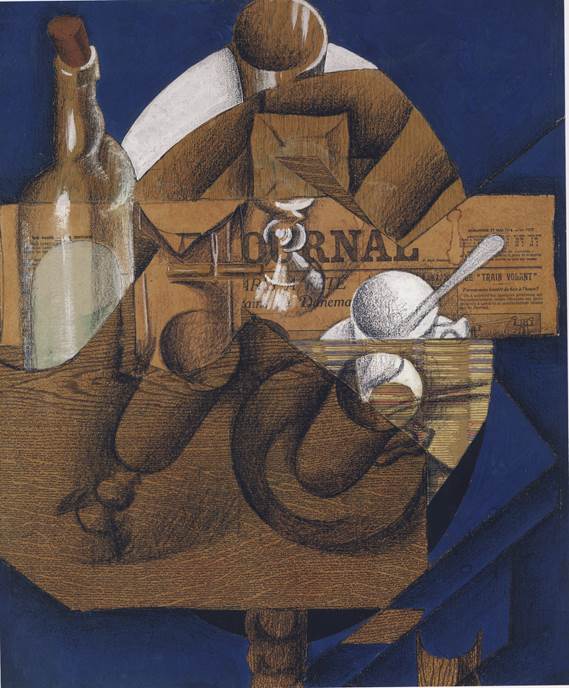 <![endif]>
Juan Gris. Cup, Glasses, and Bottle (Le Journal). 1914. Conté crayon, gouache, oil, cut-and-pasted newspaper, white laid paper, printed wallpaper (three types), selectively varnished, adhered overall onto a sheet of newspaper, mounted to primed canvas.
and by Fernand Léger, like
<![if !vml]>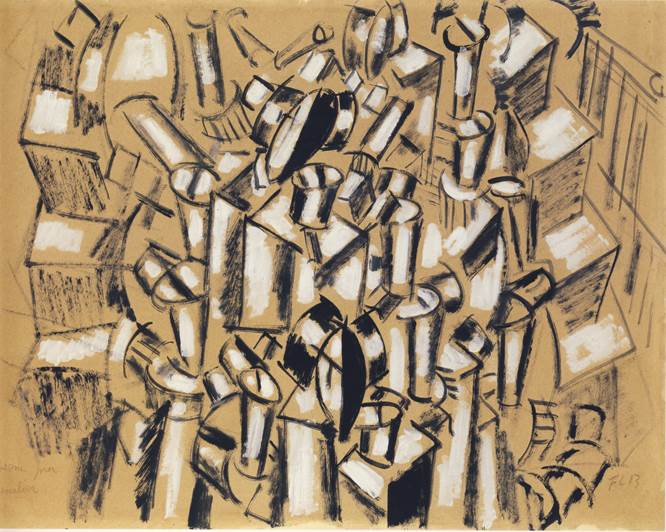 <![endif]>
Fernand Léger. Drawing for "The Staircase." 1913. Gouache and oil on tan wove paper.
or his House Under the Trees:
<![if !vml]>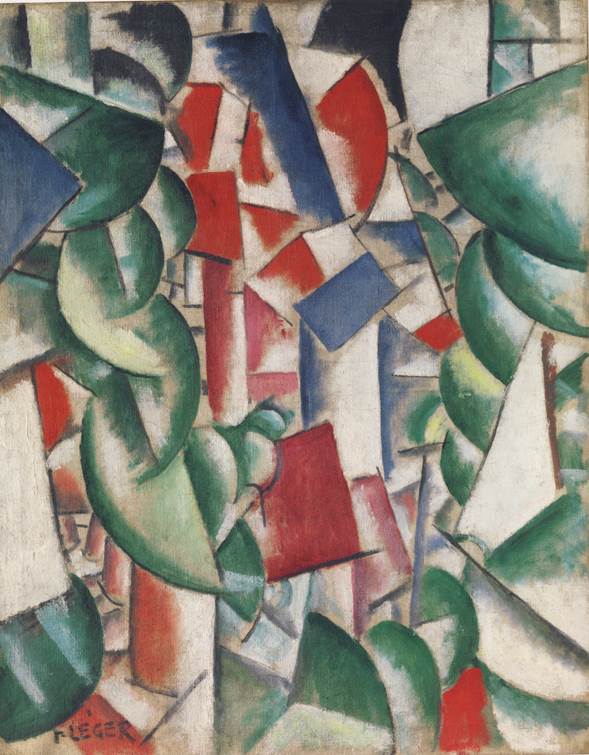 <![endif]>
Fernand Léger. House Under the Trees. 1913. Oil on canvas.
There is a limit to how many of these marvelous images I can send you. And the ones I am including do not even begin to capture the scope of the treasures contained in this exhibition. The only answer is to get yourself to the met sometime in the next four months and to see the show in person. If you really cannot make it to New York, order the catalogue--it is terrific, and the images are very high quality. (It is available online from Amazon.com)
Return to Dead Parrot homepage.