There were three amazing exhibitions we saw in London last week, one ended, one ending tomorrow, and one ending 25 January:
Rembrandt: The Late Works, at the National Gallery, closing 18 January;
Late Turner: Setting Painting Free, at the Tate Britain, closing on 25 January 2015; and
Constable: The Making of a Master, at the Victoria and Albert, which closed 11 January.
It is no esoteric secret in the observation that Rembrandt (1606-1669) was an unparalleled genius; but this exhibition, which presents an incredible richness of paintings and etching from his extremely creative later years, beginning in the late 1650s until his death at 63, thrilled us and led me more fully to appreciate the amazing perfection of his creative powers. As the National Gallery write-up notes,
...far from becoming complacent as he aged, or falling into artistic decline, he radically changed course in his later years to create some of his most daring drawings, prints, and paintings.
The works exhibited here...explore the qualities that distinguish this period.  They reveal a relentless experimental approach to technique, an extraordinary skill in rendering the effects of light...and a quest to understand and represent humanity's deepest motivations and emotional states.
What struck me so profoundly, getting the opportunity to immerse myself in glorious richness of all these masterpieces, was the incredible combination of abilities Rembrandt had: he may be the most accomplished, nuanced, yet powerful draughtsman of all time
<![if !vml]>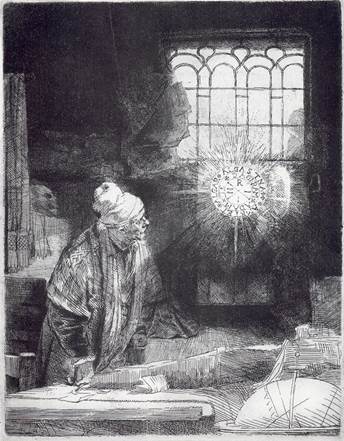 <![endif]>
A Scholar in his Study (Faust) ca. 1652. Etching, engraving, and drypoint.
<![if !vml]>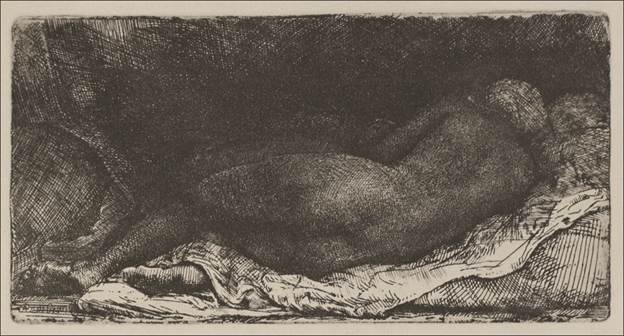 <![endif]>
Reclining female Nude (La Négresse couchée), 1658. Etching and drypoint.
(the subtlety and intensity of his etchings are simultaneous intricate yet totally and assertively clear in their communication;  and yet when he did drawings with reed pens,
<![if !vml]>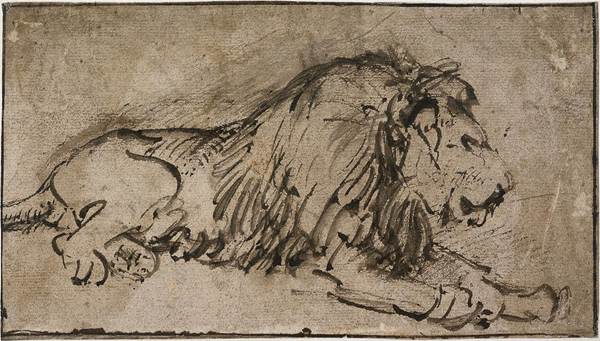 <![endif]> 
Recumbent Lion, Facing Right, 1660-5. Pen and brown ink on brown paper.
<![if !vml]>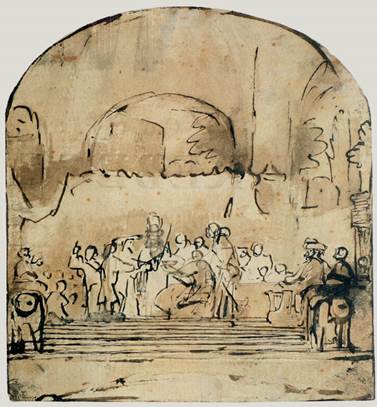 <![endif]>
Conspiracy of the Batavians under Claudius Civilis, ca. 1661. Pen and brown ink with brown wash.
there is a fluidity and grace that presents a surprisingly different dimension in which his ability to be gestural comes to the fore); he was the ultimate painterly creator of light and color in his paintings, producing tones that emanate from within the interior of his layers of pigment and give inner life to all within the paintings;
<![if !vml]>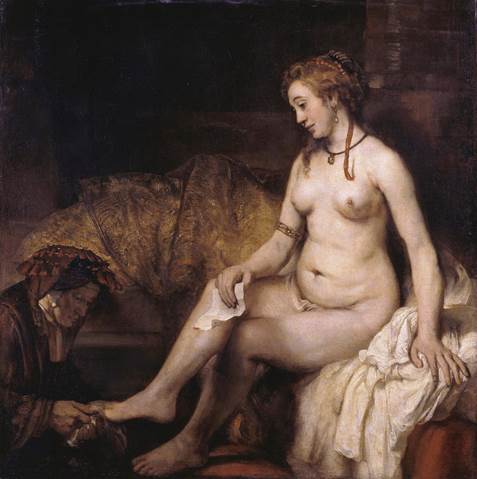 <![endif]>
Bathsheba with King David's Letter, 1654. Oil on canvas.
<![if !vml]>
<![endif]>
Simeon with the Infant Christ in the Temple, 1669. Oil on canvas.
and he was an unparalleled observer and recorder of the inner being of the souls as reflected in the individuality of the faces of all the subjects he captured in his work (it is impossible not feel the individual character and human history of each of his subjects—never so strong as in his self-portraits, [I adore the somewhat quizzical look in his face in this self portrait of 1661, below]
<![if !vml]>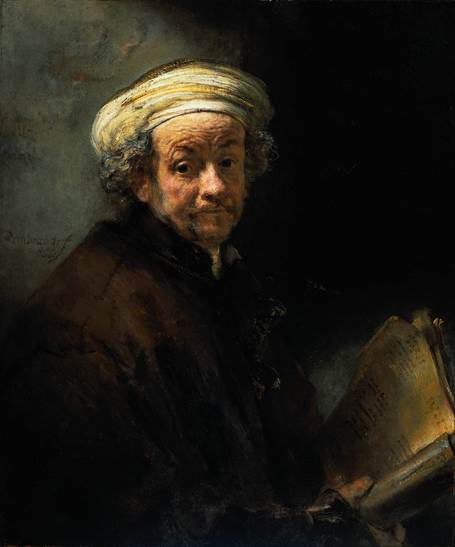 <![endif]>
Self Portrait as the Apostle Paul, 1661. Oil on canvas.
<![if !vml]>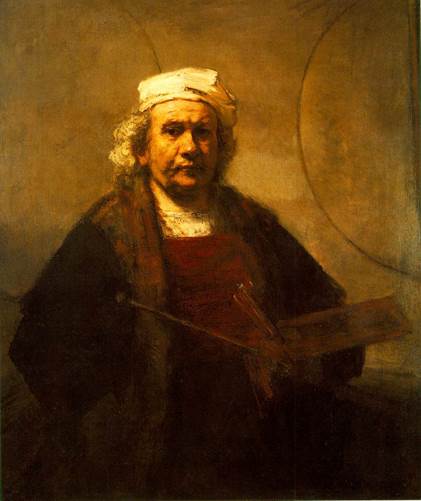 <![endif]>
Self Portrait with two Circles, 1665-9. Oil on canvas.
[the painting below is likely the final of his self portraits]
<![if !vml]>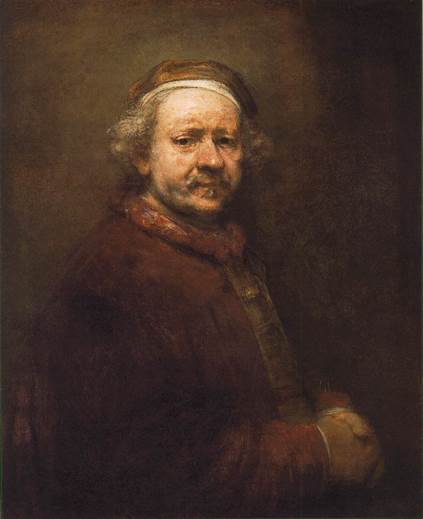 <![endif]>
Self Portrait, 1669. Oil on canvas.
but always present in his rendering of every human being). [as here in a painting of his son, Titus]
<![if !vml]>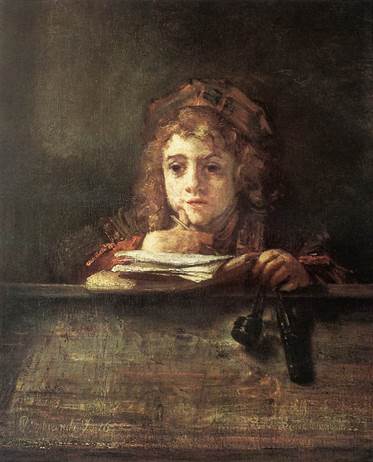 <![endif]>
Titus at his Desk, 1655. Oil on canvas.
[or below, in a painting of Titus as a monk]
<![if !vml]>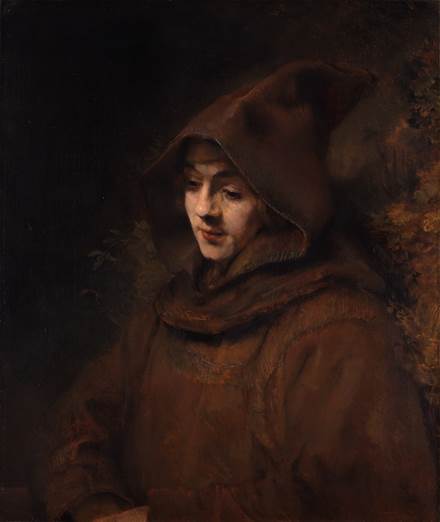 <![endif]>
Titus in a Monk's Habit, 1650. Oil on canvas.
[or this powerful portrait of an old woman]
<![if !vml]>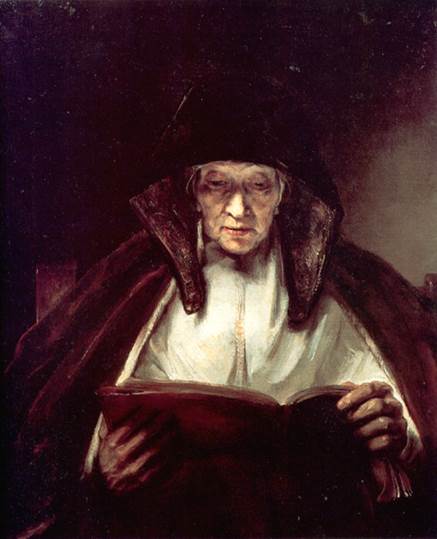 <![endif]>
Old Woman Reading, 1655. Oil on canvas.
[or the incredibly powerful young face in this amazing portrayal of St. Bartholomew; please excuse the poor quality image, as it was the best I could locate]
<![if !vml]>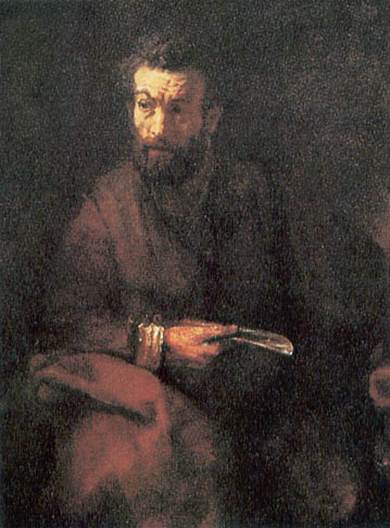 <![endif]>
Saint Bartholomew, 1657. Oil on canvas.
[and then this later, very different portrayal of St. Bartholomew as an older man—appearing to me almost as a 19th century businessman!]
<![if !vml]>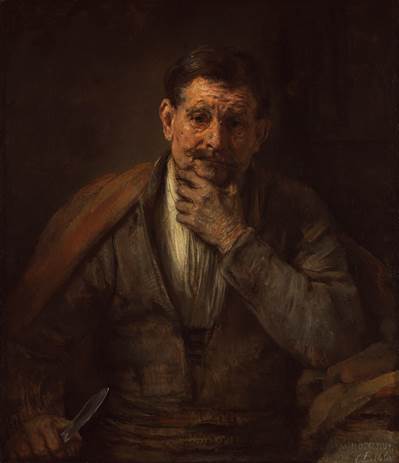 <![endif]>
Saint Bartholomew, 1661. Oil on canvas.
 The fact that Rembrandt could be so exactingly structured—as he is in his etchings—while at the same time being as emotionally rich and even gesturally expressive is a combination of abilities found only in the rarest of creative geniuses; and the fact that these abilities combine with his penetrating insight into the fullness and complexity of the human soul creates art that one can only stand in awe of...but which is also virtually impossible also not simply to revel in and enjoy.
<![if !vml]>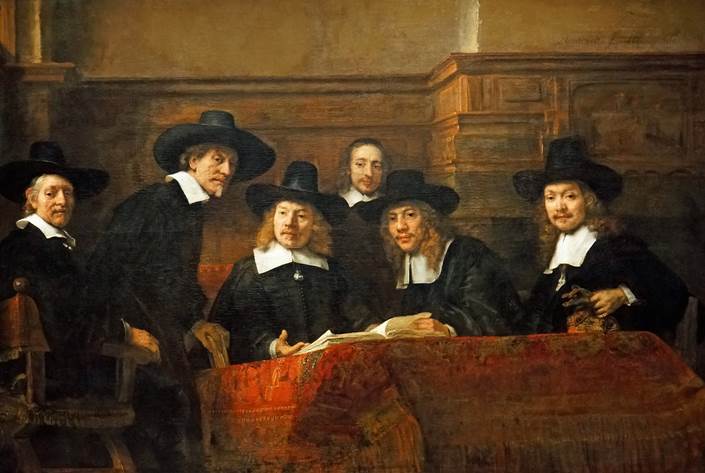 <![endif]>
The Sampling Officials of the Amsterdam Drapers' Guild (known as "The Syndics"), 1662. Oil on canvas.
Please do not misunderstand me to be saying that the drawings and etchings do not also have the richness of emotion and gesture (all of them—and most particularly those dark, shadowy ones, from which the content can only ever so slowly be felt to emerge—also have the emotional texture and depth of feeling that is so directly felt in his paintings),
<![if !vml]>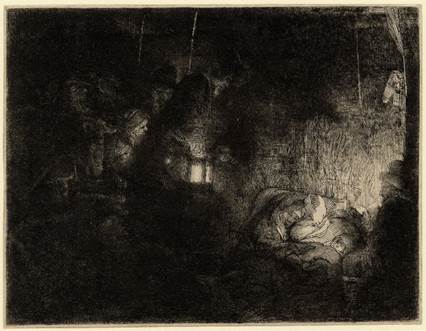 <![endif]>
Adoration of the Shepherds at Night, ca. 1657. Etching, engraving, and drypoint.
<![if !vml]>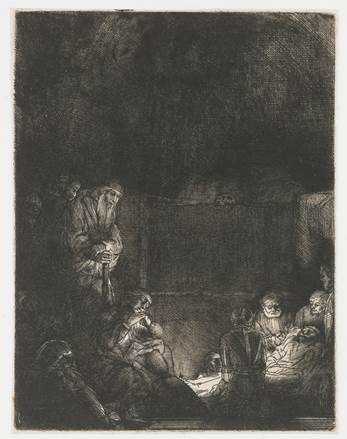 <![endif]>
The Entombment, ca. 1654. Etching and drypoint.
or that the paintings do not have the resounding solidness of structure created by his amazing talent as a draughtsman: they all have a profound mixture of both—and therein lies a major aspect of their unique power.
<![if !vml]>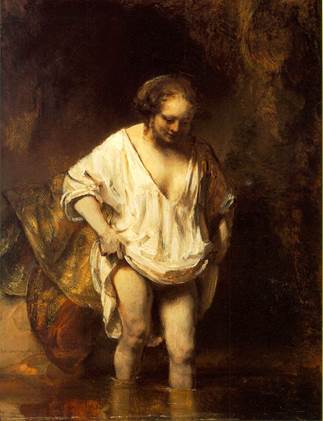 <![endif]>
Woman Bathing in a Stream, 1654. Oil on panel.
Here is an exhibition not to be missed.
Late Turner: Setting Painting Free:
Genius also clearly applies to Turner, as is clear in the fabulous exhibition at the Tate Britain.  For me, however there are two very different aspects to Turner—almost two different Turners, if one looks at the two walls of the final room of the exhibition, where one wall has two amazingly modern, impressionistic, almost abstract paintings that seem more about surface than about representation, and which are to me works of enormous beauty and power, while the other has a few romantic, pseudo-classical monstrosities that I had to avert my eyes from completely. 
Late Turner: Setting Painting Free, as the Tate notes, "is the first comprehensive exhibition devoted to Turner's late work," cover the last 16 years of his life from 1835 to his death in 1851:
Bringing together spectacular works from the UK and abroad, this exhibition celebrates Turner's creative flowering in these later years when he produced some of his finest pictures but was also controversial and unjustly misunderstood.
...While celebrating his liberation from conventional aesthetic constraints it also aims to set his painting practice free from Victorian prejudices and reductive later stereotypes.
Turner clearly was a visionary, and some of his paintings—and many of his sketches and water colors—are movingly wonderful to me.  On the other hand, much—in fact, the great majority—of his work actually leaves me cold, or sometimes even repelled.  There are two aspects of Turner that I cannot abide: the first is his romanticism—in his overly emotional, at times saccharine color schemes and the religiosity of his use of light, he loses me completely (please do not misunderstand me: his exploration of light can also be sublime and beautiful in the most measured and appealing way—as can his use of color; it's just when in heads into the romantic that it loses me); the second is his tendency to head off into what Wölfflin described as the Baroque, both in his swirling compositions and emotional intensity of color and movement.  I'm sure he is a master in these aspects; but it is a direction that simply does not work for me.  On the other hand, when his compositions are more Classical in Wölfflin's terminology (more stable, more tension rather movement, more structural clarity as opposed to emotive color), I fall in love.  Amidst the visual cacophony of works that impinged unpleasantly on me are paintings of enormous power and beauty, and drawings that are as moving and evocative as I could possibly hope for.  There is a proto-Impressionist capturing of light, moment, atmosphere, and feeling, with a sense of the surface of the canvas having an importance while still being an evocation of actual reality.  There is a use of brushstroke and palette knife in the application of the paint that goes into areas that feel very much like they presage modern abstraction.
Here are some images of paintings in the show I liked.  (They were hard to find, and the Tate Britain's website was very unhelpful. I almost bought the catalogue in order to get some of the images, but the quality of the reproductions was just too bad.)  Only two are oils (the first and the penultimate)—I guess to be expected, as the drawings and water colors tended to be less "over-done"; many of the paintings I most liked were nowhere to be found online; and the last two are ones that while evocative of the ones I liked in the show, were not actually in it.
<![if !vml]>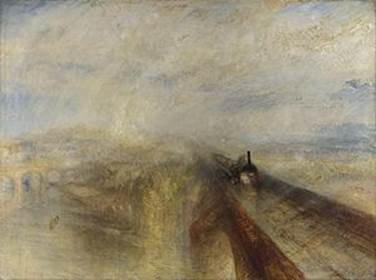 <![endif]>
Rain, Steam, and Speed, 1844.
Two of my favorites in the show were water colors of Mt. Rigi in Lucerne:
<![if !vml]>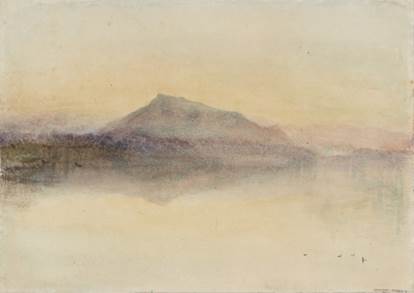 <![endif]>
Blue Rigi, 1841-2. 
<![if !vml]>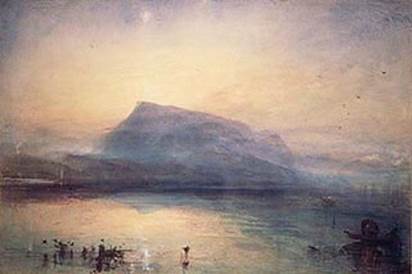 <![endif]>
The Blue Rigi, Sunrise, 1842. Watercolor on paper.
<![if !vml]>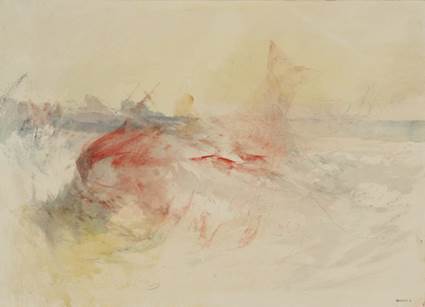 <![endif]>
A Harpooned Whale, 1845. Graphite and watercolor on paper.
There was a similar painting, with a similar composition, and a similar viaduct that I really liked, although this is not it:
<![if !vml]>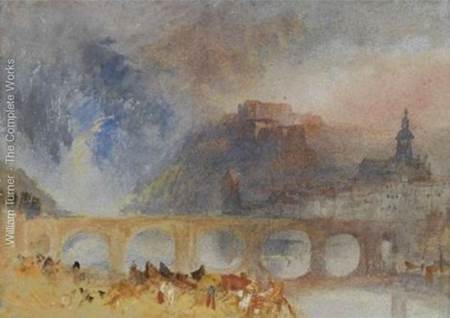 <![endif]>
View or Givet, on the Meuse, South of Dinant, 1839.
And one of my favorite little things in the exhibition was a very similar water color of the interior of Turner's hotel room in Venice. This one is nice, but the other seemed almost a tad abstract and was completely riveting to me:
<![if !vml]>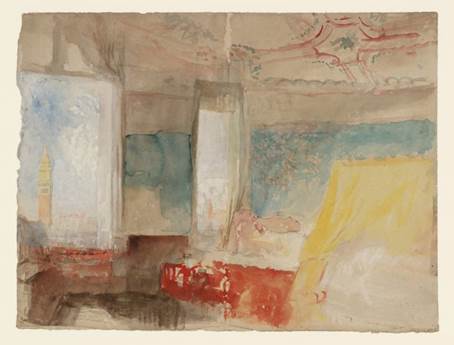 <![endif]>
Turner's Bedroom in the Palazzo Giustinian (the Hotel Europa), 1840. Water color
This is an amazing exhibition.  The fact that I did not like most of the work in it in no way diminished my tremendous joy at seeing the work I did enjoy.  (Although, I must confess, that has always been true of my experience of seeing Turner.) And remember: these are preferences I am voicing: there are many who love the romantic, and his work in this mode I'm sure is quite wonderful--just not to my taste.
Constable: The Making of a Master:
As this show has already closed, I shall be brief at this point.  (Hopefully I shall get around soon to posting a fuller account in the online version.)  Constable is an artist who, like Turner, I think did some wonderful work.  Unfortunately, for me his "batting average" is far lower than Turner's--and, when he fails, he does so in a far worse way.  When Constable goes romantic, it is hideous.  It was fascinating to me to see some of the progressions of sketches and studies for painting in which he started out with what I found to be a satisfying drawing, begins to elaborate the emotive content, adds color (sometimes successfully, but usually not), and then produces some of the most saccharine, intensely displeasing paintings I have ever seen.  Suffice it to say that some looked to me as though they should have been painted on black velvet backgrounds...if you get my drift.  Like Turner, he was experimenting with the exploration of light, color, and impression in a way that at times was both satisfying and exciting; but more so than Turner he also spent a lot of time doing a kind of French Neo-Classical romanticism (there are many links and comparisons to Claude, who I think was far better at that, but whom I thoroughly dislike), in a way that I could not help but imagine was very much pandering to commercial tastes. Or perhaps that is just wishful thinking and apologetics...
Here are two pleasing examples:
<![if !vml]>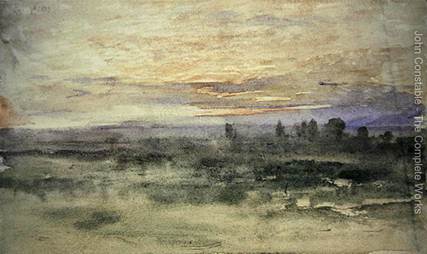 <![endif]>
View from Hampstead, 1833.
<![if !vml]>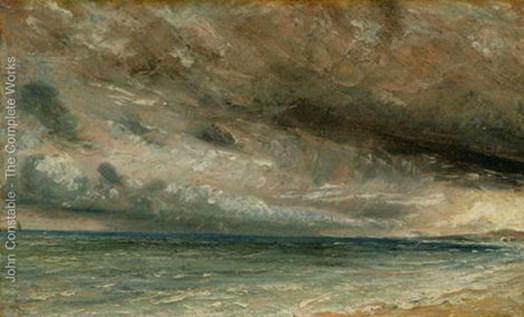 <![endif]>
The Coast at Brighton - Stormy Evening, ca.1828
And here are two of the other kind:
<![if !vml]>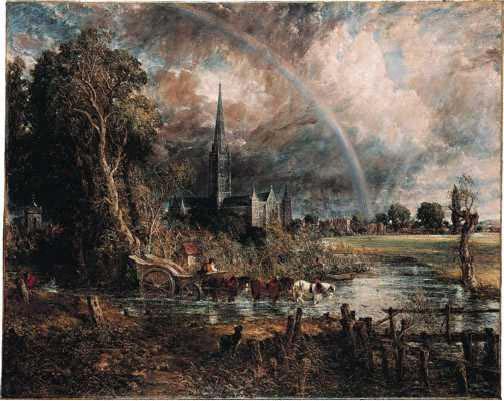 <![endif]>
Salisbury Cathedral from the Meadows, 1831. Oil on canvas.
<![if !vml]>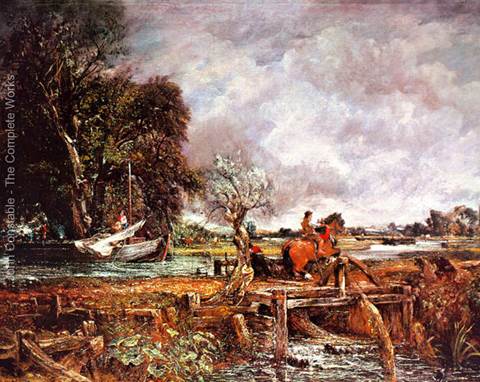 <![endif]>
The Leaping Horse, 1825