This past Friday, after years of intending to get there, Nancy and I finally got ourselves to the Noguchi Museum in Queens.  And what an incredible treat it was!  (At the end of my description of the Museum, I have a brief note about the nearby Socrates Sculpture Park.)
<![if !vml]>

<![endif]>
MUSEUM ENTRANCE: 9-01 33rd Road (at Vernon Boulevard), Long Island City
Hours:  Wednesday, Thursday, Friday: 10:00am-5:00pm
Saturday & Sunday: 11:00am-6:00pm
Monday & Tuesday: CLOSED
I first became acquainted with the work of Isamu Noguchi when I <![if !vml]>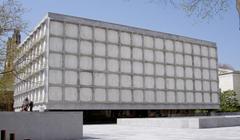 <![endif]>was an undergraduate at Yale.  In 1963, the year before I arrived there, Yale's Beinecke Rare Books <![if !vml]>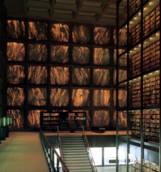 <![endif]>and Manuscripts Library (by SOM's Gordon Bunshaft) was completed..  The main volume of this astounding building is a windowless rectangular solid, whose shell—supported only on its four external corners—is composed of gray granite-framed panes of white Vermont marble, so thin (1¼") that light shines through them, bathing the interior in a warm, golden, luminous glow (which is actually helpful in preserving the rare volumes housed in the museum).  One of the exterior's most humanizing features, however, was the sunken sculpture garden in the plaza in front of the museum's entrance.  This white marble sunken garden was created by Noguchi and was populated by three of his sculptures.  As Joan Pachner has noted, it "combined influences from Japanese temple sand mounds, Indian astronomical gardens and paved Italian plazas with Noguchi's own artistic vocabulary: the circular sun; the cube on its point, a symbol of chance; and the pyramid, his sign for Earth." (Oxford <![if !vml]>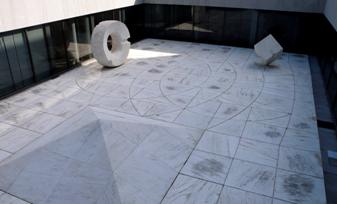 <![endif]>University Press; here quoted from MoMA's website)  Despite the fact that it was made from rather cold, white material, it had a warmth and symbolic richness in its quiet but powerful timelessness.  From the first time I saw them, I loved these sculptures and the world created to contain them.  Later, when I spent time looking at Medieval illuminated manuscripts in the luscious, comfortable reading rooms that ringed the garden on the level below the plaza, I came to enjoy gazing at the timelessness of the garden as a kind of beautiful grounding in the modern world outside of the more ancient one I was exploring inside.  But, most of all, the experience made me aware of this fabulous artist, and I began to see examples of his works elsewhere—including in the 1968 retrospective at the Whitney.
Born in Los Angeles in 1904 to an American writer mother and a Japanese poet father, Noguchi lived in Japan until he was thirteen.  While a pre-med student at Columbia, he began taking sculpture classes, and he soon abandoned his academic studies to pursue a career as a sculptor.  He was profoundly influenced by Brancusi, and worked in his studio in Paris from 1927-9.  While he traveled to China, Europe, and Mexico, Noguchi spent most of his time in NYC.  After the War he began spending much of his time in Japan, and, by 1960, he began splitting his time between Japan and NYC.  As the Noguchi Museum's website summarizes it,
Isamu Noguchi (1904–1988) was one of the twentieth century's most important and critically acclaimed sculptors. Through a lifetime of artistic experimentation, he created sculptures, gardens, furniture and lighting designs, ceramics, architecture, and set designs. His work, at once subtle and bold, traditional and modern, set a new standard for the reintegration of the arts.
In  1961, Noguchi moved his studio and residence to an industrial building in Long Island City from the Greenwich Village location he had occupied for twenty years.  In 1985, the artist personally designed and created the Noguchi Museum, just across the street from his studio; and it is itself considered to be one of his greatest works:
Opened in 1985, the Museum is housed in a converted industrial building…  Noguchi designed the Museum complex as an open-air sculpture garden ensconced within a building that houses ten galleries. As a whole, the Museum provides an intimate, reflective space in which to experience Noguchi's sculpture and design, fulfilling a vision that the artist deemed essential to his life's work. Visitors enter the two-story, approximately 27,000-square-foot Museum through the celebrated sculpture garden. While the ground-floor galleries and garden contain a permanent presentation of work by the artist, selected from his own collection, since 2004, the Museum regularly presents temporary exhibitions that offer a rich, contextualized view of Noguchi's work in the upper galleries.
The Museum is an incredible experience.  After paying one's admission, one enters into the first, huge gallery—a vast space that opens out at some of its corners to the outside world.  This space is filled with the beautiful abstract forms of his sculptures from the 1980s:
<![if !vml]>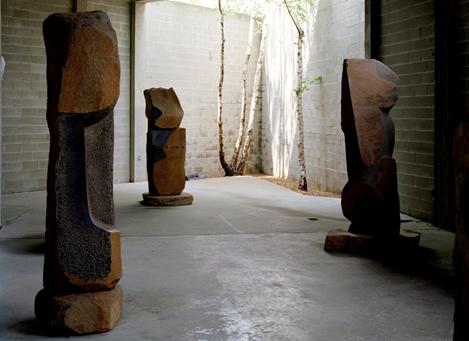 <![endif]>
Many of the sculptures have shapes that evoke that of natural rocks—and especially the marvelous "river rocks" that are so highly-prized in Japanese garden design; but all are carefully shaped and formed by the artist, and then "colored" by his texturing and polishing—creating an interplay between the form and the color (texture), between nature and the clearly artist-created, e.g., his 1982 The Stone Within (basalt):
<![if !vml]>
<![endif]>
Noguchi highlights this interplay by placing an actual river rock in the room juxtaposed with these sculptures: Spin-off #3, from the Chase Manhattan Plaza (1961-4), naturally formed granite from the Uji River:
<![if !vml]>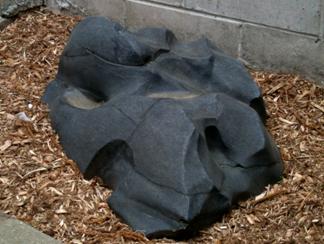 <![endif]>
There is something almost human in the monumental, vertical presences of these sculptures (not unlike the looming, Druid presences of the monumental rocks of Stonehenge) This next piece, Brilliance (1982), basalt, is particularly satisfying-and I show two images of it, so you can get some appreciation of its three-dimensional splendor:
<![if !vml]>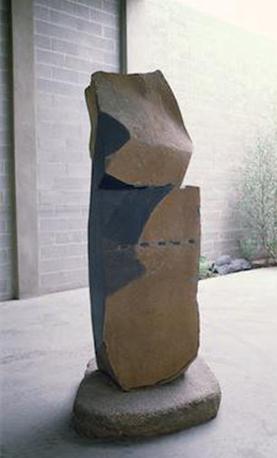 <![endif]>
<![if !vml]>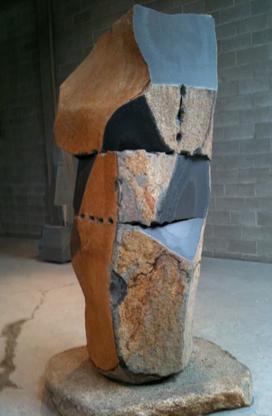 <![endif]>
Toward the end of the first gallery, there is Noguchi's 1984 Mountain Breaking Theater, basalt, a large natural stone, cloven in two, with obviously artist-created carvings and polished area contrasting with the hulking natural bulk of the original rock:
<![if !vml]>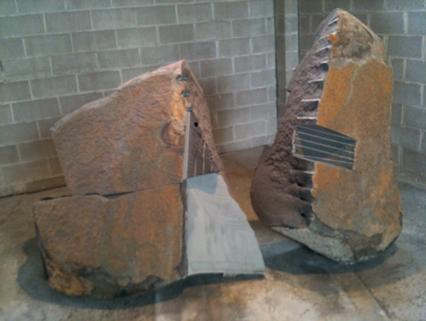 <![endif]>
From here one exits into the splendid outside garden which Noguchi has created.  It is contemplative, a quiet, filled with grasses, shrubs, bamboo, and trees—feeling ever so much like a Japanese temple garden, right down to some of the carefully manicured pines, yet also unmistakably existing in a western environment.  At the entrance is another of the natural stones that Noguchi has included by way of stating his theme, in this case Spin-off #1, from the Chase Manhattan Garden, naturally formed basalt stone.
<![if !vml]>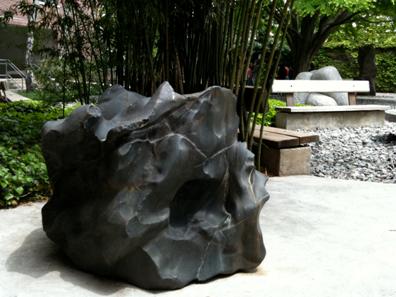 <![endif]>
Another particularly satisfying piece in his 1982-3 Practice Rocks in Placement, Aji granite:
<![if !vml]>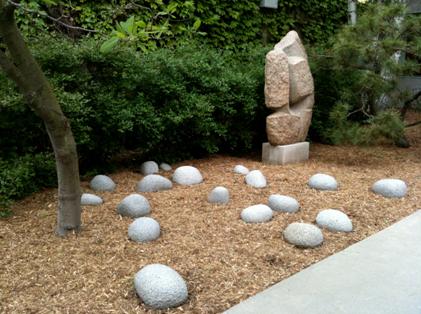 <![endif]>
Next, Core (Cored Sculpture), 1978, basalt, is a pieced that has been bored down through its center from above, and is penetrated into its central core by two borings, one from the front and a lower one from behind:
<![if !vml]>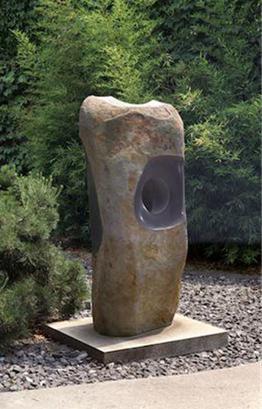 <![endif]>
An absolutely lovely piece, The Well (variation on a Tsukubai), 1982, basalt, has water that flows up out of a semi-spherical depression in its top surface and spreads out across the top and evenly down over every side of the sculpture, covering every surface with a glistening sense of subtle movement and life.  (Seeing it for the first time, I was reminded of Maya Lin's wonderful 1993 sculpture, The Women's Table, in front of the Sterling Library at Yale: it similarly has water flowing up from a well, over the flat top surface, and down over all of its sides.  I do not know that Lin acknowledges Noguchi as one of her major influence—but it is clear from this comparison that he must have been.)
<![if !vml]>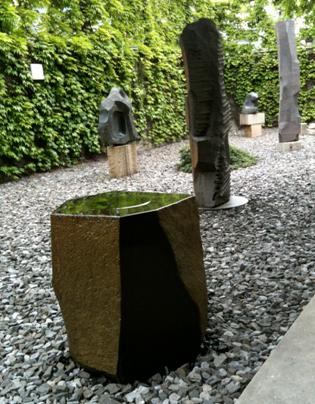 <![endif]>
Back inside in galleries 3 & 6, there are numerous other magnificent works.  The huge The Roar, 1966, white Arni marble, is fabulous from every angle:
<![if !vml]>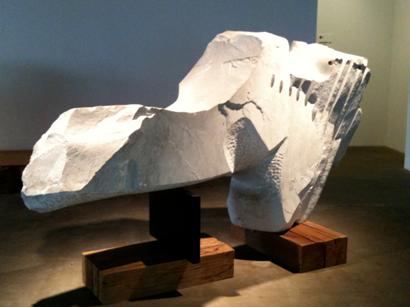 <![endif]>
There are whole sections of these galleries that have a kind of Noguchi sculpture I do not like:  mostly from the early 1970s, these highly polished, extreme, often "Arp-like"  shapes are far too stylized and "slick" for my taste—heavily hearkening back to the era in which Noguchi did rather Surrealist sculptures.  The Bow, 1970-73, yellow Sienna marble, black Petit Granit marble, is one such example (which I include only for illustration):
<![if !vml]>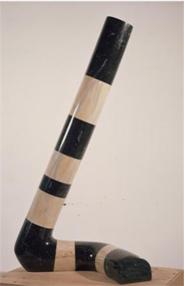 <![endif]>
There are a few from this period I actually did enjoy, like his The Spirit's Flight, 1969, green and pink serpentine, Carrara marble, a thin, slightly twisting rectangular column of alternating colored marble:
<![if !vml]>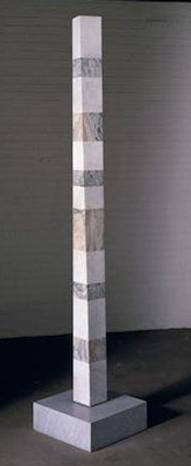 <![endif]>
Toward the end of the first floor exhibits, there was one piece from this same period, but that was far more like the ones we loved from the next decade.  To Intrude on Nature's Way, 1971, basalt, was a gorgeous, raw, powerful, monumental vertical piece—less worked over than his similar pieces from the 80s, but similar in aesthetic, and beautiful in its natural coloration:
<![if !vml]>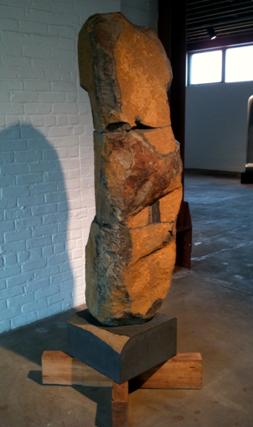 <![endif]>
There are galleries on the second floor which are used for temporary exhibitions, but they were closed the day of our visit, as a new installation is currently being mounted.  The Museum only charged half because of the closure; but there was no need for the reduction—the true value and glory of this place lies in its regular collection on the first floor and in the garden.
The Noguchi Museum is just a hop skip and a jump from Manhattan via the N or Q trains to the Broadway stop in the heart of Astoria.  (For directions, go online to www.noguchi.org/visitor-info/getting-here.)  The neighborhood is one of the richest ethnic mixes in all NYC, and there are restaurants and stores of every imaginable variety.  It is well worth the ten-block walk from the station toward the East River, near where the Museum is situated.
And just a couple of blocks from the Noguchi Museum, at Broadway, between Vernon Blvd. and the East River, is the NYC Parks Department's Socrates Sculpture Park.  As described on its website,
Socrates Sculpture Park is the only site in the New York Metropolitan area specifically dedicated to providing artists with opportunities to create and exhibit large-scale sculpture and multi-media installations in a unique outdoor environment that encourages strong interaction between artists, artworks and the public. The Park's existence is based on the belief that reclamation, revitalization and creative expression are essential to the survival, humanity and improvement of our urban environment.
Socrates Sculpture Park was an abandoned riverside landfill and illegal dumpsite until 1986 when a coalition of artists and community members, under the leadership of sculptor Mark di Suvero, transformed it into an open studio and exhibition space for artists and a neighborhood park for local residents. Today it is an internationally renowned outdoor museum and artist residency program that also serves as a vital New York City park offering a wide variety of free public programs.
The current show, VISTA, is on until 7 August 2011.
Curated by Alyson Baker, with Lars Fisk and Elissa Goldstone, the show will explore the interplay between methods of viewing and the interpretation of the physical world. Vista includes eleven new works by artists: Ivan Argote, Jillian Conrad, Priscila De Carvalho, Blane De St. Croix, Michael Clyde Johnson, Leif Low-beer, Steven Millar, Slinko, Howie Sneider, Rob Swainston, and Jason Tomme.
Our favorite piece was a 36' long work by Blane De St. Croix, Mountain Views, 2011, Fabricated from recycled foam from the World Trade Center site initial foundation construction for Freedom Tower in 2003, as well as steel, wood, paint, dirt, concrete, stucco, and other materials (13' x 36' x 6').  "From selected vantage points, Mountain Views obstructs the skyline and reclaims the city with a conglomerate of transported extinct mountains.  The mountains act as memorials to their own destruction from out of state coal mining and mountain top removal, -the destructive method which provides much of the energy for New York City."
<![if !vml]>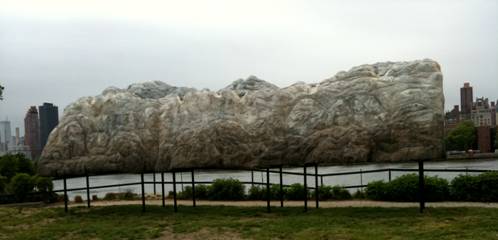 <![endif]>
Socrates is open 365 days a year from 10am until sunset
Click here for sunset times: www.timeanddate.com
Admission is FREE.
SOCRATES SCULPTURE PARK
32-01 Vernon Boulevard at Broadway
Long Island City (Queens), NY 11106
Tel: 718-956-1819
From there, we strolled back into Astoria, stopping at an Italian bakery to have a more than passably good espresso, and then climbed up to the elevated platform of the 30th Avenue Station of the N & Q train (once upon a time I should have called it the "BMT Astoria Line"…).  The view of the tracks of the "El" looking northward was quite entrancingly beautiful, so I close with an image we took of it:
<![if !vml]>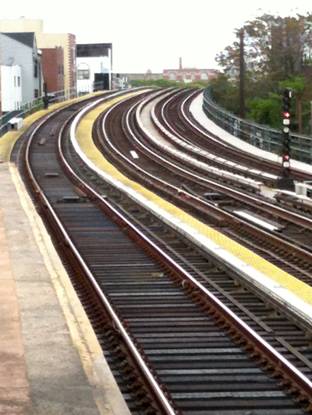 <![endif]>