PICASSO at MoMA and FRANK GEHRY at LACMA
There are two excellent shows you should be aware of:
PICASSSO SCULPTURE at MoMA in NYC, through 7 February 2016
FRANK GEHRY at LACMA in LA, through 20 March 2016
Details of each follow below.
Picasso was, among his many talents, an extraordinary sculptor, and MoMA has assembled a wonderful collection of more than 100 of his sculptures (accompanied with many of his drawings) for this show—as their description notes, "the first such museum exhibition in the United States in nearly half a century."  Many of the works are from MoMA's own incredible collection; but 50 are on loan from the collection of the Musée Picasso.  Chief curator Ann Temkin and curator Anne Umland (both from MoMA) and Virginie Perdrisot (from the Musée Picasso in Paris) collaborated to put this fabulous exhibition together.
Roberta Smith, in her excellent review in the NY Times of 10 September 2015, "Picasso, Completely Himself in 3 Dimensions", described Picasso Sculpture as a
Large, ambitious and unavoidably, dizzyingly peripatetic…once-in-a-lifetime event. 
The approximately 140 sculptures here were made between 1902 and 1964; encompass at least 10 media — among them wood, plaster, sheet metal, clay, beach-smoothed pebbles — and, in assemblage, all manner of found objects great and small. The galleries are dotted with works never before exhibited in New York, and reunite related efforts not seen together since they were in Picasso's studio.
She also notes that one of the show's
grandest, most thrilling reunions are the gathering in its second gallery of all six 'Glass of Absinthe' sculptures of 1914, those tiny weirdly Keatonesque charmers of painted bronze that can suggest drunken faces and profiles.
(One of which is shown first in the photographs I have included below.)  I agree with her assessment that,
Picasso was more completely himself in three dimensions: a magician, a magpie genius, a comedic entertainer and a tinkerer with superb reflexes. His many gifts — versatility, voraciousness, a need for constant reinvention — are more sharply apparent in real space and tangible materials.  
His sense of humor and of the comic is also more readily apparent in his sculptures.  She also correctly says, "Each gallery of this brilliantly installed effort is an exhibition unto itself, full of subtle links, allusions and contrasts that tie the works together or hold them apart."
The most under-represented of Picasso's sculptural works in this exhibition are his fabulous ceramics, which I love.  I have included at the end of the photographs an image of one of the very few of these in the show.  I guess I need to make a trip back to the newly redone Musée Picasso in Paris, where this wonderful, fanciful class of works by the master has always been readily available.
I have not labeled most of the images below, because I just did not bother to distract myself with recording the details while enjoying the show, and I don't want to spend the time tracking them down at this moment.  When you go to see the show—which you definitely should do—you can check them out for yourself.
(The description of the show from MoMA's website follows at the end of the images.)
<![if !vml]>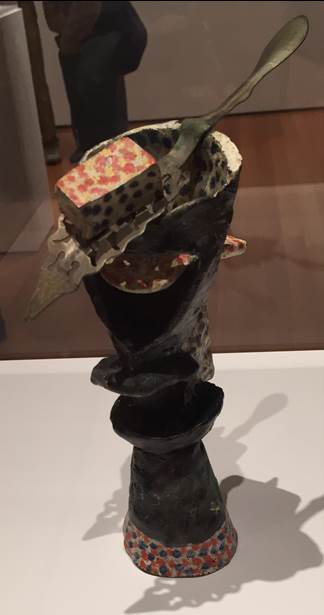 <![endif]>
Glass of Absinthe. 1914
<![if !vml]>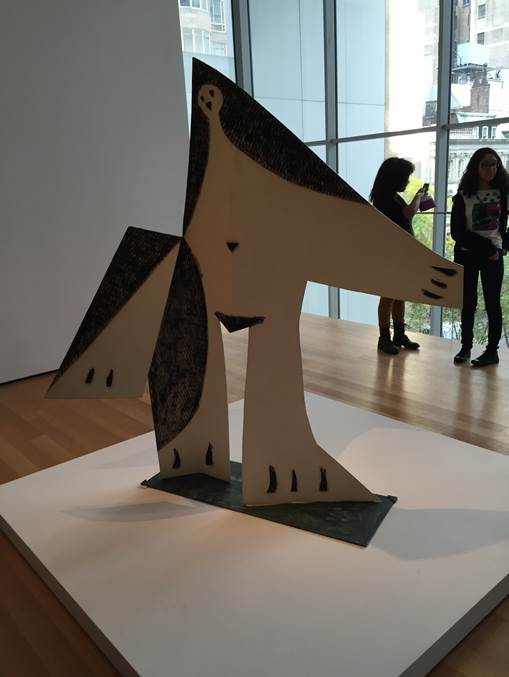 <![endif]>
<![if !vml]>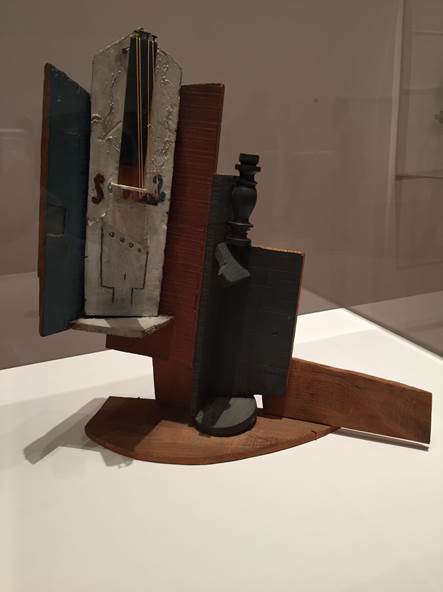 <![endif]>
<![if !vml]>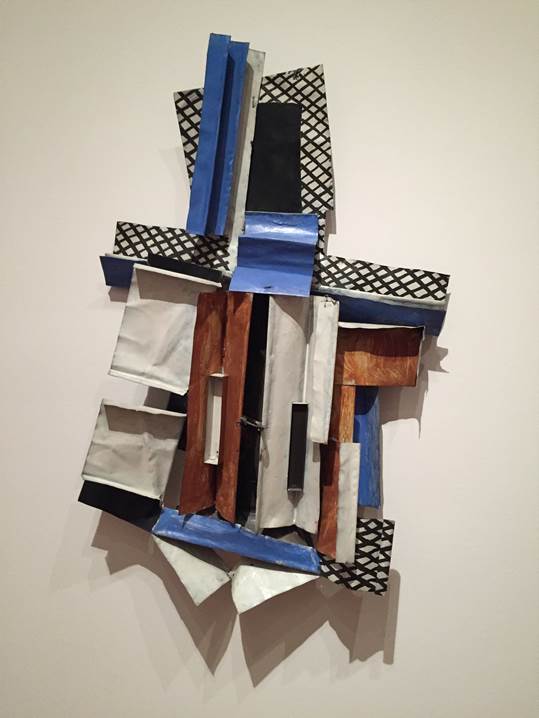 <![endif]>
<![if !vml]>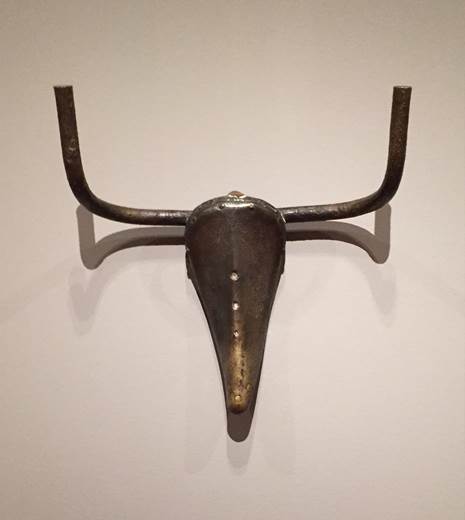 <![endif]>
<![if !vml]>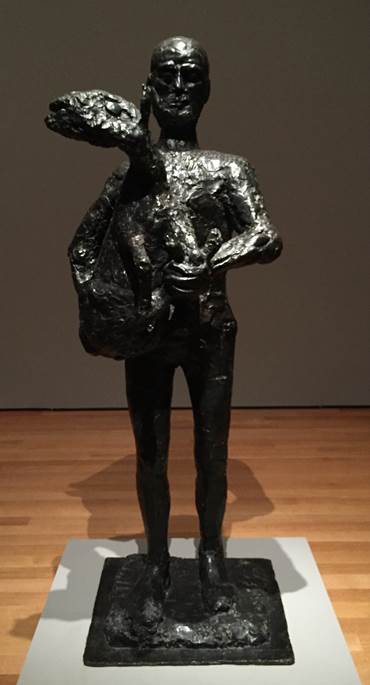 <![endif]>
Man With a Lamb. 1943
<![if !vml]>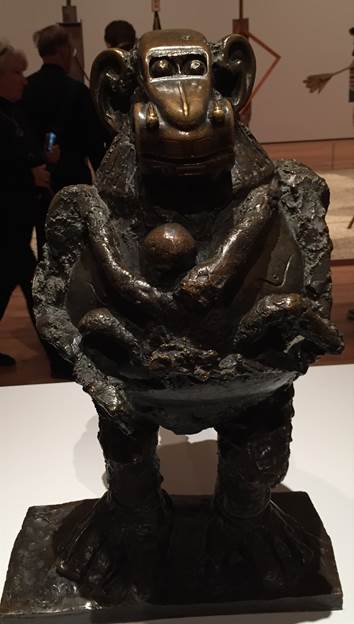 <![endif]>
<![if !vml]>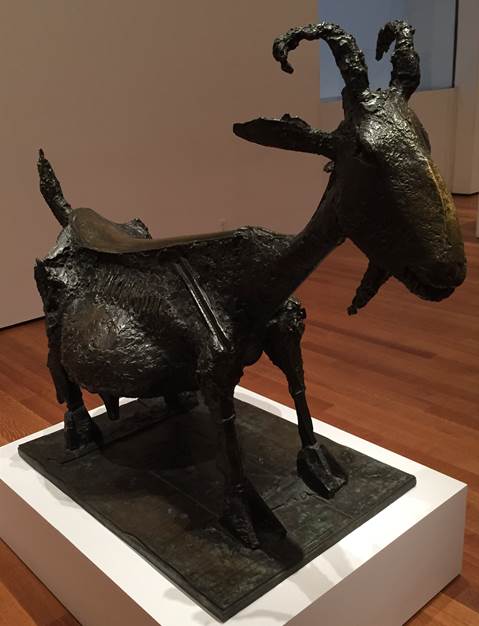 <![endif]>
She-Goat.
<![if !vml]>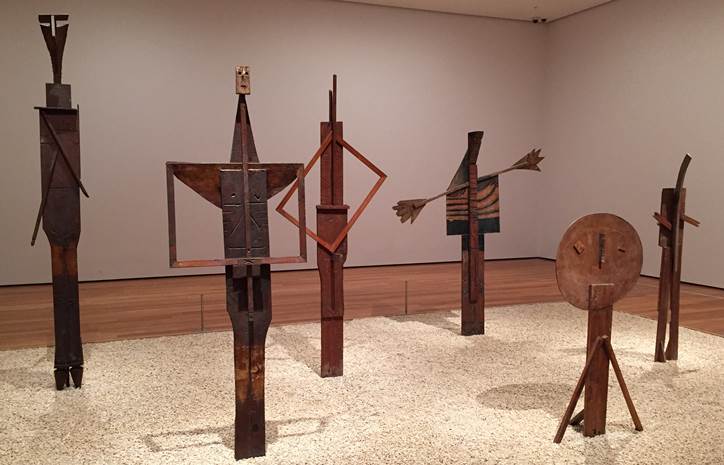 <![endif]>
<![if !vml]>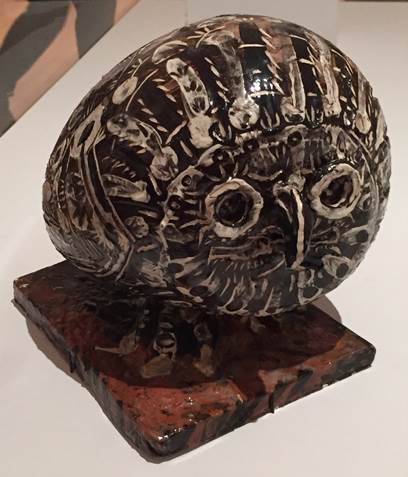 <![endif]>
Owl.
Picasso Sculpture is a sweeping survey of Pablo Picasso's innovative and influential work in three dimensions. This will be the first such museum exhibition in the United States in nearly half a century.
Over the course of his long career, Picasso devoted himself to sculpture wholeheartedly, if episodically, using both traditional and unconventional materials and techniques. Unlike painting, in which he was formally trained and through which he made his living, sculpture occupied a uniquely personal and experimental status for Picasso. He approached the medium with the freedom of a self-taught artist, ready to break all the rules. This attitude led him to develop a deep fondness for his sculptures, to which the many photographs of his studios and homes bear witness. Treating them almost as members of his household, he cherished the sculptures' company and enjoyed re-creating them in a variety of materials and situations. Picasso kept the majority in his private possession during his lifetime. It was only in 1966, through the large Paris retrospective Hommage à Picasso, that the public became fully aware of this side of his work. Following that exhibition, in 1967 The Museum of Modern Art organized The Sculpture of Picasso, which until now was the first and only exhibition on this continent to display a large number of the artist's sculptures.
Picasso Sculpture focuses on the artist's lifelong work with sculpture, with a particular focus on his use of materials and processes. The exhibition, which features more than 100 sculptures, complemented by selected works on paper and photographs, aims to advance the understanding of what sculpture was for Picasso, and of how he revolutionized its history through a lifelong commitment to constant reinvention. The exhibition is organized in chapters corresponding to the distinct periods during which Picasso devoted himself to sculpture, each time exploring with fresh intensity the modern possibilities of this ancient art form.
FRANK GEHRY at LACMA:
I haven't had the time to write it up until now, but when we were in LA last month we had the pleasure of visiting a truly incredible exhibition of Frank Gehry's work—including 65 models and more than 200 drawings, along with many photographs and videos.  FRANK GEHRY covers the period from 1962, when he opened his office, to the present.  The exhibition LACMA is presenting is a reworking by curator Stephanie Barron of one previously at the Centre Pompidou in Paris.
Christopher Hawthorne, in his 29 September article for the LA Times, points out that there are many improvements over the version that had been at the Beaubourg:
It gains new energy from Barron's long friendship and collaborative history with the architect, who has designed the installations for several of her shows… The LACMA version also grounds Gehry and his work more securely in Los Angeles, the architect's adopted hometown and in complex ways his muse for more than half a century.
 Barron has kept the basic structure of the original exhibition, dividing Gehry's architectural output into eight categories: six of them chronological, moving from the 1960s to the present day, along with sections on technology and urbanism.
Around that core Barron has made two central changes. She's made the design of the show (in close collaboration with Gehry's office) refreshingly less formal and constrained, removing the glass tops from many of the models, adding space around them and installing a series of scrims emblazoned with black-and-white photographs of the interior of the Gehry Partners office over the years.
The show, finally, is less doggedly retrospective in its gaze than it was in Paris. The final room includes 13 projects in the design phase — and may expand over the course of the show's run to make room for information on Gehry's new role helping to plan a reimagined Los Angeles River.
… an entire room at the end of the show dedicated to Gehry's current work; it's watched over by another huge photograph of the studio, this one in color.
Hawthorne raises some criticisms of the exhibit, with which I am forced to agree:
It continues to point up a problem with most museum tributes to major architects, namely that they are far too close, and too deferential, to their subjects. (There are, of course, pragmatic reasons for that closeness, including access to the models and drawings that are the basic stuff of architecture shows.) And there's very little information about Gehry's shifting cast of collaborators over the years.
…it also fails to confront with any force the weaknesses of the Gehry projects that have slid off track…
I complete agree with the one failure Hawthorne names, the Experience Music Project in Seattle, and I believe there are actually many Gehry projects I think are not at all successful; but I do not completely concur with his evaluation of the second he names, the  Stata Center at MIT (which, while seriously flawed in its overall design, has many successful and interesting elements), and I rather completely disagree with his evaluation of the IAC building in Manhattan (which, while it has some flaws, I find to be among his successful buildings).
When Gehry is good—as in his seminal Guggenheim Bilbao in Spain, or his Walt Disney Concert Hall in LA—he is extraordinary.  And much of his work is good.  In far too many projects, however, it seems careless, sloppy, and ill-conceived, as in the theater he did at Bard College; and all too often what he is doing is merely sculptural decoration, rather than actual architectural creation.
Nevertheless, this exhibition allows you to view the amazing range of what he has created over his career, and what he is working on at the moment…which is an incredible treat, and one you should avail yourself of.
The biggest surprise for me was to discover the beauty of his drawings.  I had been under the impression that Gehry was not able to draw—as it apparently is true that he is not able to create actual architectural drawings, and tends instead to sculpt 3-D models from which his staff would create drawings (now done by 3-D scanning of the models).  But his impressionistic sketches are really quite beautiful and deeply evocative.  Seeing them for the first time was a most enjoyable discovery.
There is also a very informative documentary video that is shown within the exhibit, which seems to be mostly Gehry talking about the origins and development of his architectural expression.  We only had time to view segments of it; but it seemed extremely interesting and well-done, and we all wished we had had time to view it in its entirety.
My biggest criticism—and it is one that I have about all shows about architecture—is that no amount of photographs, plans, drawings, or even 3-D models can replicate the experience of actually being around and in a building.  Architecture is about actual lived experience in real space, and there is no substitute for that.  A great exhibition like FRANK GEHRY at LACMA does provide a fascinating insight into the creative process behind the creation of architecture, and it actually succeeds in hinting at some of what the actual creations are like; but it is no substitute for visiting the creations themselves.
I include below a few photographs I took of the exhibition, followed by LACMA's online description of it.
Two views of the model and one photograph of the Gehry Residence, 1977-8, 91-4:
<![if !vml]>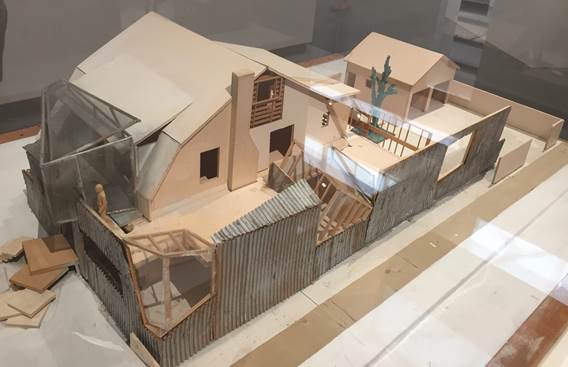 <![endif]>
<![if !vml]>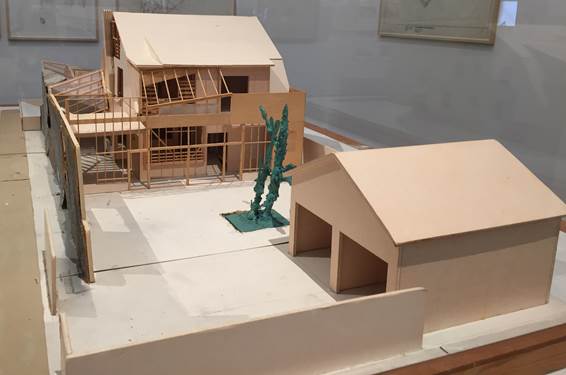 <![endif]>
<![if !vml]>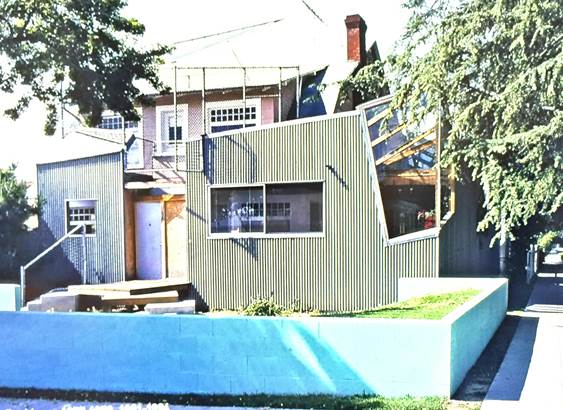 <![endif]>
A series of Industrial Photos Gehry took in the early 70s (the exhibit notes "he was fascinated with rapidly-built, industrial constructions, particularly those that- utilize 'balloon-frame structure' and play with the relationship between heavy mass and the void, an object and its almost-natural environment and the interstitial spaces"):
<![if !vml]>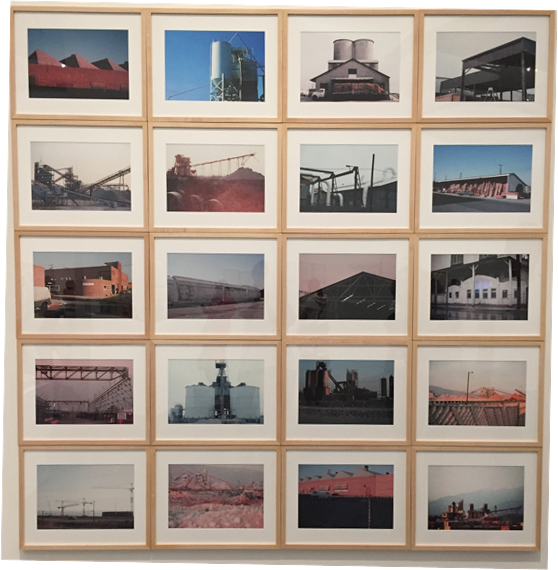 <![endif]>
What follows is a series of lesser-known projects, which I have chosen to show a drawing and photograph for each as well as a model:
Winton Guest House, Wayzata, MN 1982-7 (designed to go with the main house which had been designed by Philip Johnson):
<![if !vml]>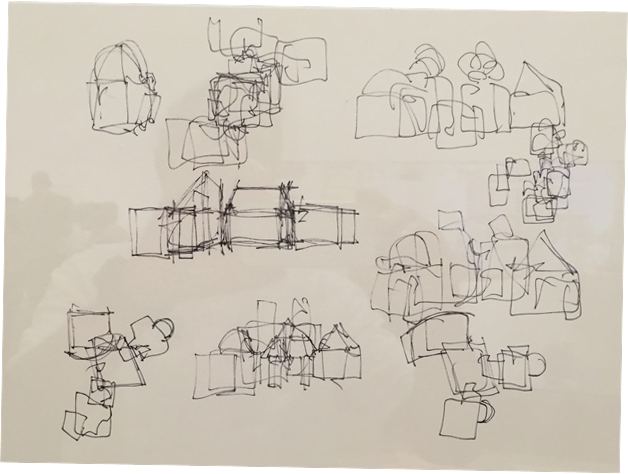 <![endif]>
<![if !vml]>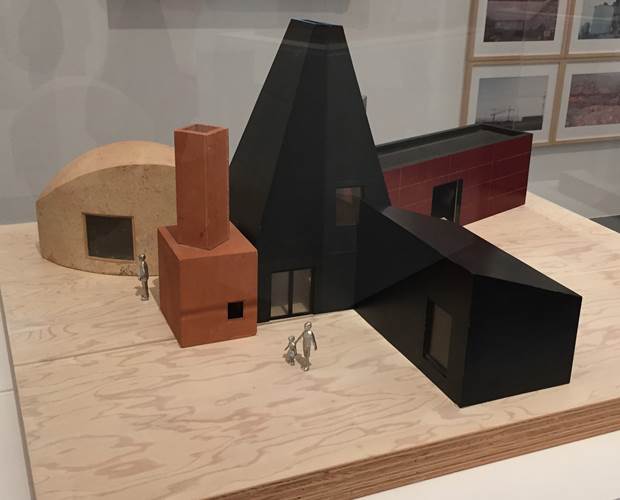 <![endif]>
<![if !vml]>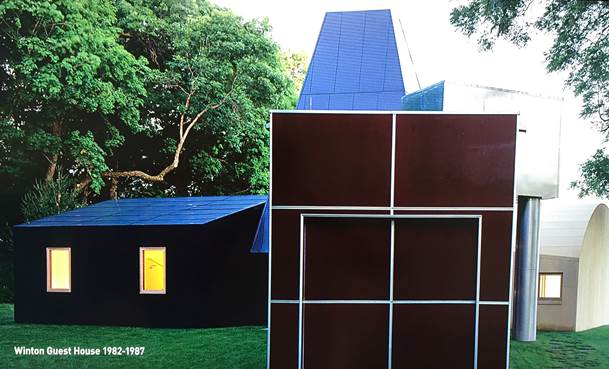 <![endif]>
Stata Center, MIT, 1998-2004:
<![if !vml]>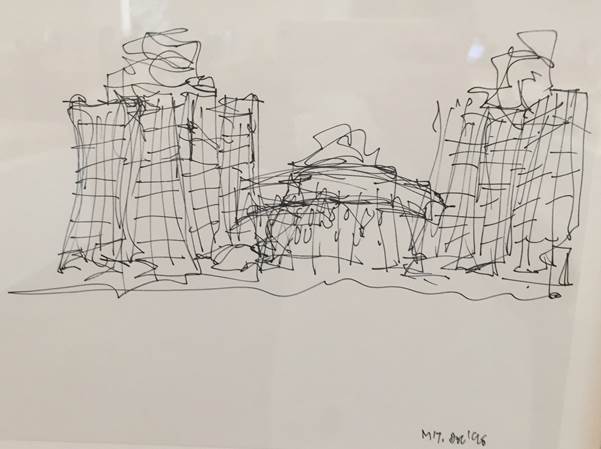 <![endif]>
<![if !vml]>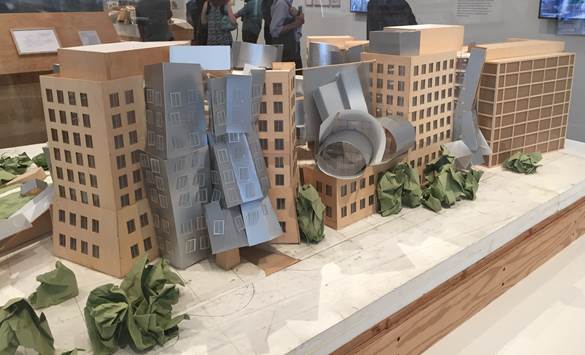 <![endif]>
<![if !vml]>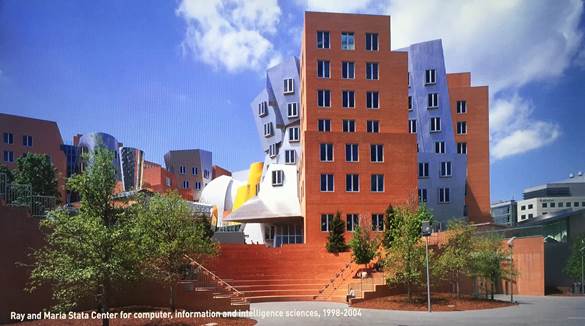 <![endif]>
8 Spruce Street, NYC:
<![if !vml]>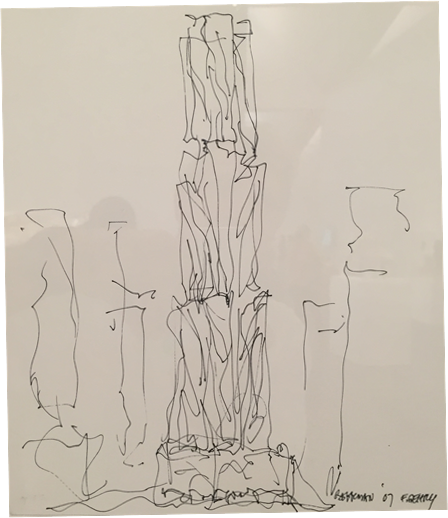 <![endif]>
<![if !vml]>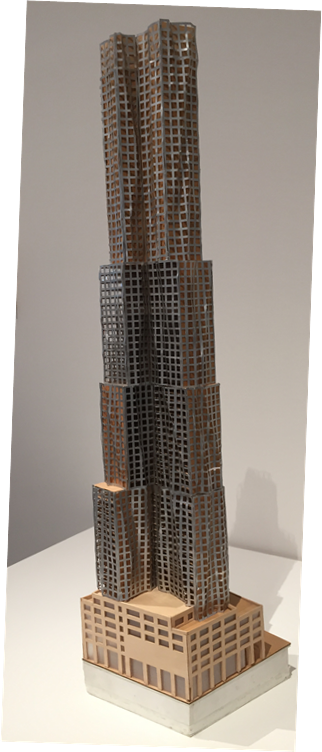 <![endif]>
<![if !vml]>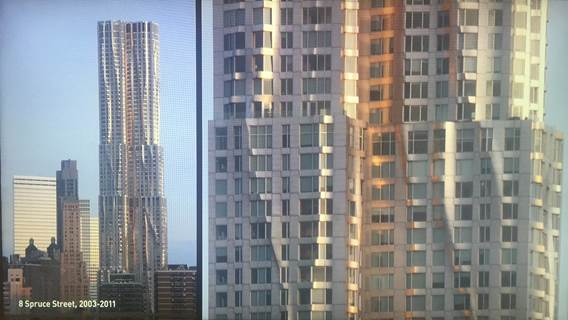 <![endif]>
And, finally, a view into the room with current projects on display, with a panoramic photograph of Gehry's studio on the wall behind:
<![if !vml]>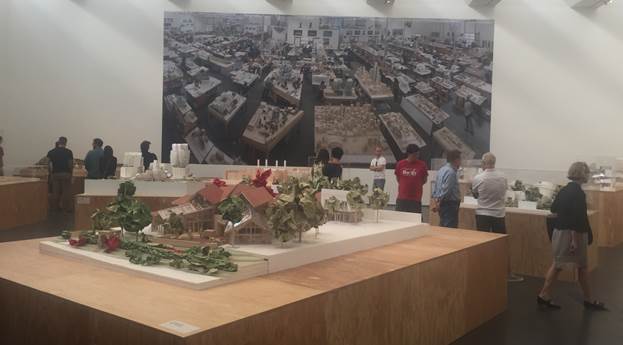 <![endif]>
Frank Gehry has revolutionized architecture's aesthetics, social and cultural role, and relationship to the city. His pioneering work in digital technologies set in motion the practices adopted by the construction industry today. The Canadian-born, Los Angeles–based architect's work interrogates a building's means of expression, a process that has brought with it new methods of design and technology as well as an innovative approach to materials. Gehry's innovation and ability to push the boundaries of architecture garnered him the Pritzker Architecture Prize in 1989.
Frank Gehry presents a comprehensive examination of his extraordinary body of work from the early 1960s—Tracing the arc of his career, the exhibition focuses on two main themes: urbanism and the development of new systems of digital design and fabrication, including his use of CATIA, a software tool used in the aeronautics and automobile industries, which allows the digital manipulation of 3-D representations. This retrospective offers an opportunity to reflect on the development of Gehry's work and to understand the processes of one of the great architectural minds.
This exhibition is organized by the Centre Pompidou, Musee National d'Art Moderne, Paris, in association with the Los Angeles County Museum of Art
Return to Dead Parrot home page.