There is a fabulous and extensive exhibition of the art of Kurt Schwitters currently on display until 26 June 2011 at the Princeton University Art Museum (after that, it moves to UC Berkeley):
Kurt Schwitters: Color and Collage
OPEN Tuesday, Wednesday, Friday, and Saturday, 10:00 a.m. to 5:00 p.m.,
Thursday, 10:00 a.m. to 10:00 p.m., and Sunday, 1:00 to 5:00 p.m.
Organized by the Menil Collection in Houston (and exhibited there from 22 October 2010 to 30 January 2011) under the direction of Josef Helfenstein and guest curator Isabel Schulz, Kurt Schwitters: Color and Collage is the first major U.S. retrospective of his work since the 1968 show at MoMA.   The show contains an impressive array of important works from museums and private collections in America and Europe, concentrating on the abstract assemblages, collages, and sculptures related to his Merz concept—and including a full-scale reproduction of Schwitters' Merzbau.  It is in Princeton 26 March-26 June 2011, after which it moves to the University of California, Berkeley, 3 August-27 November 2011.
Those of you who— like Nancy (who excitedly discovered Schwitters's collages when she was already years into doing collages of her own) and me (who, years earlier, had had the great fortune to go to the 1968 MoMA retrospective of his work)—already know and love Schwitters, will immediately recognize what a rare and wonderful opportunity this is.  (We took the easy, one hour drive down to Princeton this past Saturday morning; but the Museum is also easily reachable by train: one takes NJ Transit from NYC's Penn Station to Princeton Junction, transfers to the shuttle [the "Dinky"] to the Princeton Station, and does the short walk to The Art Museum from the station.)  Those of you who have not yet had the pleasure, now have the chance to experience an extraordinary introduction to wondrous works of an incredibly important artist.  Here is a description from the exhibit's catalogue (Isabel Schulz, ed., Kurt Schwitters: Color and Collage, Menil Foundation, Houston, TX):
Kurt Schwitters (1887-1948) was one of the outstanding figures in European modernism at the beginning of the twentieth century, and together with Marcel Duchamp one of the "father figures" for the generation of the avant-garde after the Second World War.  Equally gifted as artist and writer, he began working in 1918 at the periphery of Dada and Constructivism on the realization of his "Merz—a Total Vision of the World," which to him was nothing less than the integration of all forms of art.  The syllable "Merz," from Kommerz (meaning commerce), which in 1919 he cut out of an advertisement for a bank and used for a label for his own unique position, became synonymous with Schwitters himself, as applied to his entire oeuvre and ultimately to himself.
Schwitters's Merz works exploded the boundaries of traditional genres and radically expanded the possible ways of making art through the determined use of found materials… (p. 7)
As the great Clement Greenberg wrote in 1959,
Collage was a major turning point in the evolution of Cubism, and therefore a major turning point in the whole evolution of modernist art in this century. Who invented collage--Braque or Picasso--and when is still not settled.  Both artists left most of the work they did between 1907 and 1914 undated as well as unsigned; and each claims, or implies the claim, that his was the first collage of all. (in Art and Culture: Critical Essays, Beacon Press, Boston, 1961.  p. 70)
According to Isabel Schulz in the catalogue for the exhibition, "In addition to Pablo Picasso and Georges Braque, Greenberg included only Arp and Schwitters among the 'few great masters of collage…'" (p. 8)  Schulz writes,
After 1918, Kurt Schwitters contributed greatly to the establishment of the collage—the "most revolutionary" pictorial practice of modernism… …Schwitters never stopped thinking of painting as central to his work.  To him, the two techniques were not mutually exclusive but rather formed an integral whole.  (Ibid., p. 51)
There is an elegance and subtlety to the collages of Schwitters—and this applies to their colors as well as to their composition.  I am particularly drawn to his earlier collages, in part because of their simplicity and purity, but also because for me they achieve something quite sublime in their overall effect.  (Fortunately for me, this show is particularly rich in collages from this early stage of his work.)  I shall present below some examples of my favorites from Kurt Schwitters: Color and Collage.,  Since I find that many people are not that familiar with Schwitters's work, I am going to present them here sequentially rather than interspersed with text so as to allow for somewhat larger format images, so as to maximize your ability to get some sense of how marvelous they are.  Of course, to get a true sense of them, you need to see them in person—so, please consider a trip to see this amazing exhibition.  (There are several museums that have extensive and significant examples of his work in their permanent collections [e.g., MoMA in NYC, the Tate Modern in London, the Thyssen-Bornemisza in Madrid, et al.], so there are other places you can experience his work first-hand;  but having so many works assembled in one place is an incomparable treat.)
The first one I present—one of his earliest collages, and the earliest in this show—is one of my very favorites due to its subtle, dark, muted richness—juxtaposed to the brilliant blue form it contains, partly painted, partly collaged:
<![if !vml]>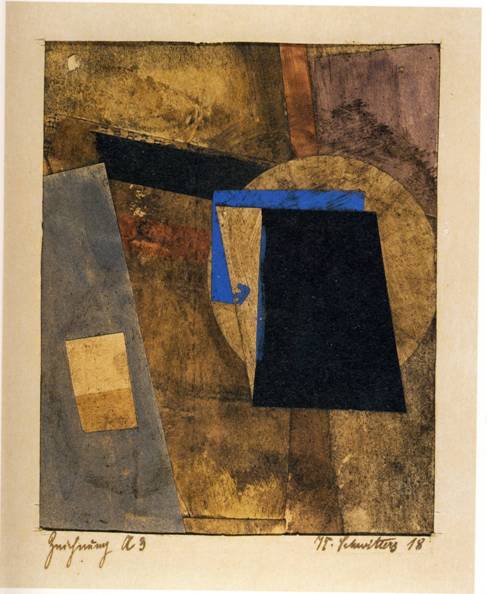 <![endif]>
Zeichnung A 3 (Drawing A 3), 1918
Collage: paper on paper (5 ¼ x 4 ¼ )
Sprengel Museum, Hanover
Next, another simple but beautiful little masterpiece from 1920, with a gorgeous, resonant shade of blue:
<![if !vml]>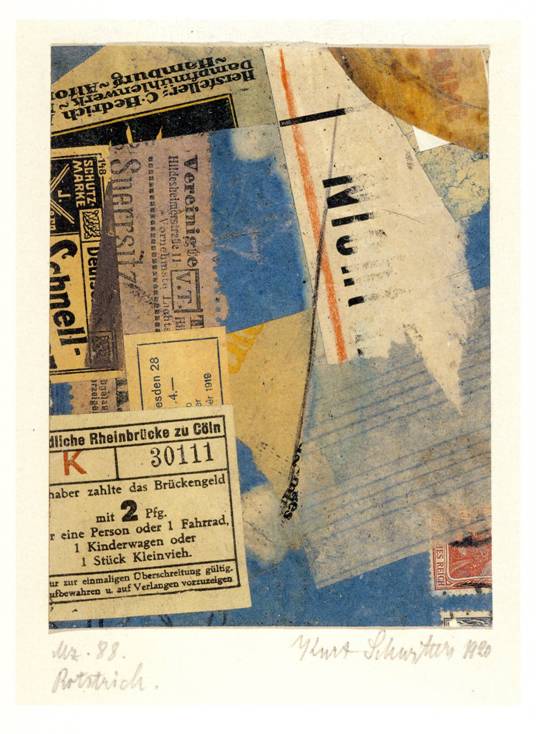 <![endif]>
Mz. 88. Rostrich. (Mz. 88. Red Stroke.), 1920
.Collage; printed paper and crayon on paper, (5 3/8 x 4)
Museum of Modern Art, NYC
Another beauty from 1921,
<![if !vml]>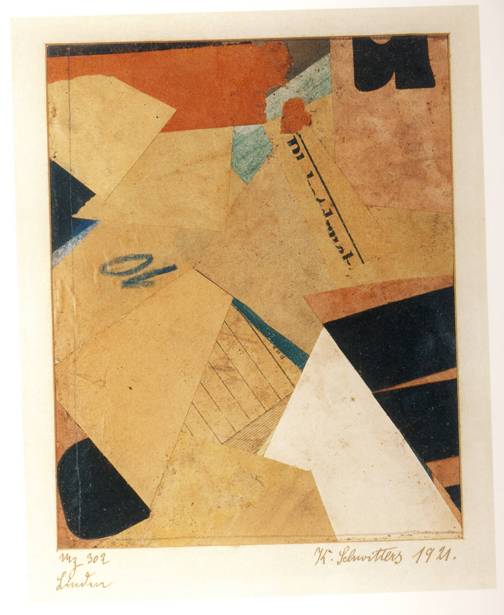 <![endif]>
Mz. 302 Linden, 1921
Collage; pen and paper on paper.  (7 1/8 x 5 5/8)
Private Collection, Houston
This particularly strong collage reminded me very much of some of Nancy's works from an earlier period:
<![if !vml]>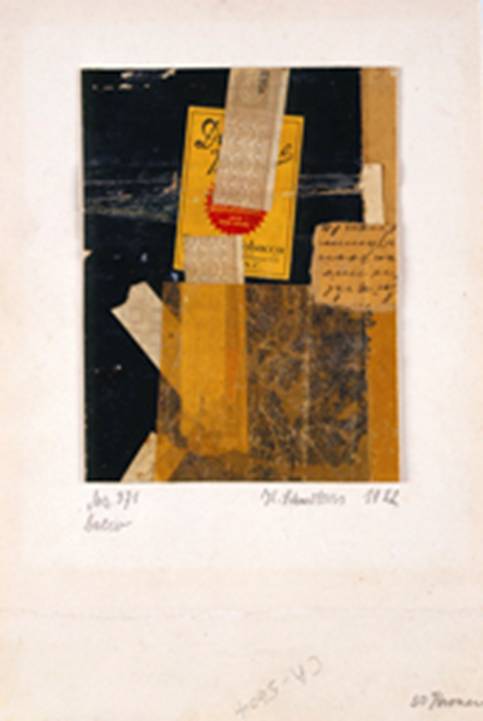 <![endif]>
Mz 371 bacco, 1922
Collage; paper on paperboard. (6 ¼ x 4 7/8)
Menil Collection, Houston
One of the things that distinguishes the collages of Schwitters which I love from those that I do not like all that much is their underlying compositional vision.  It is my contention that many (and most of his earlier works) are based on what Heinrich Wölfflin would have described as a classical (with a closed, balanced, vertical and horizontal [or sometimes pyramidal]) composition, rather than baroque one (with an open, swirling, mannered, non-linear composition)—and my preference always tends strongly toward the classical end of the spectrum.  To be clear, even his most classical compositions have dynamic tensions distorting the classical balance, but those tensions play against a strongly structured, static foundation.  These tensions are very visibly at work in the otherwise highly structured Mz. 601 below:
<![if !vml]>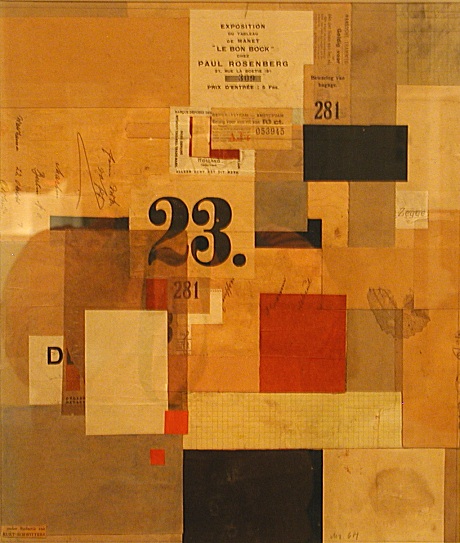 <![endif]>
Mz. 601, 1923
Collage; paint and paper on cardboard. (17 x 15)
Sprengel Museum, Hanover
In what I consider to be one of Schwitters's best large assemblages (many others of this type I find too confused and clunky)—and one that I liked enormously—I see the other, more baroque compositional vision.  Even though in this particular example I find the overall effect to be amazingly compelling, it will serve as an example of the sort of vision I like much less in Schwitters.  (Since I am only presenting here examples from the exhibition of ones I truly loved, I shall not show the type I do not feel to work so well.)
<![if !vml]>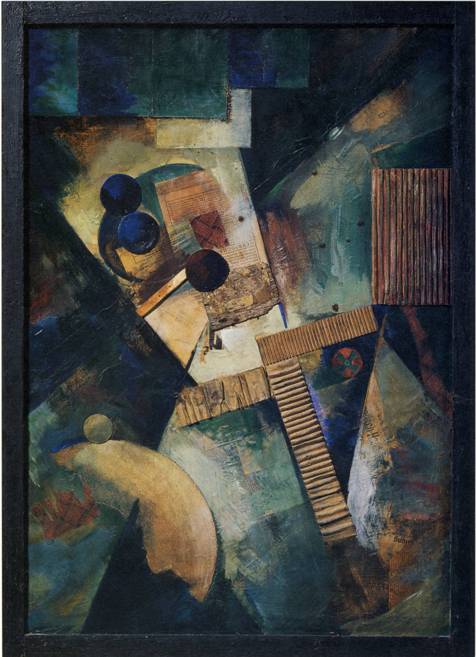 <![endif]>
Ja-was? –Bild (Yes-what? Picture), 1920
Assemblage; oil, pasteboard, cardboard, and wood on cardboard.  (38 5/8 x 25 7/8)
Private Collection
While in general I am far less impressed with most of Schwitters's sculpture, some of them are quite exquisite, as is the elegant construction below:
<![if !vml]>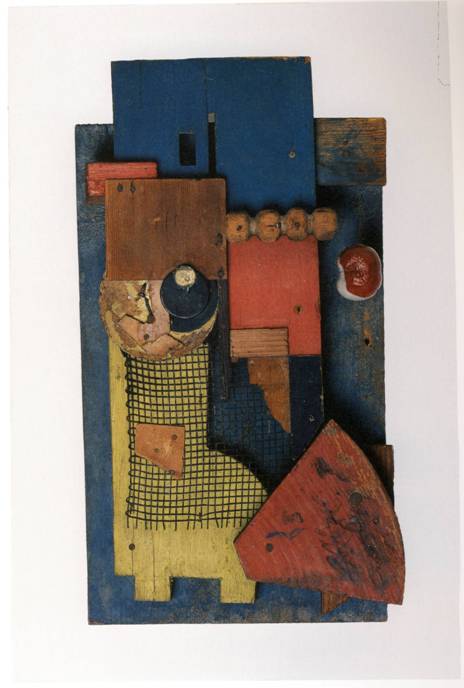 <![endif]>
Untitled (Merz Construction, Top), ca. 1923-26
Relief; painted wood, wire mesh, cardboard, and paper nailed on wood. (15 x 18 ¼ x 2 ½)
Philadelphia Museum of Art
The Nazis considered Schwitters's modernism to be a "degenerate" for of art; and, in January 1937, Schwitters fled Hanover, Germany for Norway.  He worked in Norway until 1940, when the Nazis invaded.  From there, he fled to Scotland, and thence to England, where he eventually died in 1948.
I have already hinted that I do not like his later work nearly as much as his earlier, but there are many wonderful exceptions.  One unusual and entrancing  collage—one of the few in the show from his Norway sojourn—that date from this period is Untitled (Silvery) from 1939:
<![if !vml]>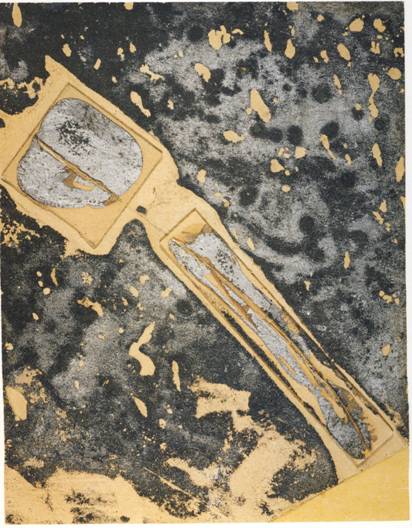 <![endif]>
Untitled (Silvery), 1939
Collage; silver paint and cardboard on paper on tracing paper.
There are many other forms of art Schwitters engaged in represented in the show, from poetry to the "sound poetry" of his Ursonate (1922-32); but I do not find these forms to my taste.  The one project he created that I do find fascinating, however, is his Merzbau.  Starting in 1923, Schwitters began transforming some of the rooms of his family home in Hanover.  This transformation of his environment, which was still in the process of growth and evolution when he fled Germany in 1939, he called his Merzbau.  (He made two further version, one in Norway, and a last in England.)  All three of the Merzbau were destroyed.  There are some remaining photographic records, but only of the original one in Hanover.
A reconstruction of one room of the original Hanover version is included in Kurt Schwitters: Color and Collage.  It is q quite fantastic space:  Nancy said it felt like being inside it was like "living within a collage."  Here is a photograph:
<![if !vml]>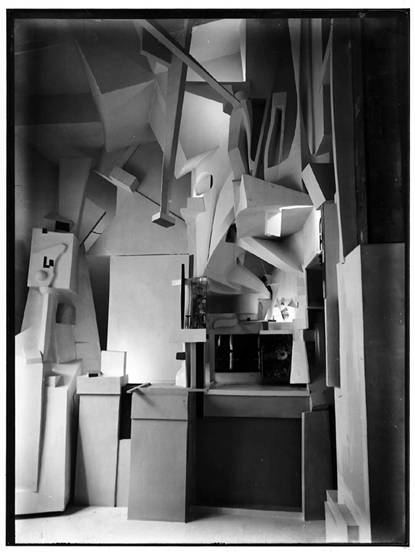 <![endif]>
Seeing reproductions of art is always a far cry from experiencing the real thing, but hopefully these images will have provided a little taste of the wondrous experience of Schwitters's work.  Get thee to Princeton!  Or, at least, discover the richness of his work in one of the great museums that has a few good examples of his collages.
Here is a review of the show that appeared in the New York Times of 31 March 2011 (www.nytimes.com/2011/04/01/arts/design/kurt-schwitters-exhibition-at-princeton-museum-review.html):
<![if !vml]>

<![endif]>
March 31, 2011
Versatile Collagist, Dangerous Times
PRINCETON, N.J. — Timing is everything, and it can be ruinous. The German artist Kurt Schwitters built his magnum opus, the sculptural environment he called the Merzbau, in the early 1930s. He produced his most innovative collages in the decade before. In 1933 Hitler came to power. The collages were instant fodder for Nazi "Degenerate Art" shows. The Merzbau was bombed to dust in 1943.
By then Schwitters was living, self-exiled, in England, after having spent more than a year interned in detention camps there.
An application for a United States visa had been turned down. After suffering a stroke he was supporting himself marginally by painting landscapes and portraits. In 1947, on his 60th birthday, he received money from the Museum of Modern Art in New York to recreate Merzbau, but by then he was too ill to do heavy work. He died six months later, one day after being granted the British citizenship for which he had waited years.
The facts of his late years are painful to contemplate, yet much of the art in "Kurt Schwitters: Color and Collage," a gift of a show at the Princeton University Art Museum, feels just the opposite. Even when hermetic and melancholic, as many of them are, the collages are a delight, transcending the number-crunching, language-mangling modern world they reflect. And when they're joyous, they have a true in-love-with-life lift, with hints of nature blooming through.
Inside the first gallery, before you can even examine the art, you hear a semi-natural sound, something between a thrush's call and a cuckoo clock, then a kind of Papageno's song of mews, blips and nonsense syllables, broken by a military rat-a-tat. It's all Schwitters, performing his phonetic poem "Ursonate," or "Sonata in Primeval Sounds."
For decades he regaled European audiences with the piece, driving some listeners from the room, leaving others in stitches. He made at least two recordings of the piece and was still performing it in London as late as 1947.
Schwitters made no categorical distinctions between his art (painting, collage, sculpture, design, installation), his writing (poetry, essays, children's stories) and his performances. To him they were all integral parts of a one-man cultural movement called Merz, which he invented, deriving the name from Kommerz, German for commerce.
The multidisciplinary nature of Schwitters's output, which can make a career survey look like a group show, may be one of the reasons he remains an underknown figure. His sole American retrospective, at MoMA, was 25 years ago. Representative samplings of his art have since rarely been on view, there or elsewhere.
Yet he has had a huge effect on post-World War II artists and is revered by many. Two of the collages in the Princeton show are from Jasper Johns's collection; two others are owned by Ellsworth Kelly. Robert Rauschenberg, who introduced Mr. Johns to Schwitters's work, was a major fan. And a Schwitters effect, however indirect and unrecognized, can be spotted in much contemporary work.
Even in his own time he was hard to get to know. He made contradictory impressions on people who encountered him. To those who knew him through his performances he was an extrovert: a large, hammy guy with big ideas and a big voice, relishing the role of clown.
But he could quickly drop into loner mode, shy away from company, rebuff unsought friendship, assert the middle-class proprieties he grew up with. After bouts of what seemed like compulsive extroversion, he spent long stretches on his own. And the dozens of collages and assemblages at Princeton suggest how he used that time.
Meticulously puzzled together from paper, fabric, wire, scrap wood and other everyday materials, these pieces are the work of a sorter and measurer, a concentrator, a tabletop worker, someone who found satisfaction — more than that, comfort — in up-close, fine-grained aesthetic control. Even the Merzbau, with its interior network of nooks and shelves, projected deep focus, on a walk-in scale.
The exhibition, which originated at the Menil Collection in Houston, has some of all of this material, including a replicated section of the Merzbau. But with only 80 works, it's clearly a theme show, not a survey, the theme being the persistence of painting throughout Schwitters's career.
It's an unadventurous approach, with problems. No doubt the curators — Isabel Schulz, executive director of the Kurt and Ernst Schwitters Foundation at the Sprengel Museum in Hanover, Germany, and Josef Helfenstein, director of the Menil Collection — wanted to correct a mistaken view of Schwitters as an anarchic, antiart wild man.
But reducing him to "primarily a painter" is also a distortion, and one too in line with current, conservative market fashion. Still, it's hard to complain about any show that brings together as many wonderful things as this one does.
And Schwitters did begin as a painter, and stayed one. Born in Hanover in 1887, he went to art school there and in Berlin, working in a by-then-mainstream romantic, Expressionist mode.
At the same time he was attracted to a new movement called Dada, which embraced art and literature equally and strove to confuse distinctions between art and life.
In 1918, under its influence, he made his first abstract collage from bits of torn trash, including bus tickets, cigarette packaging, chocolate wrappers and cloth, and then published a collage-style poem called "To Anna Blume." To his surprise the poem was a popular hit, too popular in the view of certain Dada big shots who declared him ineligible for membership in their antiestablishment movement. He didn't care. He was far more interested in creating than in rebelling. And besides he already had Merz.
The 1920s became a personal Merzathon.
Collages, sculptures, prints and poems flowed. Schwitters met all kinds of vanguard artists — friendly Dadaists like Tristan Tzara and Hannah Höch; Constructivists like El Lissitzky; Theo van Doesburg, a founder of the movement known as De Stijl — and collaborated with many of them. He traveled Europe nonstop, performed tirelessly, had shows and attracted collectors.
A good part of the Princeton exhibition is made up of works from this period, and they're on fire, changing from piece to piece.
A very early collage called "Mz 11 Strong Picture" from 1919 is a jumble of words and numerals; a visual poem, tense and tight, like two cellphone conversations in proximity, with one word, "stark" — the German word for "strong" — repeated at different volumes.
In other abstract collages, color and texture become content. This is true of "Mz 371 bacco" from 1922, with its bursting yellow and red tobacco label, its scrap of handwriting like a whispered aside and its all-over surface pattern of crackling and wrinkling. Similar effects become combustive in "Mz. 410. Something or Other," as cut-paper shards fly outward, fabrics unravel, and a bird feather, stabbing into the composition's center, seems to be exploding and disintegrating.
These collages have an ambiguous dynamic: they're festive, but they're not benign. Thought of in terms of sound, they could be fireworks or gunfire. World War I was just a few years in the past. The atmosphere of cosmic uncertainty it generated was still very much in the air. For Schwitters, who was both an adventurer and an elegist, drawn equally to the new and the old, who kept dashing to the cultural front lines then pulling self-protectively back, art making was a crucial stabilizer.
You sense the steadying role it played for him in "Mz 601," a 1923 collage radical in its pre-Minimalist play of grids and classical in its precisely judged asymmetries. And you sense it in the strikingly spacious, airy 1932 assemblage called "Körting Picture." Done during or after one of Schwitters's repeated getaways to a remote Norwegian island, it replaces urban detritus with a frond of seaweed and a patch of bark, and adds flickering strokes of paint like water-reflected light.
Overt references to nature, to cloud-filled skies and forests, recur in the 1940s, along with diminutive wood and plaster sculptures — surely Cy Twombly knows them well — as personable as pets. But organicism in the late work more often takes abject form. Collages grow denser and junkier, soiled with pigment and dirt, affixed with lumps of matter as dark and moist looking as chewed food or dissolving flesh.
Even the immaculate-white Hanover Merzbau, in a much-traveled full-scale reconstruction from the 1980s by the stage designer Peter Bissegger, feels claustrophobic and tomblike. To Schwitters this precursor of contemporary installation art was Merz in excelsis, a fit container for everything he cared about. But it isn't an opening-out, heart-gladdening utopian space. It's the equivalent of a Joseph Cornell box: a repository for relics, secrets and occult signs, a personal theater, and a retreat.
No wonder Schwitters was shattered by its destruction. (He started two other Merzbaus, in Norway and England, but never got far.) Not only had an artist lost the monument by which he hoped to be remembered; one of modernism's signal outsiders, who often looked like anything but, had lost a place to hide, and never found the means or the time, precious time, to rebuild it.
Kurt Schwitters: Color and Collage
WHEN AND WHERE Through June 26, Princeton University Art Museum, Elm Lane, off Nassau Street, Princeton, N.J.
MORE INFO (609) 258-3788, artmuseum.princeton.edu.
EATING IN PRINCETON Blue Point Grill, 258 Nassau Street, (609) 921-1211, bluepoint.jmgroupprinceton.com; Elements, 163 Bayard Lane, (609) 924-0078,
elementsprinceton.com; Olives Deli and Bakery, 22 Witherspoon Street, (609) 921-1569, olivesprinceton.com.
"Kurt Schwitters: Color and Collage" remains at the Princeton University Art Museum, Princeton, N.J., through June 26; (609)258-3788, artmuseum.princeton.edu. It then travels to the University of California, Berkeley Art Museum.