Downtown Los Angeles
While in LA this past weekend, Nancy and I visited the new Broad Museum—and it is fabulous!  Eli and Edythe Broad built this amazing collection of postwar and contemporary art over the last five decades, and they have created a magnificent home for it.
The Broad is completely free to the public.  Timed admission tickets are necessary to get in, however, and are "available" online—but be forewarned: they are completely sold out through November, and as of my writing this, there are only two dates in December and three in January for which tickets are available…so plan your visit well in advance!  (And this is a very democratic institution: I thought we'd pull the old capitalist ploy of becoming a member or a patron in order to gain entry…but there are no such categories! So, if you're lucky enough to be a friend of Liz Diller…or of the Broads [which is pronounced "brode," BTW]…or fortunate enough to have extraordinary connections, call in your favors now and try to arrange for VIP passes—which do exist.)
Building a structure down the street from Frank Gehry's Disney Center (in my opinion, one of his very best buildings; and when Gehry is good, he is extremely good) is no small task for an architect;
<![if !vml]>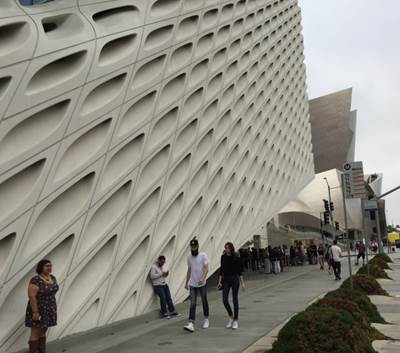 <![endif]>
but Liz Diller and the firm of Diller Scofidio + Renfro (who did the rebuild of AliceTully Hall and built Lincoln Ristorante—not to mention doing the High Line with Jim Corner), in collaboration with Gensler have done an unbelievably creative and successful job, worthy of its place next to the Gehry masterpiece.
The plan of this 120,000 ft2, $140 million structure, has been referred to as "the veil and the vault," because the light, honeycombed, penetrated exterior shell encloses a heavy concrete structure to fulfill the proposed design requirement that there be space within to store the entire collection, only a small fraction of which can be displayed at any one time, even given the two floors of display space.  (The Broad's description of the building is available by clicking HERE.)
<![if !vml]> <![endif]>

The shell creates a huge open interior volume, reminiscent of the fabulous—although far more successful—1963 Beinecke Rare Books Library at Yale (designed by Gordon Bunshaft of SOM, and one of that firm's very best buildings)—and the top of the concrete "vault" forms the vast floor of the third level gallery space.
The exterior is quite pleasant and creditable, although nothing terribly special in its overall form.
<![if !vml]>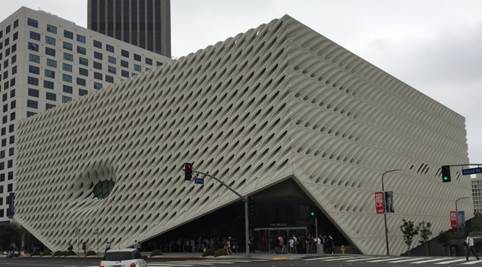 <![endif]>
But the pattern of the penetrations which cover the entire surface of the building—a bit like a curvilinear brise-soleil à la Le Corbusier—and which continue across the roof of the space, allows controlled, natural light to penetrate the interior, while also giving a sense of connection from within to the outside world—without actually introducing distracting direct views of the surrounding neighborhood.  The "veil" was constructed of 2,500 concrete, teardrop-shaped slits in 380 configurations, all angled toward true North. (q.v., article in The Independent) This surface pattern is actually more interesting than the overall form of the building itself, which, while pleasant and workable, is unexceptional.  Aside from the surface patterning, the best part of the exterior is the rise of the shell at the corners, which provide both a main entrance on the east corner, and a secondary one at the south corner of the building.
<![if !vml]>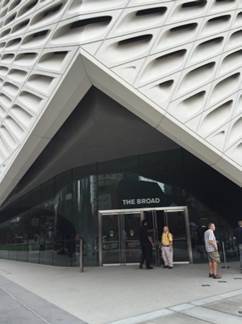 <![endif]>
Otherwise, the best I can say for the exterior is that it provides an interestingly neutral, not displeasing form to offset the elegant extravagance of the Disney Center.
There is an indented oculus on the southeast face of the shell that adds little to the effect, but serves as a wonderful highlight for the auditorium which it illuminates within the building.
<![if !vml]>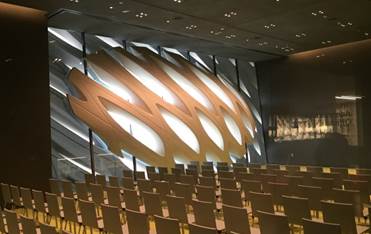 <![endif]>
The real architectural achievement is the building's interior.  One enters into a beautiful space below the mass of the "vault" (with Robert Therrien's untitled 1993 sculpture in ceramic epoxy on fiberglass is pictured in the foreground):
<![if !vml]>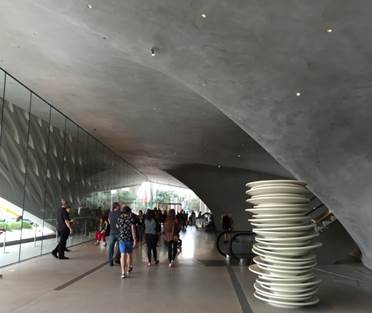 <![endif]>
The curved ceiling of the entry level—gray colored matte-surfaced concrete, as all the walls and ceilings of the first two levels within the "vault'—create very effective areas and passageways:
<![if !vml]>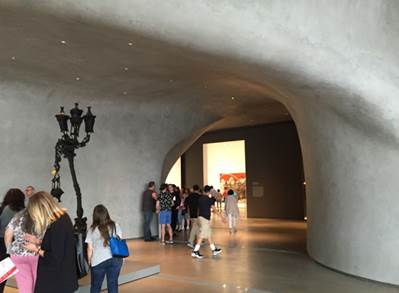 <![endif]>
through its dense bulk (much denser on the second level than the first),  From this level there is an escalator the invites one upward through the "vault":
<![if !vml]>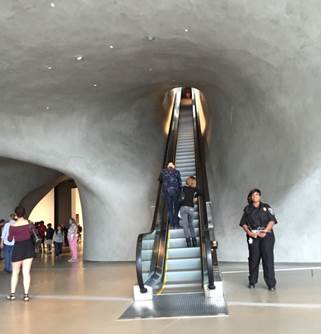 <![endif]>
and which dramatically emerges onto the third level, where the main galleries are:
<![if !vml]>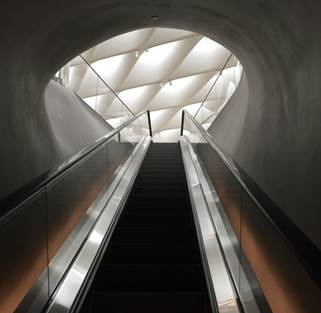 <![endif]>
There is also a space-age elevator that carries one upward through the core (seen here rising, behind the closed frosted glass outer door):
<![if !vml]>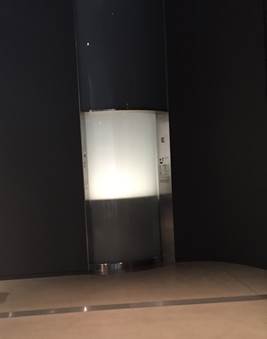 <![endif]>
And which has a similarly dramatic arrival on the third floor:
<![if !vml]>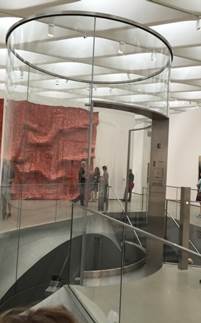 <![endif]>
The third level—which is the top surface of the "vault"—is essentially a huge, structurally uninterrupted (column-free) space—with more than an acre of display space—with the patterned roof of the shell curving high above, admitting a controlled, filtered natural light.  The walls which form the display spaces are movable and reconfigurable, rising only partway to the ceiling above. 
<![if !vml]>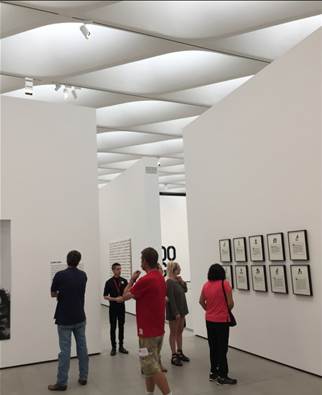 <![endif]>
At the edges, there are views to the skin of the veil outside. The effect is strikingly beautiful; but it is also subtle in a way that does not compete with the art on display (here Coup de Chapeau II,1996, a painted and patinated bronze sculpture by Lichtenstein):
<![if !vml]>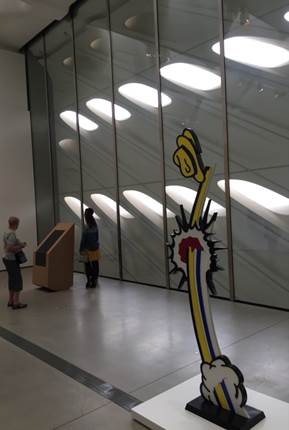 <![endif]>
One can descend from the third level via a staircase that descends into the darkness of the "vault":
<![if !vml]>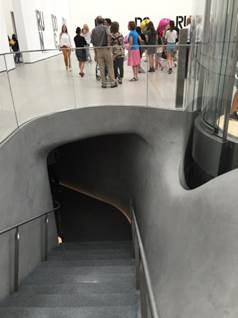 <![endif]>
The darkness of the stairwells and the halls on the second level—in the middle of the "vault"—purposely emphasizes its solidity and its function as storage rather than display space.
<![if !vml]>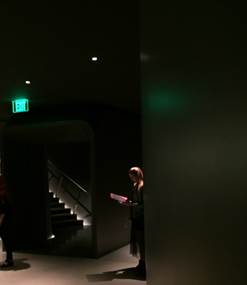 <![endif]>
One exception is where Diller has punched an arched viewing port through the wall at the turning landing of the staircase, opening a view into the art storage space that is housed within the "vault":
<![if !vml]>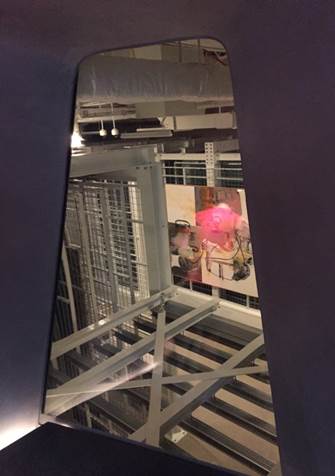 <![endif]>
The other exceptions are the auditorium (already pictured above earlier) and the lively administrative offices which are areas of light on the mostly darkened second level (within the structure of the "vault"):
<![if !vml]>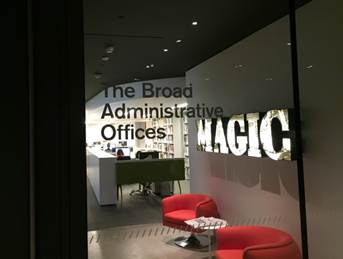 <![endif]>
The real surprise was the extraordinary excellence of the Eli and Edythe Broad's collection of post-1950s art.  I am going to include below some amazing examples of the 250 fabulous works currently on display.  The website describes this inaugural exhibition as follows:
The inaugural installation features a predominantly chronological selection of masterworks from the Broad collection. The installation begins on the third floor with works by major artists who came to prominence in the 1950s, including Jasper Johns, Robert Rauschenberg, and Cy Twombly. The Pop art of the 1960s—an area of great depth in the collection—is represented through works by Roy Lichtenstein, Ed Ruscha, and Andy Warhol, among others.
Moving into the 1980s, the installation presents a rich concentration of works by artists such as Jean-Michel Basquiat, Cindy Sherman, Keith Haring, Barbara Kruger, and Jeff Koons. The installation continues on the first floor through the present, with works including a monumental, immersive, nine-screen video piece by Icelandic artist Ragnar Kjartansson, and an 82-foot-long painting by Takashi Murakami.
The enormous number of great works currently on exhibit is just a small fraction of the overall collection (in excess of 2,000 works), which I urge you to explore online at http://www.thebroad.org/art/browse.  Just follow that link and then click on any of the artists that interests you, and you will find countless great works by each. I experimented by clicking on Joseph Beuys, and I was rewarded with images and information about an unbelievably rich and deep collection of this great artists works that are in the collection.
Here are some favorites we saw:
By Andy Warhol:
Dance Diagram [3] ["The Lindy Tuck-In Turn-Man"].  1962, casein on linen:
<![if !vml]>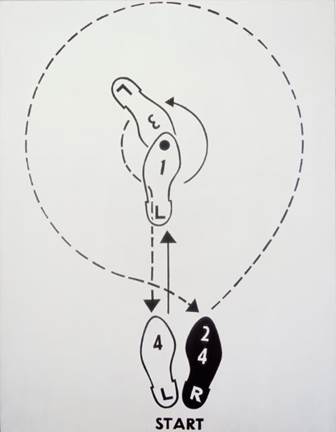 <![endif]>
Self Portrait.  1966, acrylic, silkscreen ink, pencil and ballpoint pen on linen
<![if !vml]>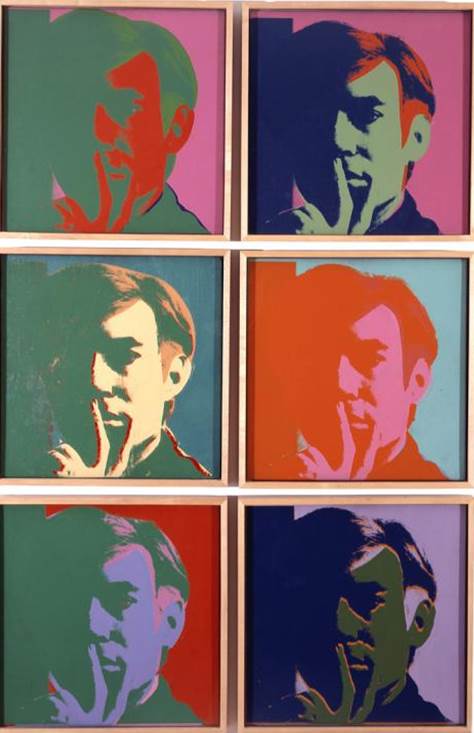 <![endif]>
Big Electric Chair.  1967-68, acrylic and silkscreen ink on linen
<![if !vml]>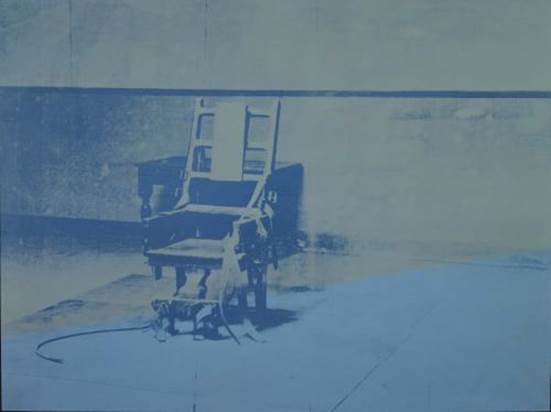 <![endif]>
Campbell's Soup Can (Clam Chowder - Manhattan Style) [Ferus Type].  1962, casein and pencil on linen (left) and, Small Torn Campbell's Soup Can (Pepper Pot).  1962, casein, gold paint, and graphite on linen (right):
<![if !vml]>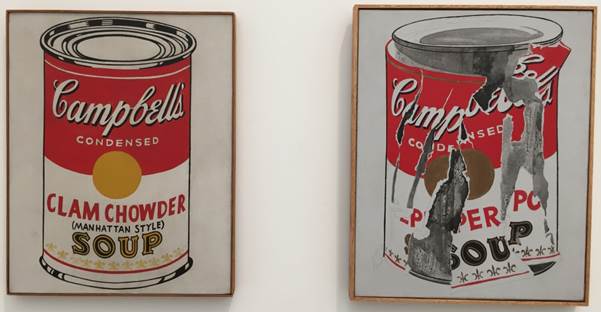 <![endif]>
By Ellsworth Kelly:
Green Relief with Blue.  2011,  oil on canvas, two joined panels:
<![if !vml]>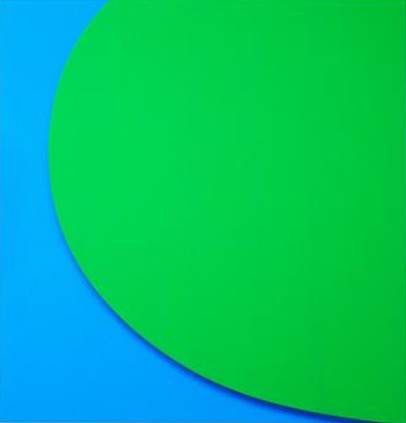 <![endif]>
Green Blue Red.  1963, oil on canvas:
<![if !vml]>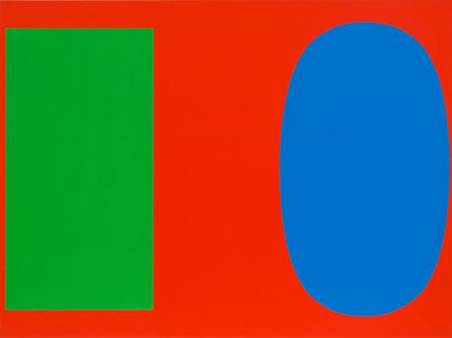 <![endif]>
By Robert Rauschenberg:
Untitled.  1954, oil, fabric and newspaper on canvas:
<![if !vml]>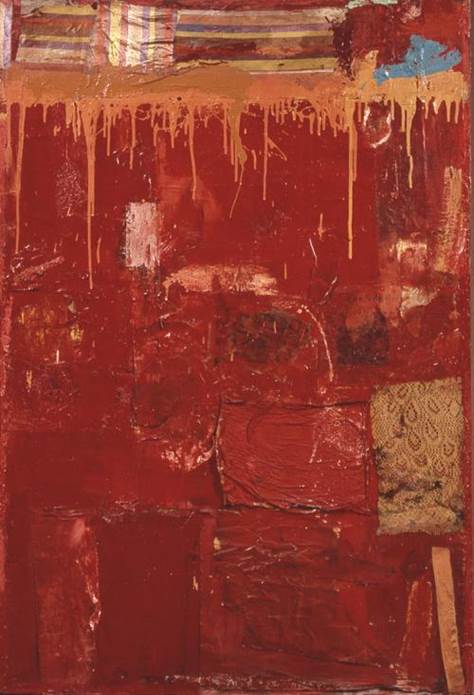 <![endif]>
Combine.  1954, oil, charcoal, newspaper, canvas and fabric collage, light bulb and two glass radiometers on nailed wooden structure:
<![if !vml]>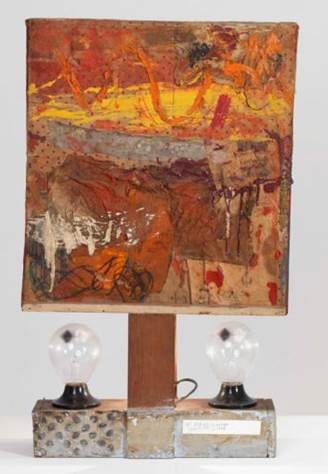 <![endif]>
By Cy Twombly:
Untitled [New York City].  1955, oil based house paint and lead pencil on canvas:
<![if !vml]>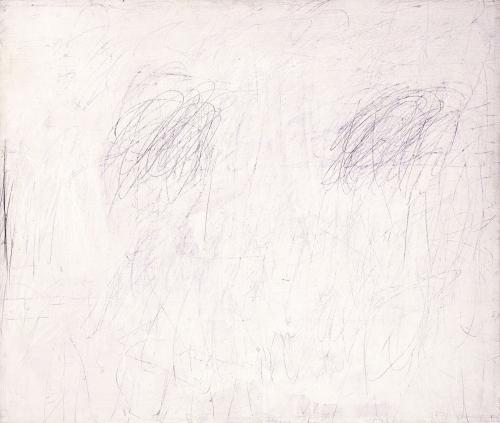 <![endif]>
By Joseph Beuys:
Schlitten.  1969, wooden sled, felt, belts, flashlight, fat and rope; sled stamped with oil paint (Browncross):
<![if !vml]>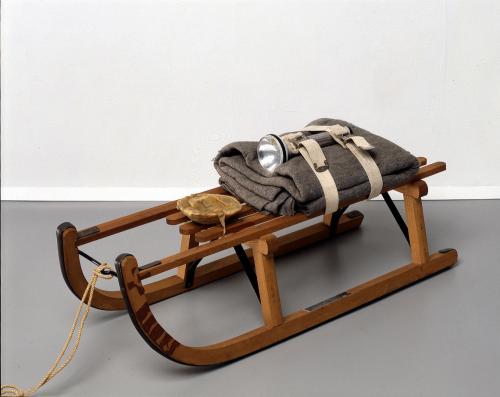 <![endif]>
Filzanzug.  1970, felt, sewn; stamped:
<![if !vml]>

<![endif]>
La rivoluzione siamo Noi.  1972, phototype on polyester sheet, with handwritten text; stamped:
<![if !vml]>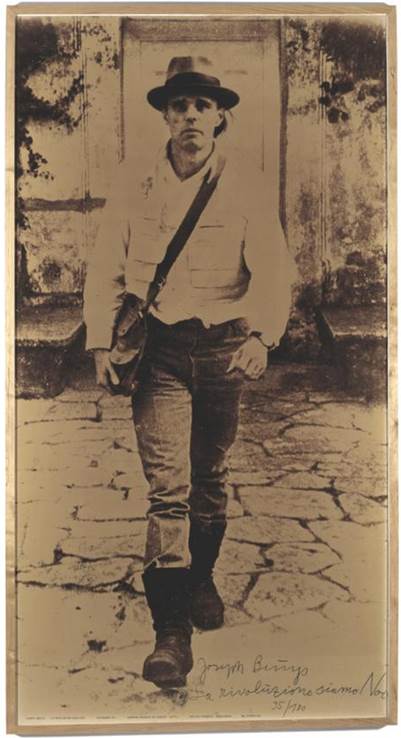 <![endif]>
By Roy Lichtenstein:
Goldfish Bowl.  1977, painted and patinated bronze:
<![if !vml]>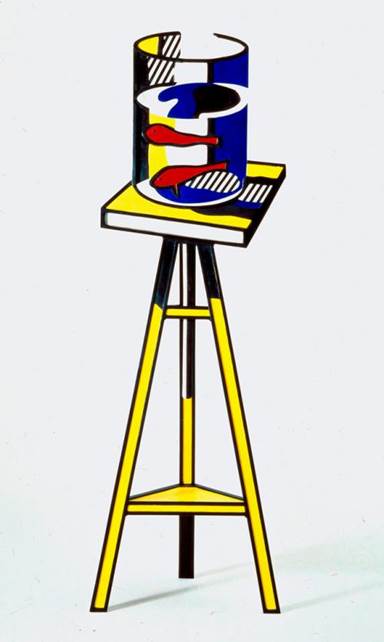 <![endif]>
The totally unexpected Non-Objective I.  1964, oil and Magna on canvas:
<![if !vml]>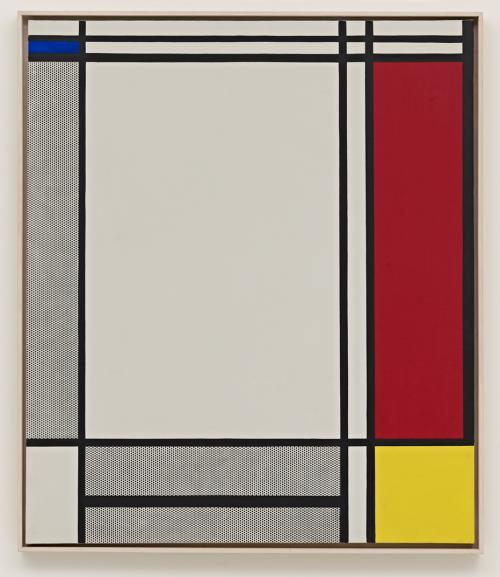 <![endif]>
And the equally surprising and quite marvelous Rouen Cathedral, Set 3.  1968-69, oil and Magna on five canvas panels:
<![if !vml]>

<![endif]>
of which I provide one detail:
<![if !vml]>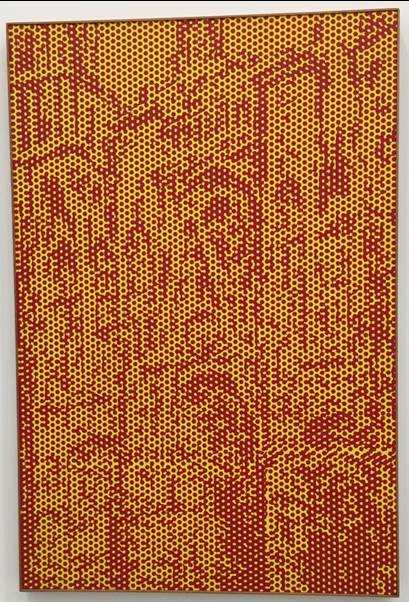 <![endif]>
By Richard Artschwager:
Triptych (With Nude) (Diptych IV).  1966, acrylic on Celotex and Formica on wood:
<![if !vml]>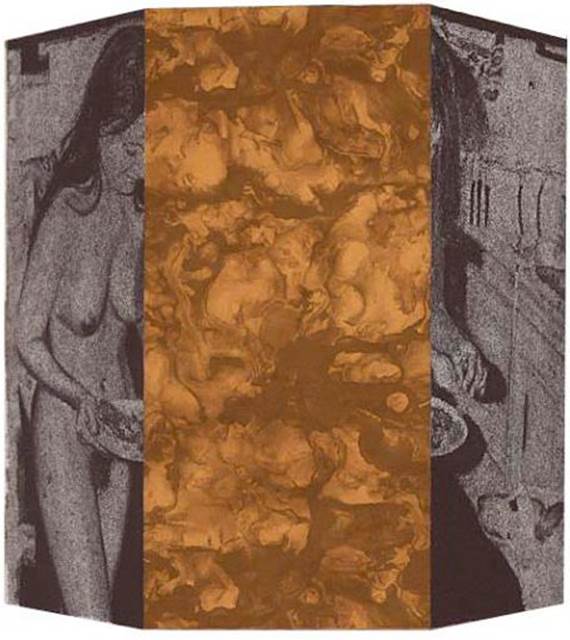 <![endif]>
By John Baldessari:
Black and White Decision.  1984, four black and white photographs; mounted on board:
<![if !vml]>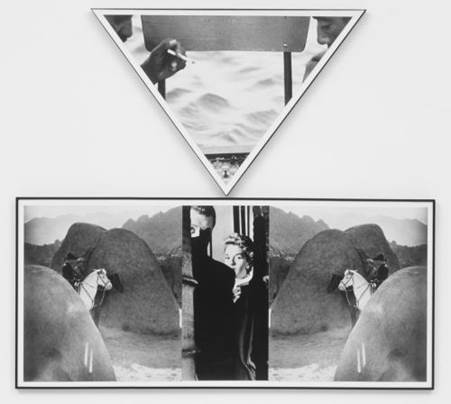 <![endif]>
By Robert Therrien:
Under the Table.  1994, wood, metal and enamel:
<![if !vml]>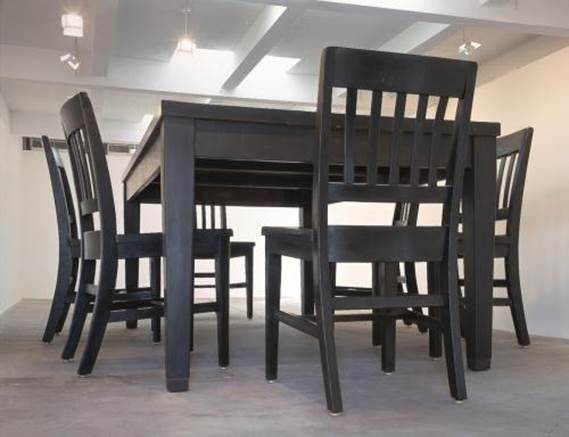 <![endif]>
And, to provide some scale for that, here's a picture of a 6'3" man standing under it:
<![if !vml]>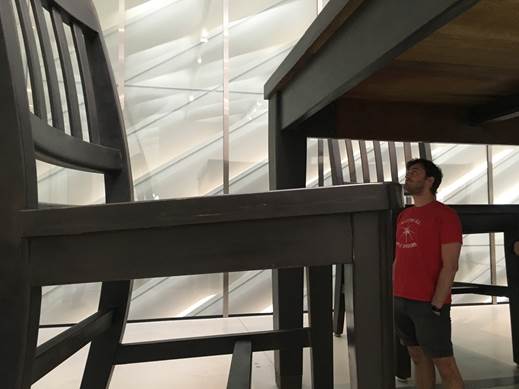 <![endif]>
By Kara Walker:
With Burning African Village Play Set with Big House and Lynching.  2006, painted laser cut steel (in foreground), and part of African't.  1996, cut paper on wall (in background):
<![if !vml]>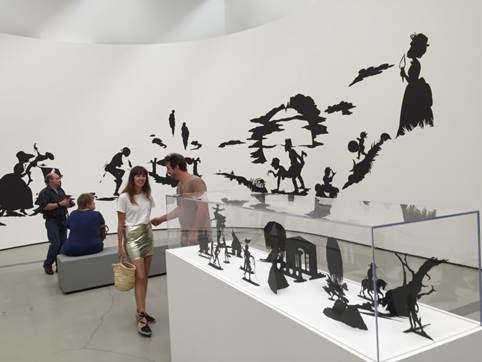 <![endif]>
A series of wonderful films by William Kentridge, including:
Johannesburg - Second Greatest City after Paris.  1989, 16mm animated film:
<![if !vml]>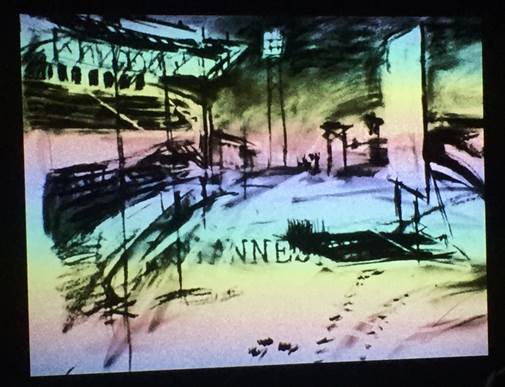 <![endif]>
As described by the website,
To make his films, Kentridge developed a unique, labor-intensive process in which he erases and alters a single drawing while recording the changes with stop-motion camerawork. The result is a hybrid of film and drawing that has been highly praised for both its manipulation of media and its ability to look at troubling social issues in a way that is neither sentimental nor aggrandized.
In the smaller set of galleries on the first level, there were more works on display"
By Goshka Macuga:
Death of Marxism, Women of All Lands Unite.  2013, wool tapestry:
<![if !vml]>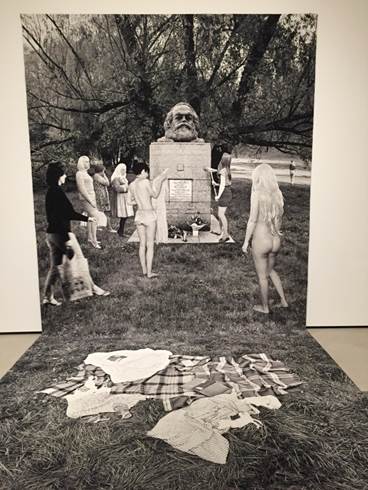 <![endif]>
By Ellen Gallagher:
DeLuxe.  2004-2005, a portfolio of 60 printed objects with aquatint, dry-point, photogravure, spitbite, lithography, silkscreen, embossing, tattoo machine engraving, laser-cutting, collage, crystals, cut paper, enamel, glitter, gold leaf, gouache, graphite, oil, Plasticine:
<![if !vml]>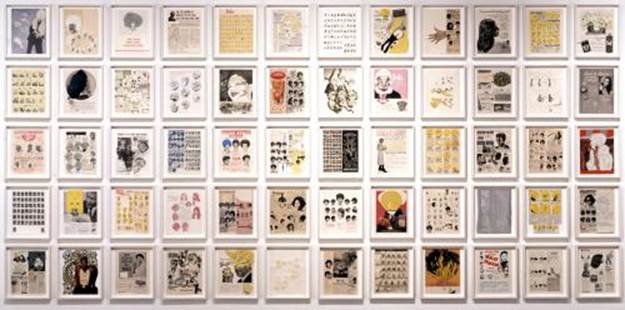 <![endif]>
Two details from the work:
<![if !vml]>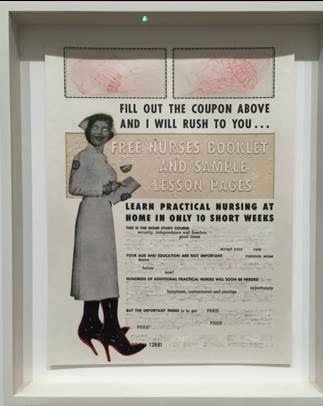 <![endif]>
<![if !vml]>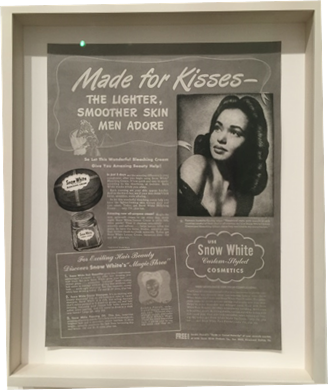 <![endif]>
By Icelandic artist, Ragnar Kjartansson:
The Visitors.  2012, nine channel HD video projection (from which this is a still of from one of the channels):
<![if !vml]>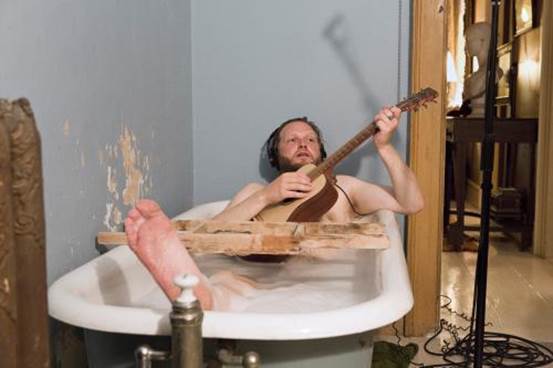 <![endif]>
Also on the first level is Yayoi Kusama's 2013 Infinity Mirrored Room - The Souls of Millions of Light Years Away (constructed from wood, metal, glass mirrors, plastic, acrylic panel, rubber, LED lighting system, acrylic balls, and water).  It is a room one enters one person at a time (special timed appointments must be made once you are inside the museum), and in which you can stay for only 45 seconds.  Standing on a small platform, surrounded by water, one gazes into the darkness, punctuated by seemingly endless strings of colored LED lights suspended from the ceiling—all of which, including your own presence, repeatedly reflected and multiplied by the mirrored walls on all sides.  Here is the website's view looking toward the platform (a view you will not have):
<![if !vml]>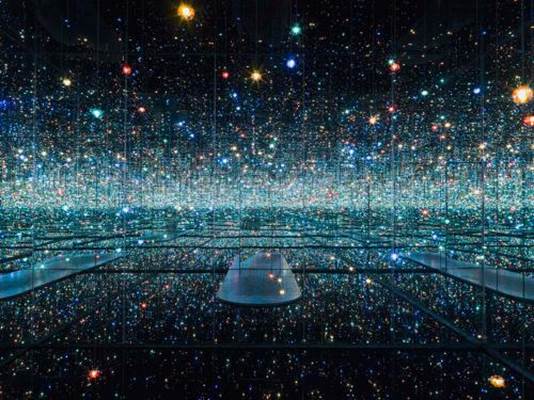 <![endif]>
And here is a brief video I took while inside (while not at all a good one, it will give some sense of the experience):
www.rickrubens.com/IMG_2345.m4v
One last architectural/landscape architecture comment:  directly south of the museum, there is a small public plaza also designed by Diller Scofidio + Renfro. The landscaping features 100-year-old Barouni olive trees and a lawn with curving walkways through it.  While quite small in relation to the building, this plaza is actually pleasantly proportioned, and it adds a bit of critical green space to the Grand Avenue site—and is a warm, organic counterpoint to the cool white concrete of the building's exterior..
<![if !vml]> <![endif]>

<![if !vml]>

<![endif]>
Return to Dead Parrot homepage.