There are two TERRIFIC exhibitions at the Metropolitan Museum that you may want to catch before they close (in order of when they end): there is a most amazing and unique visual experience of architecture and the built environment to be had in Wolfgang Tillmans: Book for Architects, a two-wall montage of projected photographs which closes on 5 July, so there is a lot of time pressure on this one (I have included some images below, although they do not do justice to the experience); and there is Van Gogh: Irises and Roses, which brings together for the first time since his death the two pairs of wonderful paintings Van Gogh did of bouquets of each of these flowers, and it is only here until 16 August (images of all four works are included below).
These are exhibits you will not want to miss!
Wolfgang Tillmans: Book for Architects
26 January - 5 July
<![if !vml]>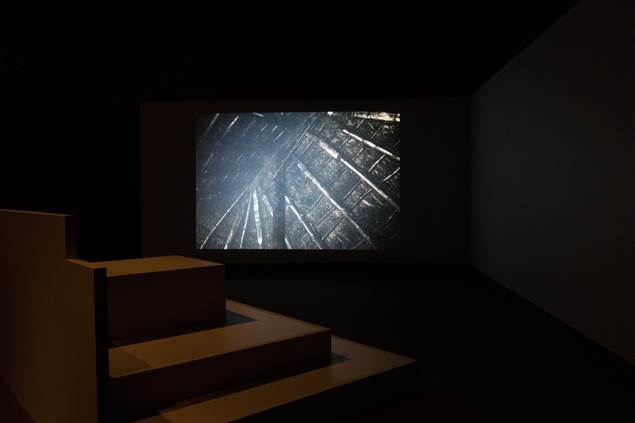 <![endif]>
Wolfgang Tillmans: Book for Architects is a fabulous 40 minute montage of 450 stunningly beautiful photographs, projected on the two adjacent walls of the 90 degree corner of a darkened room. Sometimes only a single photograph or group of photographs on one of the walls; sometimes one, two or more photographs on each of the two walls; and sometimes even panoramic images across both of the walls at once—they are images of the built environment in thirty-seven countries on five continents. In every stage of existence—from construction, through decay, to demolition, and eventually ruin—and at all levels of poverty and wealth, informality and high design, intimate detail and vast overview, the photographs juxtapose mankind's efforts to create dwelling space, neighborhoods, areas of commerce, places of recreation. At times we are viewing structural details—sometimes internal and hidden, sometimes external and purposeful design elements; at times were are viewing other kinds of detail—from urinals to balustrades; at times we are viewing hallways and passageways—some grand and public, some intimate and private; at times we are viewing complete rooms—some meagre, some grand; at times we see whole buildings, at times entire street scenes, and at times aerial views of vast expanses of cities. There are photographs with people inhabiting the spaces, and photographs without people. There are humble structures and those built by identifiable architects—Renzo Piano, Raphael Viñoly, and Richard Rogers, just to name a few (whose first names happen tobegin with "r," I notice). There are cities that are familiar and easily identifiable—London, Shanghai, New York, Bombay; and there are places totally unrecognizable.
<![if !vml]>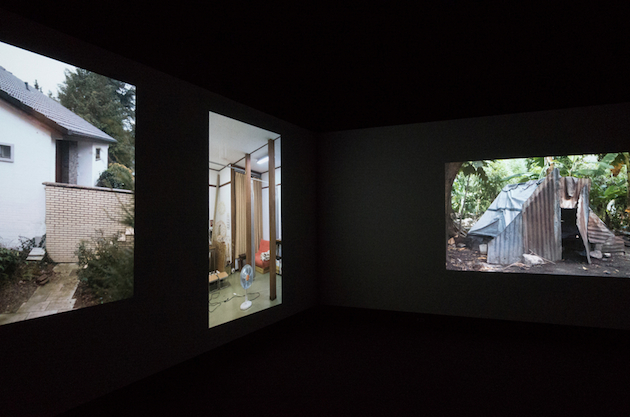 <![endif]>
<![if !vml]>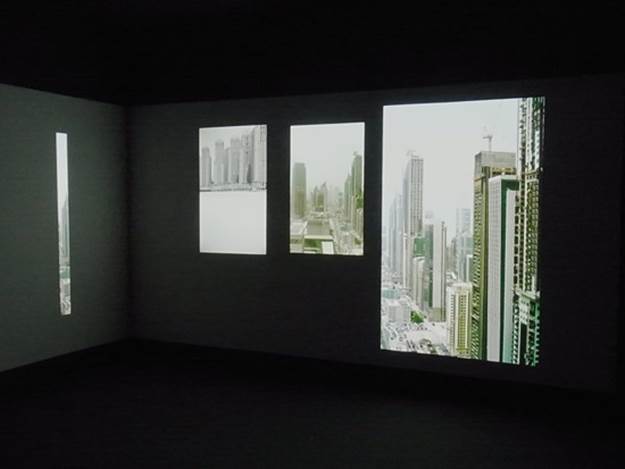 <![endif]>
<![if !vml]>
<![endif]>
This 2014 installation originally was part of the 2014 Venice Architecture Biennale. The artist, Wolfgang Tillmans, was born in 1968 in Remscheid, Germany, studied at Bournemouth and Poole College of Art and design in the UK, and lives and works in Berlin and London.
The Met's online description notes,
Book for Architects shows architecture through the eyes of the artist. Tillmans seeks to express the complexity, irrationality, madness, and beauty found in quotidian buildings, street patterns, and fragments of spaces. He achieves this from a technical standpoint by using standard lenses, which most closely approximate the perspective of the naked eye. Additionally, Tillmans designs the experience of the exhibition in the installation space itself—from the proximity and arrangement of the projected images to the seating, which is designed in a bleacher-like arrangement to enable a range of perspectives and views of the work. Through this cyclic series of photographs of largely anonymous building exteriors, interiors, city shots, and street views, Tillmans presents a personal portrait of contemporary architecture that will be familiar to everyone.
This is an exhibition that I would not want to have missed! Nancy and I sat there transfixed and entranced as we drank in the beauty and power of the images and of the overall experience.
12 May - 16 August
In the final year of his life (1890), just prior his leaving the asylum at Saint-Rémy for Auvers-sur-Oises (and Dr. Gachet), Vincent Van Gogh painted four bouquets of Spring flowers—two vases of irises, and two of roses. Van Gogh: Irises and Roses opened "125 years to the week that Van Gogh announced to his brother Theo, on May 11 and 13, 1890, that he was working on these 'large bouquets'..." (from the Met's online description of the exhibit. The Met has had one one of the Irises and one of the Roses in its fabulous permanent collection for many years. The other of the Irises is in the Van Gogh Museum in Amsterdam, and the other Roses is in the collection of the National Gallery of Art, Washington, D.C. This exhibition is the first time these four works are together since Van Gogh's death in July 1890.
There was an interesting article by Roberta Smith about the show in the New York Times on 21 May, "'Van Gogh: Irises and Roses,' Sheds Light on a Disappearing Red Hue," which discusses a change caused by a degradation of a red pigments Van Gogh used in painting these works:
But the paintings we see today are not entirely as van Gogh painted them. He used one of the red lake pigments derived from synthetic dye, drawn to its brilliance while knowing it might fade. He blended it with blue to make his violet irises and used it fairly straight to add shards of red to the otherwise white roses. He mixed it with white for the pink background of the horizontal iris still life and the pink tabletop of the upright roses.
Van Gogh lost his bet with chemistry. The red lake faded over the years, mostly disappearing when mixed with anything else and, when used undiluted, washing out to a color not unlike raw liver. Consequently the irises are now more blue than violet. The roses are now almost completely white, as are the once-pink background and tabletop.
Nevertheless, these are profoundly wonderful paintings—although I must onfess I think the ones owned by the Met are far superior works. Do not miss this chance to see all four together, however.
<![if !vml]>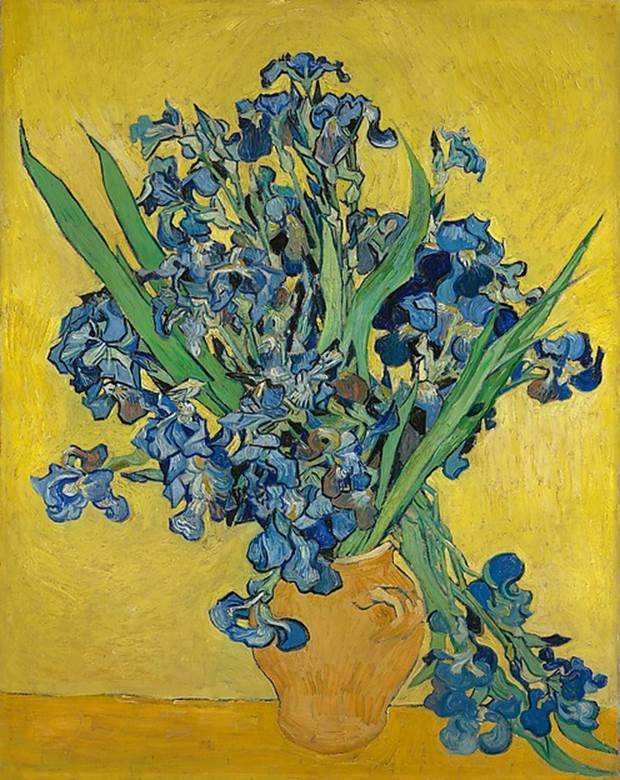 <![endif]>
Irises. 1890, Oil on canvas, 36 1/2 × 29 1/8 in. (92.7 × 73.9 cm).
Van Gogh Museum, Amsterdam
<![if !vml]>
<![endif]>
Irises. 1890, Oil on canvas, 29 x 36 1/4 in. (73.7 x 92.1 cm).
<![if !vml]>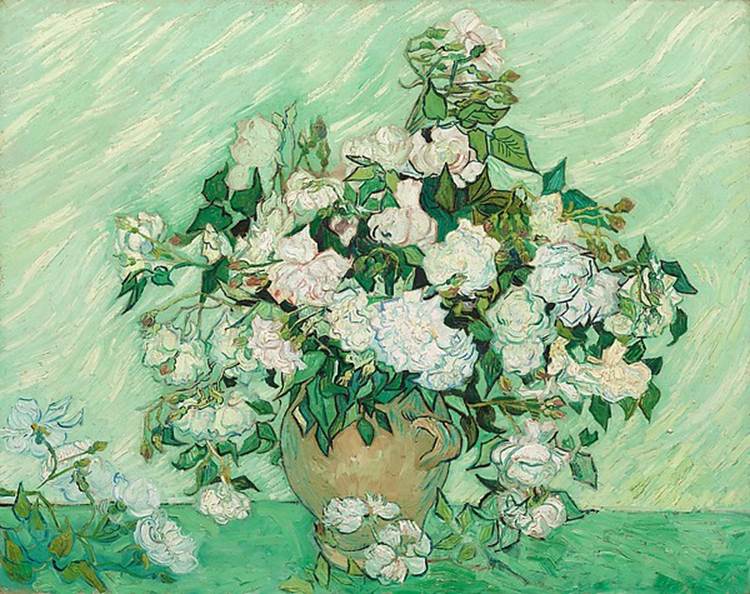 <![endif]>
Roses. 1890, Oil on canvas, 27 15/16 × 35 7/16 in. (71 × 90 cm).
The National Gallery of Art, Washington, D.C.
<![if !vml]>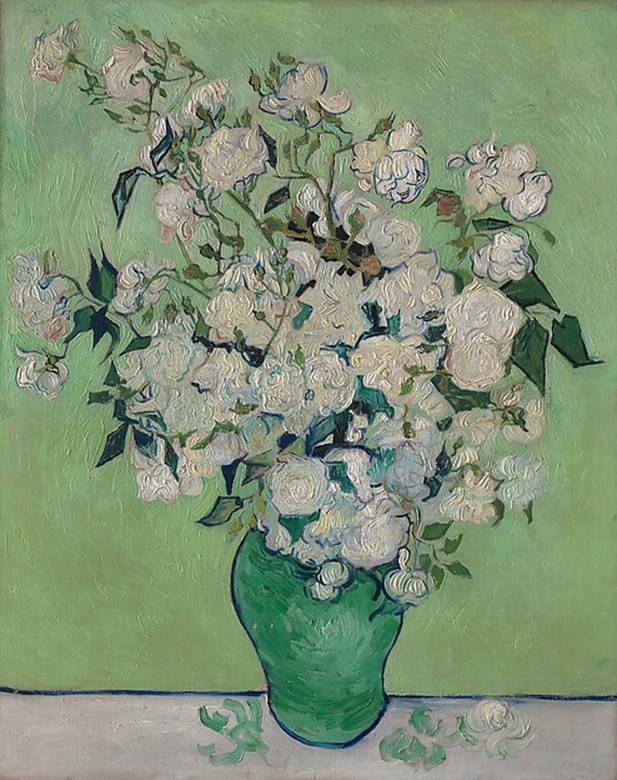 <![endif]>
Roses. 1890, Oil on canvas, 36 5/8 x 29 1/8 in. (93 x 74 cm).
<![if !vml]>
<![endif]>
Return to Dead Parrot homepage.