James Turrell: A Retrospective
5905 Wilshire Blvd,
Los Angeles, CA 90036
26 May 2013 – 6 April 2014
When Nancy and I were in Los Angeles a couple of weeks ago, we got to see James Turrell: A Retrospective at LACMA (the Los Angeles County Museum of Art).  I mentioned this exhibit in my review of the Turrell show at the Guggenheim (which closes tomorrow, 25 September, BTW; so, if you have not yet seen it, you are about to be out of luck).  The LACMA Turrell show is a must-see event, if you are in LA at any point during its run, which continues until 6 April 2014.
Believe it or not, with the exception of the amazing central exhibit in the Guggenheim show—the fabulous Aten Reign, which occupies the entire six floor interior space of the museum's rotunda, and is incomparable in its beauty, grandeur, and scale—the work at LACMA is far better!  Advance purchase of timed entrance tickets is a MUST, as there is a much-needed restriction on the number of visitors allowed into the exhibition at any one time.  (Purchase tickets online at http://tx1.lacma.org/show_events_list.asp?shcode=3043 )
Part 1 of James Turrell: A Retrospective (on the second floor of the Broad Contemporary Art Museum) consists of s fabulous series of works, beginning with a collection of prints--studies, reflections, and plans done by Turrell of his projects over the years.  It continues with Turrell's 1966 Cross Corner Projection, Afrum (White), which is much like one of the pieces from this series which is included in the Guggenheim show.
<![if !vml]>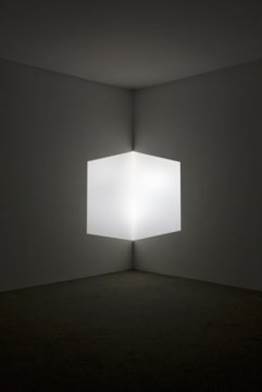 <![endif]>
The intensity and wonder of the exhibition picks up, however, when one arrives at his 1969 Shallow Space piece, Raemar Pink White--a large gray rectangular plane floating over an intense background of pink and white light;
<![if !vml]>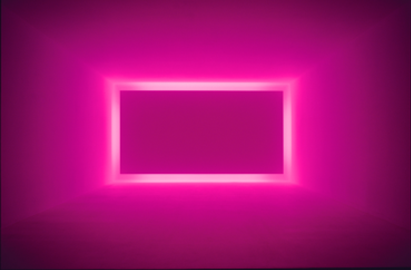 <![endif]>
and then the contrast with the amazing Cross Corner Construction which is a triangular solid form of an unbelievably powerful blue light, visually interacting with riveting vibrancy against the dimly-lit greenish walls of the room--creating complementary orange-ish after-images and edge activity.  The room dedicated to Turrell's Skyspaces was less extraordinary, as it had only models, photographs, and a slide show of images, which are pale allusions to the beauty and power of the works themselves.  What followed was a lovely little piece entitled Bullwinkle at the end of a dimly lit hallway: there was a translucent scrim-covered opening on the far wall in the shape of an old-fashioned television screen, with soft, diffuse patterns of changing intensity and color of light—and it turns out, if one looks sharply down through the opening, that one realizes the changing light is the diffused reflection off a matte white plane of a television monitor playing a "Rocky and Bullwinkle" cartoon!.  What follows is a Wedgework piece:  one enters through a disorientingly blackened hallway, into a dark, rectangular viewing room with a glowing scrim forming the complete area at the far end—and through which a further rectangular space is visible, articulated at its far end by another, parallel wall of soft light, and intersected diagonally somewhere in between by yet another wall-to-wall, ceiling-to-floor softly lighted scrim.   There is a Wide Glass piece, Yukaloo, that is an entrancing display of changing Rothko-like colors and forms, rear-projected onto a curved translucent opening.  And finally, there is a 1992 Space Division Construction, St. Elmo's Breath, which is an eerily-atmospheric, dimly-lit room from which one gazes into the softly glowing space beyond.
James Turrell: A Retrospective continuew with Part 2 of the exhibition (in the Resnick Pavilion, across the plaza).  In it is an extensive collection of models, photographs and plans of Turrell's still-under-construction magnum opus, The Roden Crater, near Flagstaff, Arizona.  (See LACMA's article and short film about the project at http://lacma.wordpress.com/2013/06/09/filming-roden-crater/ )
<![if !vml]>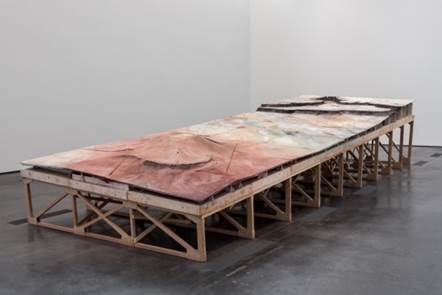 <![endif]>
There are two total-immersion experiences, Perceptual Cell and Dark Space, which one enters individually—but which unfortunately have been sold-out almost from the beginning for the entirety of the exhibition's run (right through April 2014).
And, finally, there is perhaps the pièce-de-résistance of the show:  Breathing Light—the 2013 Ganzfeld that one enters, seven visitors at a time, and in which one becomes immersed in the glowing, boundary-less light-space Turrell has magically created..
<![if !vml]>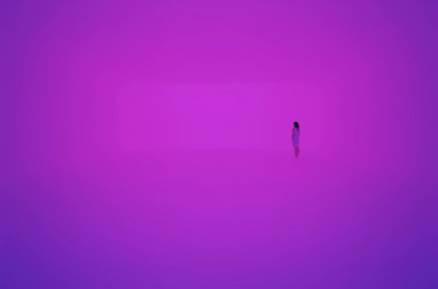 <![endif]>
Return to Dead Parrot homepage.