In Memoriam: Charles Correa
Our dear friend Charles Correa died yesterday (Tuesday) in Bombay. I have lost a wonderful friend, and the world has lost a great human being.
<![if !vml]>
<![endif]>
Charles is being described as "widely considered to be India's greatest contemporary architect" (Time); and he was somewhat expansively touted in the title of a retrospective of his work at the Royal Institute of British Architects two years ago as "Charles Correa: India's Greatest Architect." (I attended the opening of the exhibition in London, and my write-up of it is available online by clicking HERE.)
Charles was a brilliant man of unbounded talents and creativity; but, perhaps most important and special to me, he was a person who was deeply and energetically interested in engaging in human dialogue. Conversations with him would range for hours over topics of interest to one or the other of us—from architecture to politics, from literature to film, from city planning to psychoanalysis, from Karl Marx to Groucho Marx; but always with enormous interest in and repsect for the other's perspective. Living on opposite sides of the world prevented the frequency I would have liked for in-person conversation (although he was one of those people for whom I would always drop everything and travel wherever to be with—as when Nancy and I flew off to be with him and his wife Monika in Lisbon, where he showed us around his newly constructed Champalimaud Center), but Charles was someone with whom I was also able to have deeply meaningful email interactions. He was one of the few of my friends who actively would read and react to most of my Culture Alerts (dismissed by many as "Parrot Droppings"). He was even a fan of one of the TV shows our son Alex writes for: he loved Key & Peele, and you can only imagine how Keegan Key and Jordan Peele were tickled by the fact that they had an ardent fan in India who was a famous architect in his mid-eighties! His vitality, curiosity, and love of ideas, combined with the enormous generosity of his willingness to share them in personal dialogue, made him one of the most valued and beloved friends in my life.
Charles and I became friends through our participation in the Urban Age program, and became increasingly close during and after its conference in Bombay in 2007. The photograph below was taken when we were at lunch together last Fall at the Urban Age conference in New Delhi:
<![if !vml]>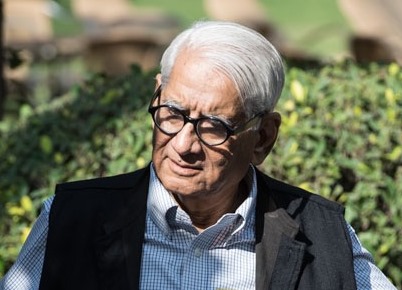 <![endif]>
To get a sense of the power and elegance of Charles and his thinking. you might enjoy listening to His brief talk which begins at minute 31:30 of video of his panel at the conference, available at: www. youtube.com/watch?v=dloCPkws8i8&t=26m15s.
Charles did amazing buildings. Here are just a few:
His Gandhi Ashram Museum in Ahmedabad
<![if !vml]>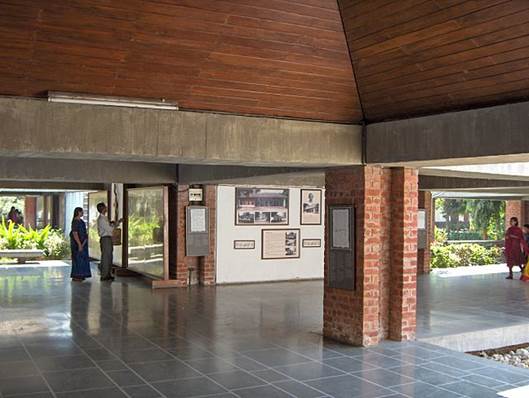 <![endif]>
His Kanchanjunga apartments in Bombay:
<![if !vml]>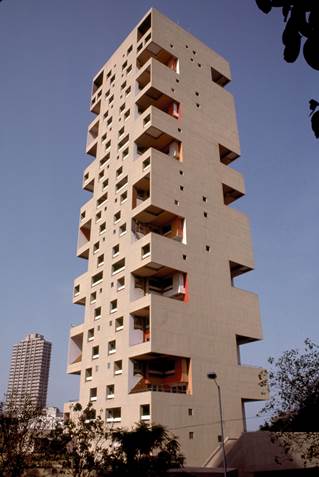 <![endif]>
His McGovern Institute for Brain Research at MIT (his alma mater):
<![if !vml]>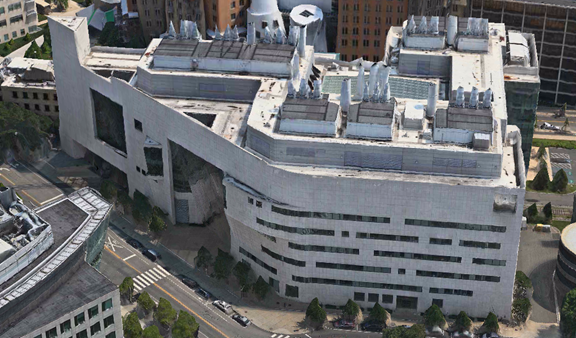 <![endif]>
And, very recently, his Champalimaud Center (my write-up of which) in Lisbon, a hospital and research center for cancer and brain research where Charles actually received treatment last year:
<![if !vml]>

<![endif]>
Charles was also a visionary city planner. He was responsible for the original plan for Navi Bombay, the extension to the mainland of that vast city, which, unfortunately was never followed in a way that did the great transportation planning that he had envisioned for the expansion.
He was a beautiful writer. I suggest to you the first of his books he originally gave me to read, A Place in the Shade, available from Amazon.com. This amazing collection of essays lays out Charles's understanding of the ancient Vedic principles that he felt underlay India architecture, and which so profoundly informed his work. It also dealt with the interraction of these Indian principles with those of western architecture, and how the combination was appropriate—and inappropriate—to buildings in India. It is a wonderul read, and I highly recommend it to you.
I am trying to focus on the beauty and magnificence of all he was and all that he meant to me—and to the world—as the positive side of the tremendous sadness and loss I feel. That is the true reason for the sorrow, and it does give meaning to it for me. I believe that is how he, who was also so life-affirming in his creative soul and positive in his embrace of the world and people in it, would have wanted to think about it
<![if !vml]>

<![endif]>
Return to Dead Parrot homepage.